Getting sick while travelling is always a worry. There's nothing worse than sweating out stomach cramps in a hot, packed dorm room and running to the shared bathroom to find not only is it engaged but two other bedraggled travellers are already waiting to go in. Matty is only too aware of this.
So we have, of course, come away with a fully equipped medical kit… stuff to block, unblock and everything in between. However, we all know prevention is better than cure and fortunately our good friends Gemma and Marco were kind enough to enlighten us before we set off.
"Brandy," said Marco, looking quite proud of himself while Gemma nodded in agreement.
Lowering his voice, as if in fear that others would hear his trade secret, he added: "We took a bottle of the stuff to Morocco and started every day with a shot of brandy."
"And," Gemma concluded, "We never got ill. Not once."
I saw the pain in Matty's eyes as he remembered his own Moroccan experience, which largely involved being curled up in a ball in Essouaira, cursing chefs up and down the country for poisoning him. I could hear his mind ticking away, saying: "That could have been prevented by drinking brandy? It could have all been different if I had begun every day with a slug of fine cognac?" He had, in his eyes no doubt, been knifed by a double edged sword.
And so, it was somewhat inevitable that when packing his medical kit for this trip, he did what every good nurse would do and made a mental note to add some brandy as soon as he crossed the border into Armenia, home of Winston Chirchill's favourite tipple.
"If it's good enough for Churchill it's good enough for me," were pretty much his first words as our sleeper train from Tbilisi, Georgia pulled into Yerevan, the capital of Armenia, at 7am.
We were tired, hungry and grouchy after a sleepless night on a particularly loud and unusually chilly train. We spent that morning trying, to no avail, to get Turkmenistan visas as we were warned that relations between Armenia and Azerbaijan are so bad that Azeri border officers may prevent us from crossing the Caspian Sea to Turkmenistan, purely because we picked up the visas in Armenia. There is that little love.
So, it was in these particularly (rare) low spirits, that we began our hunt for brandy. Specifically for the Ararat Yerevan Brandy Company, which offers tours and taster sessions for a mere £7. After all, Matty had been in the country by now for a good eight hours and was growing increasingly concerned about his medical supplies.
Eventually, after much taxi negotiating in pidgeon Russian, we arrived. Perched on a hill like a palace we were buzzed through the large, wrought iron gates of Ararat's Yerevan headquarters and immediately bowed over by the sweet, unmistakable aroma of brandy.
Within seconds of inhaling this new, much improved oxygen supply the boys looked better rested.
"It is the angel's share", our guide told us, which she added was responsible for both keeping the angels on side and keeping the workers so happy.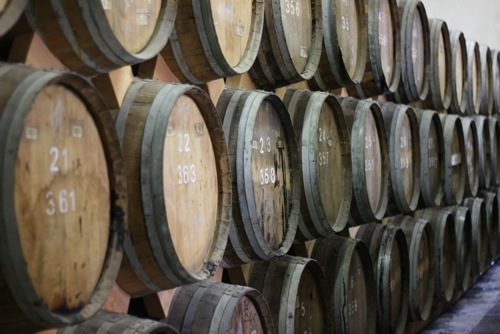 The tour began. We passed barrels of brandy, learnt all about distillation and the history of Ararat. But it was one story in particular that resonated with me.
It was 1945, Europe was on the verge of peace and Stalin was doing his best to woo Churchill at the Yalta conference, where important post-war decisions were being made. Knowing the British Prime Minister's soft spot for the fine things in life, he handed him a glass of Ararat brandy (and probably a fat cigar but that's not been documented as far as I'm aware). After glugging the rich honey-coloured liquor, Churchill smacked his lips and immediately ordered 400 bottles to be delivered… per year, for the rest of his life.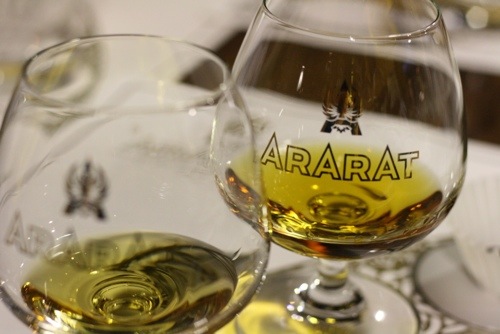 However, soon after (while quaffing bottle 567 or something) Churchill declared that something was amiss. So he did what any great British man would do if left unsatisfied by an expensive glass of brandy, and he wrote to the Russian dictator himself. It probably went something like: "Dear Stalin, your brandy's off. Fix it or I will get all of Britain drinking the French stuff. Yours, parched, WC."
Somewhat alarmed, Stalin immediately investigated the situation to learn that he (or his minions) had only sent the head technologist of Ararat's brandy production into political exile in Siberia. An easy mistake for a man like himself to make I suppose. So within days of this discovery, Margar Sedrakyan was brought back to Armenia and reinstated in his role as chief brandy expert, Churchill was happy and all was well in the world.
So let's have a quick recap – brandy prevents travellers diarrhoea, improves mentality after sleeper trains and saved poor Margar from possible death in exile. But there are higher hopes for the healing powers of Armenian brandy yet.
This little country, with huge spirit (pardon the pun), is nestled between Turkey, Iran, Azerbaijan and Georgia. But tragically it's borders with Turkey and Azerbaijan remain closed after a dispute over an area of land known as Nagorno-Karabakh, which has an ethnically Armenian population and has been controlled by Armenia following a bloody war in the early 1990s, despite it legally being within Azerbaijan's borders. Thousands of people have been displaced because of the conflict, soldiers and even some civilians are still killed around the border, and locals seem to believe that peace is an impossibility.
Nevertheless, it feels appropriate that at Ararat's HQ, taking pride of place in the distillation and fermentation room, sits the "peace barrel", filled with fine cognac and ready to be cracked open as soon as a solution is reached.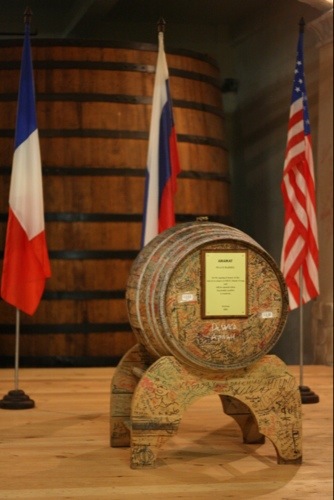 Right now it is hard to imagine the Azeri and Armenian prime ministers clinking glasses before enjoying the first sips from that barrel, but given its track record, I can hardly think of a more appropriate drink to seal the deal.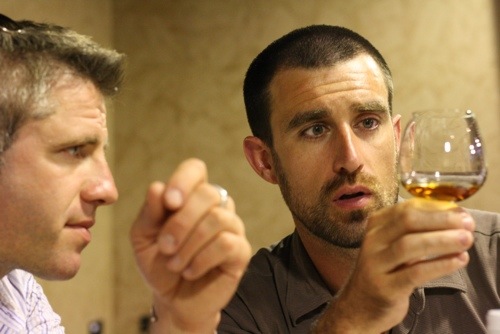 So as we held up our glasses, swilling the bronzed 10 year-old liquid in the light, we made a toast… To the peace barrel being opened, and sooner rather than later.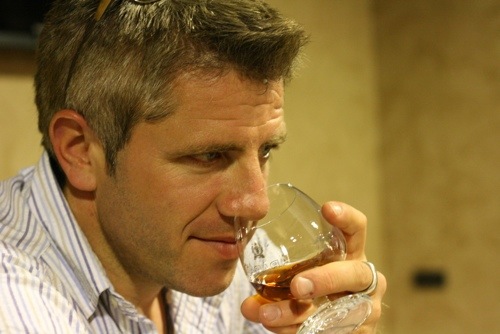 And… long live the healing powers of brandy.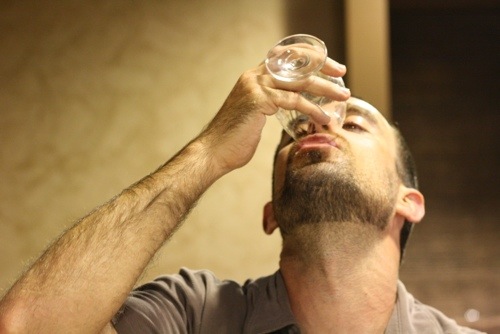 Travel Tips
Ararat Brandy Company is located on the edge of the city centre, over the Hrazdan River on Admiral Isakov Poghota.
Tours must be booked in advance, and cost 4,500 dram (about £8). The guide speaks excellent English and the tour is full of interesting anecdotes and stories.
It lasts about 75 minutes including time to sample two types of brandy – we tried the three year and 10 year old varieties. Both of which were delicious.
Serving suggesting for Ararat brandy – drink with small pieces of dark chocolate or dried peaches. Delicious.