I would like to discuss a theory I have about restaurants with you. It's a philosophy that Matty and I carry, perhaps controversially, across the world on our travels. It's not about what warrants chefs to throw toenails into stews, nor is it about judging a waitress by the number of wine glasses she can carry in one hand (I can carry five since your asking) – or even a conclusive theory about tipping. Although I admit all of those would be helpful. No, no, I believe you can judge a restaurant by its tablecloths alone.
And when I say a restaurant, I really mean the price of its menu. It's a simple theory really – the skankier and more threadbare the cloth; the cheaper the bill. Here's a quick guide to restaurant prices based on this scientifically proven (well I have eaten a lot) theory.
White linen tablecloths – Woah there Billy Big Bollocks, you are going to be flashing your cash. Just how much will depend on the quality of that linen, if it's matched with big heavy, sparkling silverware you could be paying in excess of £10 for a cocktail. And that's just my aperitif…
'Funky' wooden tables with no cloth – You could be in a bistro, a gastropub, a carpenter's studio. But either way you'll be paying a fair whack… It's all about the girth ladies, the chunkier the wood the more you're paying. Fact.
Dark coloured cotton – You're probably in an Indian restaurant. It disguises the curry you see. But it's a popular choice in other cuisines too and a reliable sign of a low-mid price restaurant. Be prepared to pay anything from £8-15 for your main course.
The patterned tablecloth – It's very likely you're either in a vegetarian art-covered cafe or a tea shop. Either way the price is coming down and you can potentially enjoy an afternoon tea or falafel burger for about £5.
The plastic tablecloth – If you don't leave your elbows on the table too long you'll be fine, especially if you're on a first date. There's something decisively awkward about the sound of skin ripping off a plastic-covered table, 'She had heavy arms,' he'll tell his mates. But hell, he'll get a cheap bill.
No tablecloth – And we're talking about revealing a naked, ugly table underneath; possibly something resembling a decorator's table, a plastic table or some scratchy metal surface. We're entering serious no frills here. If you've got less than £5 in your pocket and need a feast this is the place to pull up a pew.
Matty and I have walked streets across the world, from Ibiza to Lebanon, exclaiming, 'Oh no, look at the tablecloth on that, we can't afford to eat there.' You actually don't need to look at the menu after a while, a quick glance at the tables is all you need.
I would like to add that we have often had some of our best food on plastic tablecloths and at bare, naked plastic tables, so I'm afraid this chart is not much use in judging the quality of food. However, it can be a lifesaver when backpacking on a shoestring.
On our recent trip to Gili Trawangan we found the perfect spot for these special tablecloth free evenings, and I'm not talking about girth now. The Gili T food market is a brilliant find if you're looking for cheap grub. I say 'find' but you can't really miss it; a huge square, which stands empty by day, turns into a hive of plastic tables, bucket chairs, wooden benches and hungry tourists by nightfall. Big simmering cauldrons of soups sit on hob rings on food carts while fish lay in ice ready to be barbecued and traditional Balinese black rice pudding is whipped up for afters. There is barely a tablecloth in sight – and the ones that are present are both plastic and stapled to the table.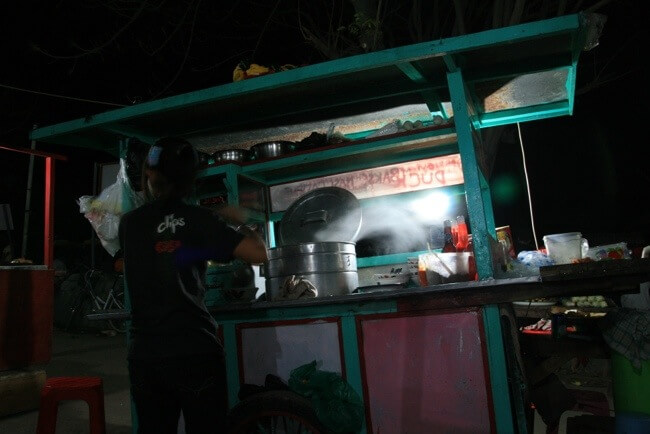 Our favourite stall was one that belonged to a woman who had trays of marinated fish and meats next to a huge barbecue.
This, my friends, is where you can pick up five skewers of barbecued chicken, beef or prawns with an assortment of delicious salads and a side portion of rice for just 25,000 Indonesian Rupiahs, which is about £1.70. What a bargain! The chicken was succulent and the salads were delicious, my favourite being a fresh green bean number, dressed in a soy sauce based dressing.
And the stall behind her, with the yellow and red lettering, prepares what might just be the best pancakes in the Southern Hemisphere. These little beauties really put the cake in pancake. Huge folds of fried batter came drizzled in melted chocolate, bananas and condensed milk. Served in a cardboard box it was like a huge chunk of sweet, pancake flavoured cake, costing just 15,000 Rupiahs (about £1). It was beautiful. I queued for about half an hour, much to Matty's disgust, but it was worth every minute. And I'm a bad blogger because I just inhaled it, without even taking a picture.
We actually couldn't finish it between us. It was that big. But I do hate to see good food go to waste so we offered to another couple on our table, who turned out to be from Lincolnshire.
Fortunately they didn't think we were crazy (or at least not at that stage anyway) and the pancake sharing soon turned into Bintang drinking with our newfound friends Jane and Simon. And as we sat there exchanging tales and drinking the chilled beers (available from ice boxes at all good food carts) I couldn't help but think it would have all turned out differently if there had been white linen tablecloths involved.
So there's my secret, what's yours? If you have any tips about finding good budget eats when travelling, or any restaurant recommendations, please share!