I often wish I was a cow. More specifically, a cow with four stomachs. Can you imagine going off to have lunch somewhere and filling one stomach, while deliberating over your next few restaurants for the remaining three stomachs? In fact, by the time the fourth one was full, the first stomach would probably be ready for its next fill. You could literally eat all day.
The irony, of course, is that while we have so many different flavours and cuisines with which to fill our one stomach, cows only have grass. Life's a bitch.
Denpasar, the capital of Bali, is definitely a cow's haven. If I could be a cow for one day, I think I would be one in Denpasar. Admittedly, the city's busy, traffic-choked streets are a bit of a shock to the system after so much horizontal time around the island's coastline, but it has hundreds of little warungs, in which to seek refuge.
We travelled to Denpasar from Bali's infamous town Kuta, purely for lunch. We had a wonderful taxi driver who regaled tales of life in his village and was seemingly bemused by our desire to travel to Denpasar (more than an hour in hideous traffic) just for lunch. We explained we had heard the food was very good and very cheap.
'But after the taxi price, it is the same price in Kuta,' he said, chuckling to himself. He had a point there, but Kuta is where food goes to die (there will be a blog on this to follow).
With dozens and dozens of shack-like warungs, lining the city's roads, heaving with locals, it was tricky to know which one to go for. We had been recommended a little place called Cak Asm and as we only had one chance to get it right, unlike cows, we headed straight there.
I was delighted to find we were the only tourists there, always a good sign.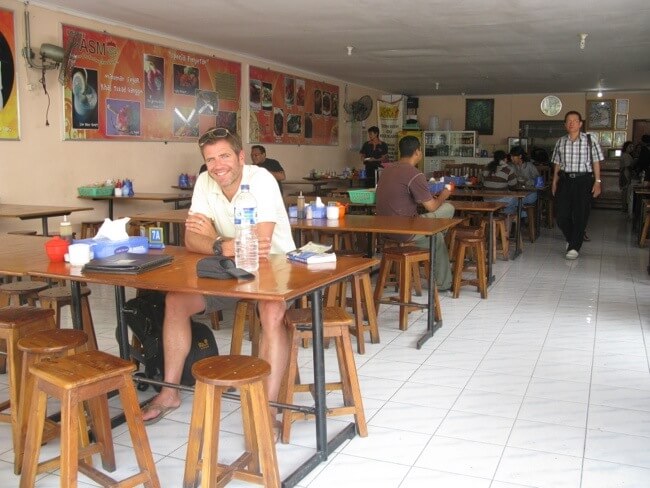 There's Matty sticking out like a sore thumb.
Nevertheless, the menu was largely translated into English and we were given our own little waitress' notepad to jot down our order. The food was seriously cheap. The Indonesian classic dish of Nasi Goreng (delicious fried rice with an egg on top) was a mere 9,000 Rupiahs (50p), about three times cheaper than we'd found it elsewhere. And the calamari was a mere 21,000 Rupiahs (£1.40). They were basically giving it away. We ordered more dishes than two people really should.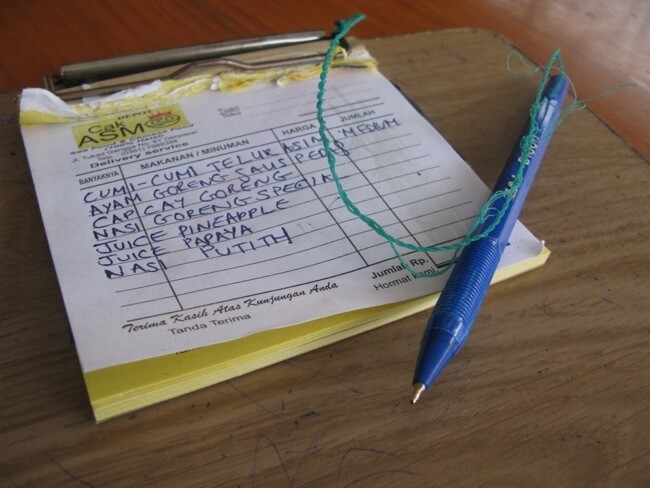 Our food arrived and adequately covered the table. We'd ordered a chicken in chilli sauce, which was served in a tasty chilli infused oyster sauce, providing a delightful spice kick and tasty contrast to the other dishes. The vegetable stir fry was light and crunchy and the Nasi Goreng tasted more like a Chinese stir fried rice than the Balinese dish, but was good nevertheless.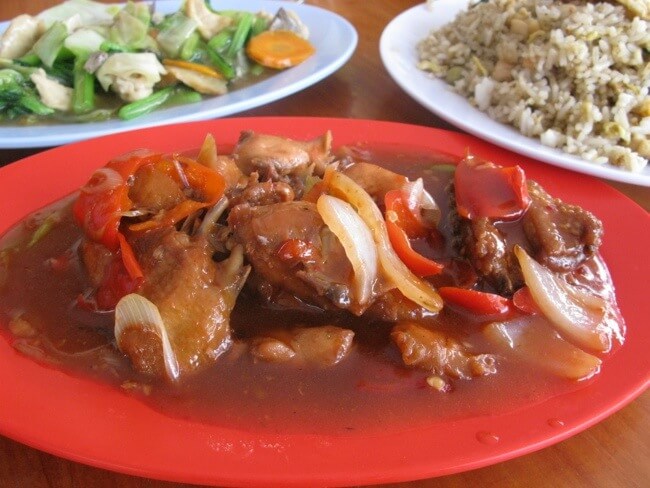 However, it was the calamari that really stole the show.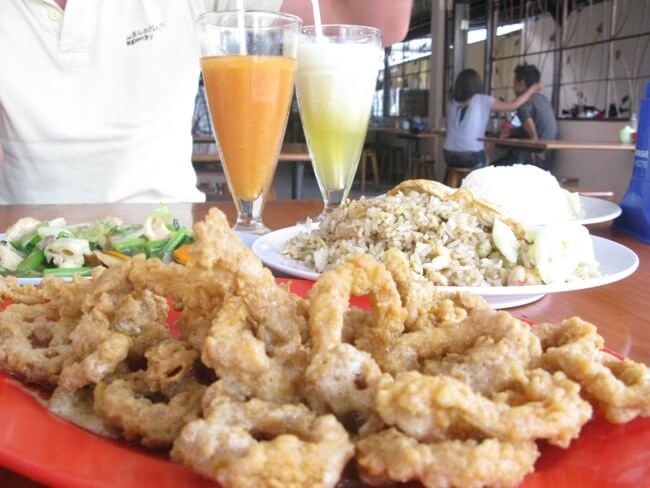 I'm quite fussy when it comes to fried calamari. I like the squid to be soft and not rubbery, and I like the batter to be crispy – not wet – a nice, firm crispy crust, thank you very much. But not too thick or heavy. Oh, and ideally some fresh lemon to squeeze and coarse black pepper to grind, while it's all still hot from the fryer.
This was better than any of that. The crisp, firm batter, which we were told is a mix of eggs and garlic, was so heavenly it needed no accompaniment. The calamari alone was worth the taxi ride. It was beautiful.
To complete our food odyssey, we headed to the local market. We'd read that it was worth exploring and were not disappointed. Almost like an old multi-storey car park, the market is absolutely rammed full of every fruit, vegetable and spice that you can think of. Few tourists seem to make it to Denpasar so as we weaved our way through the gritty, warehouse-like nooks and crannies of the market, we were very much a spectacle. There was a lot of oohing, ahhhhing and shrieking from old woman. One asked for a kiss from me, while another shoved flowers up Matt's nose. We think they were all gestures of love.