I have been known to pick places to travel purely because of their cuisine. When my dear friend Carly and I planned our post-university trip around the world we decided, as a starting point, to shout out the countries we'd always wanted to visit. From what I recall Carly threw Australia, Thailand and Mexico into the mix, and I added India and Vietnam.
As a history graduate, I had long been fascinated by the latter after studying the Vietnam war. India, on the other hand, stemmed from a burning desire to eat curry on a daily basis and see how it varied region by region. By the end of that trip we were eating three curries between us at dinner, just to make the most of it. I even kept a curry diary… if only I had this blog then.
Carly, it transpired, picked Mexico because of her love of burritos. Unsurprisingly we made very good travelling buddies, although we never did make it to Mexico so I still owe her some fajitas there.
Now I find myself in Bali, and while it was not the food that brought me here, it is certainly one of the many reasons why I am falling head over heels in love with this little island. So if I may, I'd now like to eulogise about Balinese/Indonesian food.
The one dish that you can find almost everywhere here is Mie Goreng. This is a delicious fried noodle dish, which can be found mixed with with seafood, vegetables or meat, and there is also a very similar dish, Nasi Goreng, that uses fried rice instead of noodles. These simple stir-fries are juicy and rich in flavour and the key ingredient seems to be 'sweet soy sauce', which is almost like a sweet, plum sauce take on soy sauce. It is very good. Such dishes often cost as little as 20,000 Indonesian Rupiahs (about £1.30 at the time of writing) so make the ideal dinner for backpackers in Bali.
But most menus do not stop there. There is often a dazzling array of fresh fish with Balinese spiced sauces, creamy curries, shredded coconut infused dishes and satay delights. Some of the best food we've had on this trip so far has been in Ubud, and of all the places we've sampled (of which there were many) my favourite remains the tiny little warung beside our guest house – Wena Homestay.
Easy to miss, Warung Saya is tucked down Jalan Goutama and has just three small tables inside and a little table on a platform on the street where you can watch Balinese life walk on by. A 'warung' is traditionally a small kiosk-like cafe that sells cheap every-day food. But the take on Balinese street food here is really quite unique.
We ordered Fried Tempe Mendoan, having no idea what it was but we had spied someone else eating it and it looked delicious. As her plates were cleared I heard her ask the chef-cum-owner Amier if he ran cookery classes, high praise indeed. As we placed our order, Amier also recommended the Pad Thai so we went for that too. There are a lot of similarities between Balinese food and Thai food so the latter is often found on the menu.
Tempe, we soon learnt, is actually deep-fried soya bean. Similar I suppose to tofu, but much less watery. It came with a crisp golden coating, which gave way to the juicy but firm texture inside. However it was the rich, sweet sauce that really brought this simple dish to life, a blend of sweet sauce, with shallots and mini kaffir limes, to drizzle all over the tempeh. It was delightful.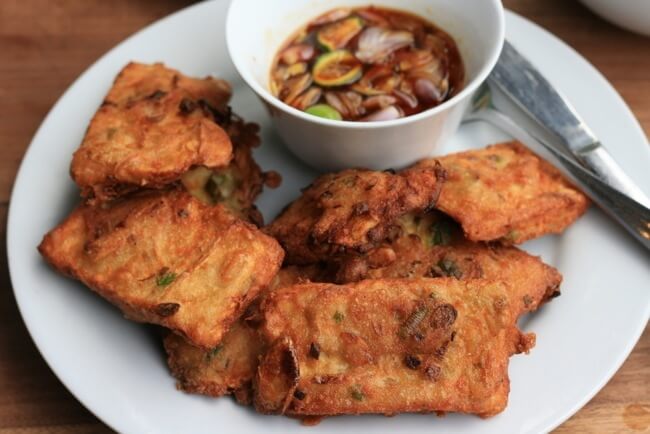 Next up was the Pad Thai. I've always been a Pad Thai fan and regularly ate it from street vendors across Thailand a few years ago, but this was quite different to the traditionally dry noodle dish. Mixed with chicken tofu and egg, the dish was much juicer than I've had it before, with lime and fish flavours coming through. It was topped with peanuts to give a lovely crunchy finish.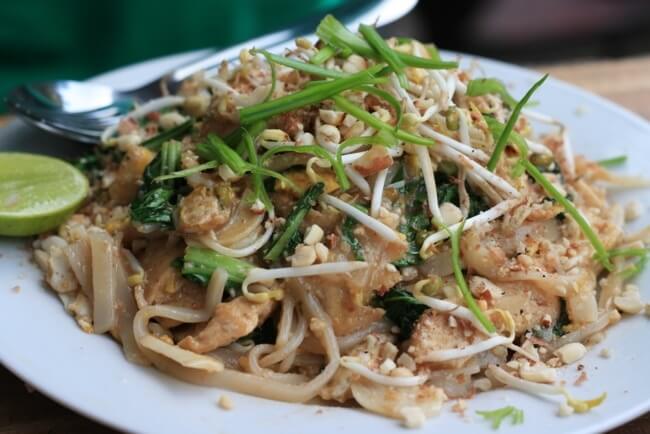 We polished the dishes off in no time, Matty even smiled at the camera for once.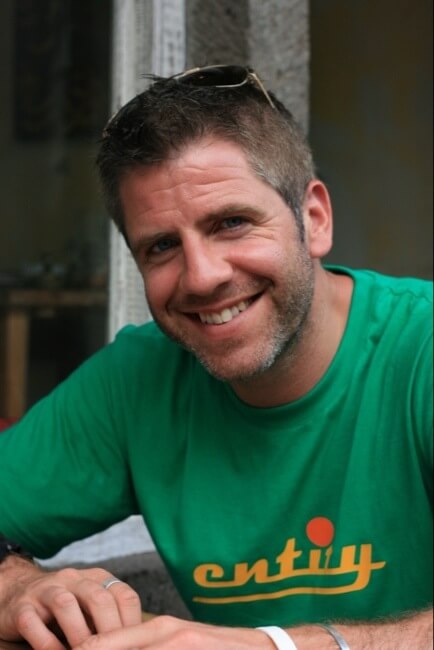 In Ubud you're spoilt for choice when it comes to restaurants but another favourite of ours was Biah Biah, which is in the same road. A very cute little open air restaurant with funky wooden tables and benches, it serves a variety of tasty rice and noodle dishes on banana leaves but has a fantastic selection of tapas sized side dishes, which were really different to anything we've found in Bali so far.
It was too dark to get any decent pictures, so sadly I have no food porn to offer you from this lovely little establishment. But one dish which I must tell you about is Urutan. Urutan is a type of pork sausage which is served as a delicacy at festivals and ceremonies. And let me tell you, the Balinese love their ceremonies.
Back to the sausage. It was described as being a blend of meat, seasoning and intestines, but that didn't put us off. The truth of the matter is that when it comes to sausages, intestines give a lot of flavour. The Urutan arrived. Served small and chunky, there were about six sausages on the plate. They were fried so had a nice, crispy skin while the meat inside was spicy, bursting with flavour, and was reassuringly coarse in texture. All the other dishes we ordered were just as good.
In fact the food has been so tasty here that I felt compelled to sign up to a cookery class to better understand the local spices and tricks of the trade. But that's another story for another time, it is after all, dinner time and I have new menus to explore!
I shall leave you with a picture of Amier's dog Precious Lady Salsa. Yes that's her name. Amier designs all her clothes and there is a whole album of her dressed up that you can flick through while you wait for your food. Her nails are often painted to match.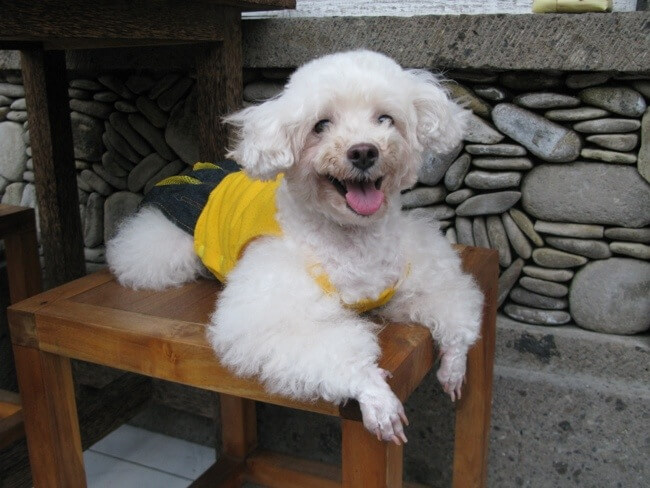 Need I give you more reasons to visit?