WARNING: This post contains serious food porn. If you're feeling peckish right now I suggest you eat something substantial before reading…
I first stumbled across Chino Latino at the Nottingham Food and Drink Festival this summer, when Old Market Square is transformed by dozens of stalls offering delicious treats from around the world. I was a bit of an embarrassment that week if I'm honest… I gave up any lunch-making ambitions and shamelessly ran to the square at noon every day to get my fill.
It was on one of these days that I noticed Chino Latino's little stall that had chefs rolling sushi and impressively tossing ingredients around in a large wok. They had some gorgeous little dishes on offer and I went for the wasabi prawns. To this day I still talk about these prawns… There were about five of the giant, juicy fellas, dressed in a spicy, wasabi dressing, sitting in a large shell. They were divine.
That weekend when my friend Nicki visited I took her straight down to the square for a prawn fix.
I pledged then and there that I would dine at Chino Latino before the year was up. And when it comes to food I never break a promise.
Finally, on a chilly, autumnal Tuesday evening last week I made it. Eating so early in the week can often be challenging when it comes to atmosphere, but I needn't have worried about that. The restaurant, which sits underneath the Crowne Plaza Hotel on Maid Marian Way, was absolutely heaving, although I think its warm, dim lighting with red tones would still create an inviting atmosphere when empty.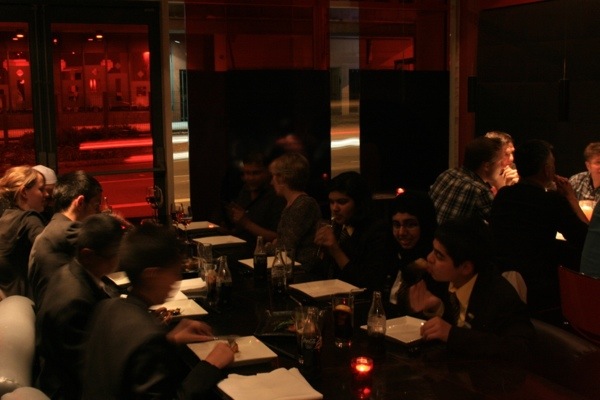 The menu is basically a list of all my favourite things. It's 'Asian fusion' so has a fabulous selection of small bites including sushi and dim sum as well as more international favourites like tempura, duck pancakes, chicken wings and Thai fritters. That's even before we get to the 'main courses', but it's the kind of place that encourages sharing, and we all know how I feel about that, so you don't even have to order a main – you can just order lots of little dishes.
The staff were wonderful. And that means a lot to me. I spent years working as a waitress so I know how easy it is to be nice and helpful (bar the occasional nightmare customers who deserve every filthy look they get) – but unfortunately so many waiting staff seem to disagree with this. Not so at Chino Latino, our friendly waiter explained we could just order small plates, or one main plate with a few of the smalls – or just whatever we fancied. There were no rules. And I love nothing more than a good waiter with no rules.
Afters much 'umming and ahhhhing' we settled on about four small plates, a main to share and a delicious bottle (or two) of Chianti. The latter, the Chianti Superiere II Leo made in Ruffino, Italy, was a warm, spicy number with cheeky plummy after tones.
Our waiter explained that the food would be served as and when it was ready but said he would put breaks between some dishes. I was impressed by his foresight and managed to ignore the fancy pants within me who wanted to stipulate which dishes arrived when. I decided to trust him.
And sure enough, first up was the vegetable tempura. The very dish I would have asked to arrive first.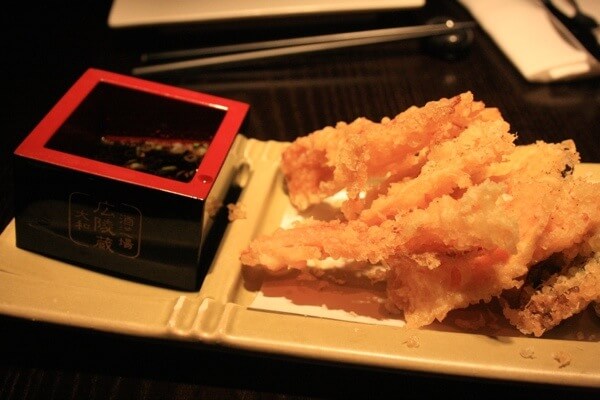 Juicy is not normally a word I would use to describe vegetables. Crunchy, fresh, green – yes, but not juicy. However, I have to say these vegetables were just that – chunky slices of aubergine, red pepper, courgette and sweet potato were deep fried in the lightest of tempura, allowing the oils to seep through and bring out the deep and unique flavours of each veg. With a light, sweet soy sauce to dip them in, I have never enthused so much about vegetables.
From the juicy, light veg, we tucked straight into some naughty dim sum of foie gras and shiitake mushrooms. I'll let the picture do the work here…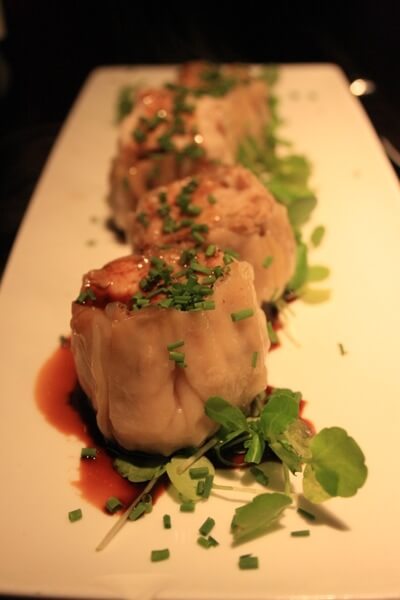 Imagine breaking into those steamy buns?! The foie gras gave it a wonderfully rich edge but the mushrooms brought it down a 'meaty' peg or two, making for a mighty fine dumpling.
Meanwhile the scallops (pictured above – but again now to make sure you really understand them) were equally special.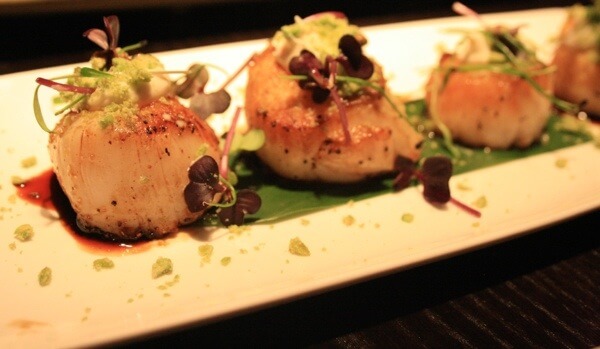 Meaty and juicy, the pan-fried scallops were perfectly cooked and drizzled in a rich soy sauce. Their melt-in-the-mouth texture was enhanced by the creamy yuzu aioli and complemented by the crushed, crunchy wasabi peas sprinkled on top.
The crispy duck was also a raging success. Served whole and carved at our table, we happily rolled up little pancakes of meat, cucumber slices, spring onion slices and hoisin sauce.
And then, just when we thought it couldn"t get much better, we were served a basket of beef. That's right, a basket of beef. Served piping hot but perfectly pink, the slivers of fillet came with a selection of three dips; wasabi, teriyaki and a garlic and chilli. And if that was not enough, you could actually eat the basket. It was made from threads of sweet potato, I might refuse to take any other kind of basket in the future.
After initially rubbing our bellies and declining dessert, curiosity got the better of us and we asked to see the menu (for research purposes only you see). Upon perusing our options I immediately found a small, fifteenth of a stomach that was free for dessert and while it pains me to admit there wasn't quite room for the chocolate and ginger fudge cake or the passion fruit cheesecake with blowtorch marshmellow (both of which I will have to return for), I did sign us up for the homemade exotic sorbets to "cleanse the palate".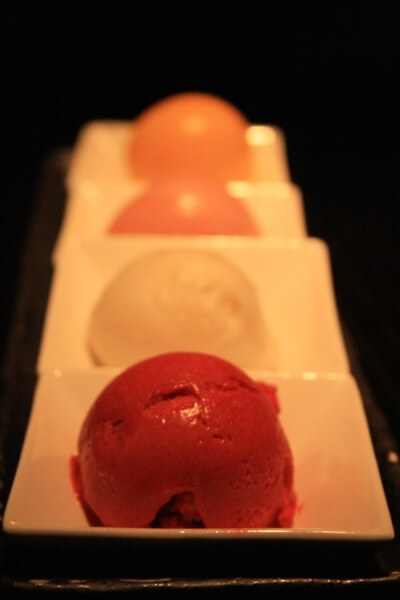 These little balls of rasberry, lychee, guava and mango sorbet were a taste sensation. My friend Lorna, who hath protested she needed no dessert just minutes earlier, cried: "Can you feel the goodness going into you?" as she sooped the sorbet up by the spoonfuls.
I can conclude that Chino Latino has not only made it into my all-time top three Nottingham restauarants, but is easily jostling for the first place position. It does come at a price with small plates ranging from £7 to £12 and mains from £11 to £25, but if you're looking for something a little bit special to top the taste charts then it's worth every penny. If, on the other hand, you've not got the budget for that then we're only a (cold, bitter) winter away from the Nottingham Food and Drink Festival and my shell of meaty prawns only set me back about £4.