In Georgia it would seem that very few people speak English. This is more than acceptable and is the very reason why Matty has taken one for the team and learned Russian over the last few months.
But sometimes he gets a little stage fright and the phrase book is at the bottom of a bag, underneath more useful things like tissues, kirby grips and Blistex.
So in the meantime we have a new strategy for ordering food, which basically involves the Mongoose making animal noises at bemused waiting staff.
When struggling with the word for lamb recently, the Mongoose just suddenly started bleating. Not missing a beat, the waiter 'Mooed' back in his face. But nevertheless, we were soon eating a bleating-no-longer lamb.
Often, the most authentic local food is found in the places that have no English menus. As was the case with the best Georgian restaurant we have found so far, in the seaside town of Batumi, which was recommended to us by the lovely owners of the small family-run hostel we are staying in.
The first challenge was finding it. We knew it was on an alleyway, off a main boulevard, but the alleyway did not have a name and the restaurant name was nothing more than a sprawl of Georgian letters (which to my untrained eye looks like a combination of Arabic and Russian). Nevertheless, after the Mongoose furiously acted out eating a big plate of food fit for the gods, and we enthusiastically showed off our piece of paper with the indistinguishable Georgian letters, somebody finally took pity on us and led us there.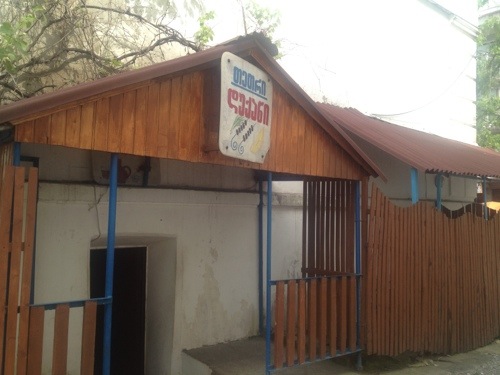 This is the frontage of the inconspicuous little eatery.
Stepping in, we walked down some stairs and entered what almost felt like a hideaway den. A couple of women greeted us, chatting away in Georgian. We know one word – thank you – which we over use enthusiastically. Tomorrow I'm going to learn hello.
But for now we kind of greet people by thanking them and we try to tell people important messages by thanking them and when we actually need to thank someone for something, we feel rather pleased with ourselves for using the word in the right context.
So after 'thanking' our hellos, we took in our new surroundings. The walls and ceiling were decked out in a dark wooden panelling, giving the room a cosy feeling. And if you want it even more intimate than that there are two little private rooms that are curtained off from the main restaurant (this seems to be a common theme in Georgia.)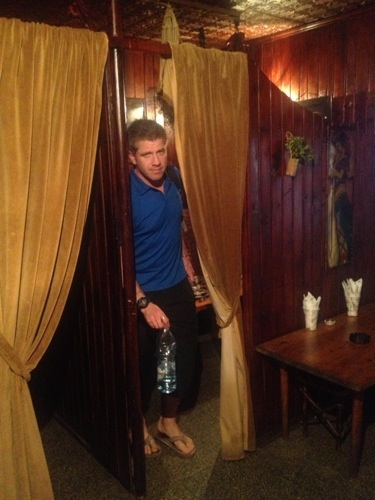 They wisely led us into one of the little hideaway dens to keep the likes of Matty out of harms way.
Then came the food-ordering challenge. No menu was presented but a cheery woman started reading out what we decided must have been food options. Our trusty hostel owner had said if we said his name they would call him so he could translate on the phone.
So we started saying his name. This caused quite the flurry of excitement and they dashed in and out of our little room, but then returned and continued reading us the menu in Georgian… With no phone.
So I just started nodding at things. There was no real rhyme or reason to what I'd nod at but I did notice sometimes she looked more excited when she read out various dishes, which in turn led to more excitable nods from me.
It was around this time that Donagh started behaving like a fish. He put the palms of his hands together and made swimming motions towards the poor woman. Just as he was about to start puckering in his cheeks and swimming in circles around the imaginary fish bowl he now believed he was in, the woman shouted what I can only presume was 'fish' in Georgian. I nodded enthusiastically.
And the hard work was done. We sat back on our little stools around the low table in our den and eagerly waited for the food to arrive.
Charming and well loved terracotta clay plates and bowls were placed down in front of us. A litre of red wine, served in a reassuringly robust clay jug was presented and the woman pointed at the small terracotta bowls and said 'vino', to avoid that awkward situation of tourists pouring food into their wine vessels.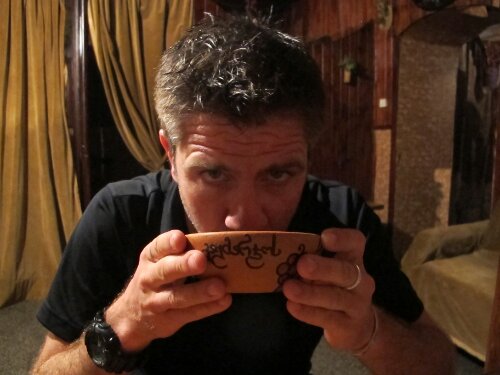 Georgian red wine is either dry or sweet and tends to be of the two extremes, at least at the cheaper end of the market anyway. But this wine was light and fruity without being too sweet or too dry. It turned out to go very well with the food that was about to cover the table.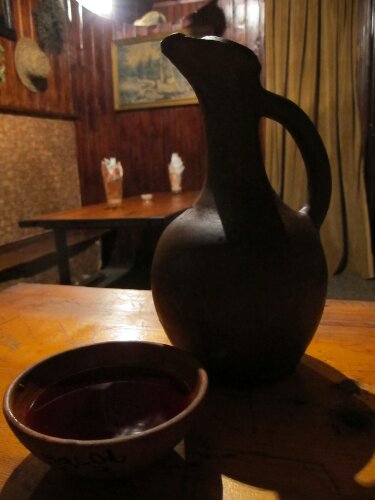 First up was the bread. Bread is both big and beautiful in Georgia, it is always deliciously soft and fresh and we end up eating far too much of it before the meal arrives. This time it was accompanied by a lip-smacking tangy tomato salsa that was laden with fresh coriander and chilli. The bread basket and dip were replaced so quickly we were almost embarrassed. Almost.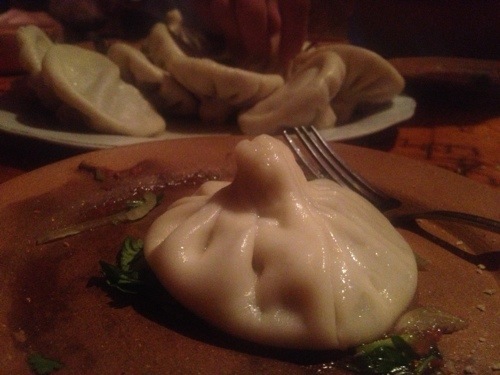 Allow me to introduce you to the 10 giant dumplings, (later learned to be called khinkali). Looking just like giant ravioli parcels, they were filled with a herb infused lamb mince and as we pierced the thick pasta-like skin, light but flavoursome meat juices spilled out onto the plate. A heavy sprinkling of pepper is encouraged. Delicious.
As we gobbled them down, a sizzling pan of pork was brought out to us, each little piece of juicy meat finished with its own crunchy layer of crackling.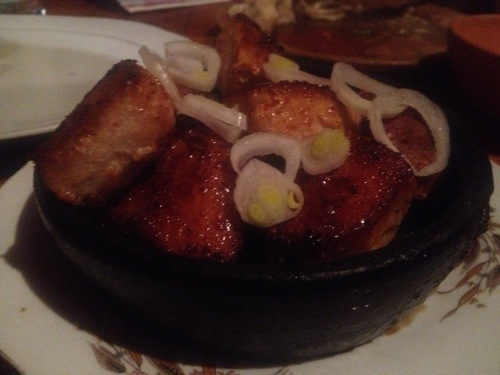 Apologies for the terrible pictures (and lack of pictorial food porn in this post) – I had only my iPhone with me and our cosy little den was lit by a single lantern.
Rest assured though, the food was so good that Matty attempted to quieten our dramatic gasps and cooing as we chomped away.
'The people next door are going to think there's some kind of orgy going on in here with the amount of sex noises going on,' he warned.
But no sooner had he said it, the waitress brought the fish out and the Mongoose made a sound that even he looked a little uncomfortable with.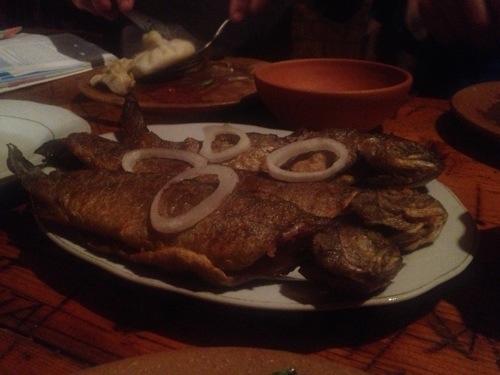 Deep fried like a giant whitebait, the fish was deliciously tender and meaty.
It was, we concluded, a wonderful find and the 'thank yous' flowed out of us with no sign of relenting until we had finally left the building. Matty was delighted and the Mongoose ecstatic.
'Mmmm, I wonder if we could get some squid next time,' he suggested.
Let me assure you now, the phrase book will definitely be left behind for that occasion.
Travel Tips
We have been told that the translation for this wonderful Georgian restaurant in Batumi is 'White Bear'.
It is on an alleyway just off Z.Gorgiladze Street, between the Art Museum and Maisi Street.
Our meal, with two litres of wine cost just 30 GEL for three people (about £10 between us).
If it's any help at all, the alleyway entrance looks like this: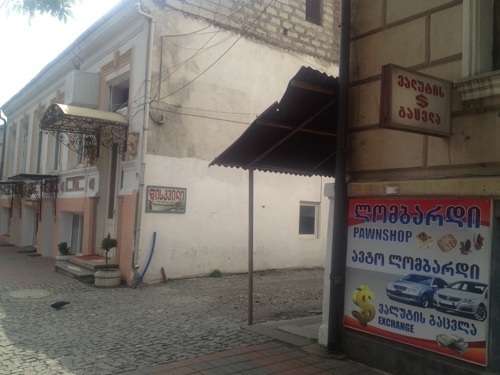 Where to stay in Batumi?
We stayed at the lovely Batumi Hostel, which is on Mazniashvilis Qucha, and run by a friendly, young couple.
A converted house, the light and airy place really feels like a second home. Being there out of season we basically had it to ourself… Perfect. They also had a living room and kitchen, which was free to use as we pleased.