I'm sure you're all more than aware by now that I do not need 'reasons' to eat. If I'm honest, sometimes I tuck into some delicious looking fodder when I'm not even hungry, I just really fancy it. My hips and my wallet get most upset when this happens, but I'm not sure it's something I can really control.
But now I have discovered a little place, just a stone throw away from where I work, that has given me yet even more 'reasons' to eat.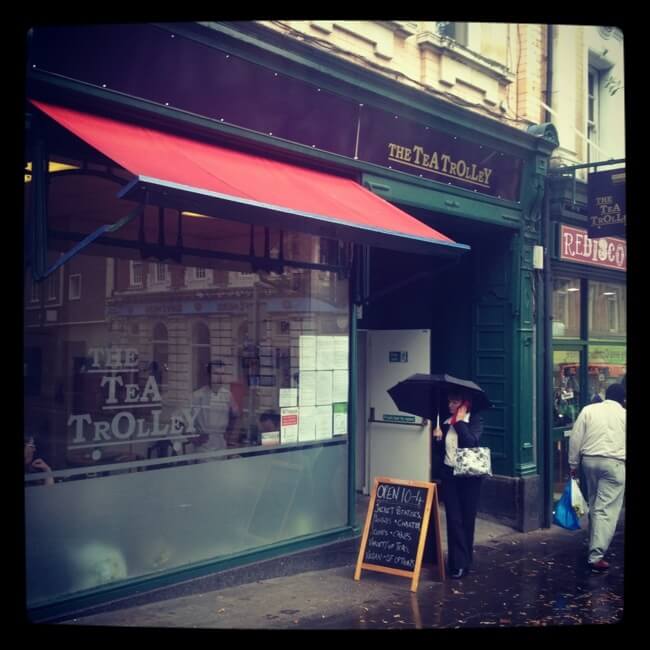 The Tea Trolley in Chapel Bar has only recently opened and is a quirky little room that feels more like someone's living room than a cafe. It has a sort of 1970s tea-cosy feel to it, with spoon backed wooden chairs and a handful of little round tables. In fact I felt like I had walked right into the cafe scene of Withnail and I.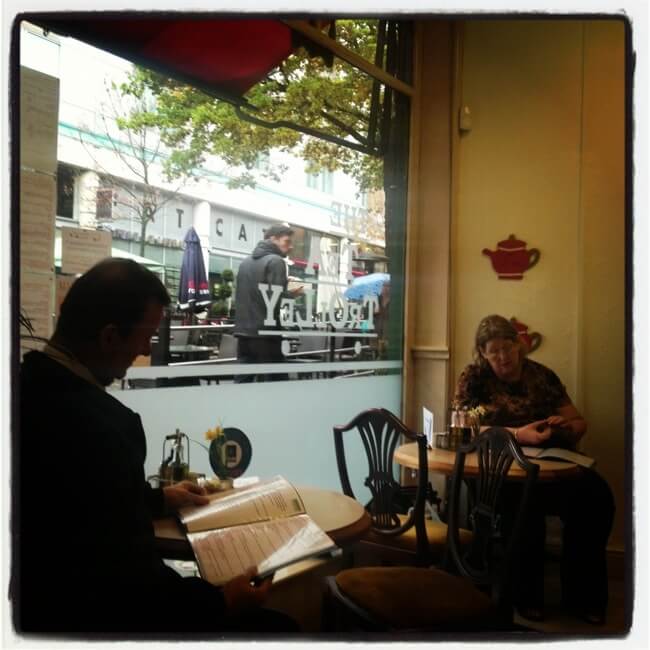 But that's not my new 'reason' to eat.
Flicking through the menu I was impressed. The cafe has a great list of lunch options – salads, sandwiches, paninis, soup – but with some really nice (and cheap) variations. Take the Italian panini for example, thick sliced vine ripened tomato, homemade basil pesto and torn mozerella, freshly made for just £2.50. The soup of the day just £1.50. My friends, this little gem of a place undercuts the Boots lunch deal.
I opted for a jacket potato with cheese and beans, for £2.50. Randomly this is often a meal I crave at work and I have sampled a number of jacket potato eateries across the city. Many are very good but most are just takeaways, served in polystyrene containers dripping with bean juice – and while I'm at it – come with a plastic fork that snap at the first hurdle of crusty potato skin.
This, on the other hand, came on a plate, with proper cutlery, and was served with a good portion of REAL MATURE cheddar cheese. Nothing makes me more angry then a potato with that awful mild, rubbery stuff piled up on top. And I mean nothing.
It was a great jacket potato. But that's not my new 'reason' to eat.
No, no, behind the funky interior of the cafe – and its good, mature cheese – lies something even cooler. The Tea Trolley is actually a social enterprise.
It is run by South Notts College and Mencap and gives people with learning difficulties the opportunity to work and earn a NVQ in catering. So while you scoff on your afternoon tea (£10 for two I seem to recall), the people serving you are earning some genuinely valuable life skills.
And surely even my hips and wallet can't argue with that.