I DID quite well this Easter. A couple of eggs, a delicious Lindt bunny and a ginormous slab of Hotel Chocolat's finest. I did try to ration myself but the inevitable happened and it was all scoffed within a week or so.
It was with this in mind that my friend and I went in search of a "healthy restaurant" the other day. This is a bit of a rarity for me; I usually see eating out as an opportunity to break free from healthy eating; after all restaurant calories don't really count and it's such a pity to not make the most of three courses when someone is offering to cook them for you. But this was different. With a belly full of Easter eggs, all my principles went out of the window.
I was totally out of my comfort zone. Googling "healthy eating Nottingham", I realised I had no idea where to start.
It was my friend who suggested Yo! Sushi. It was the obvious choice. Under normal conditions, it's somewhere I would probably disregard – fine for a lunch option but eating raw fish is not top of my agenda when it comes to the dinner-time-gorge.
Plus it's a chain, and with so many fantastic independent restaurants in Nottingham, I try to avoid the big names. Nevertheless, a bit of rice paper and smoked salmon seemed the perfect solution to an over-indulgent Easter.
We walked into the bright, airy restaurant and were shown to our seats at the conveyer belt. For those of you who have not been to Yo! Sushi before, the seats line a circular bar with chefs in the middle preparing the food. A conveyer belt lines the bar, carrying lots of little dishes that look a bit like spaceships – and you just grab what you want.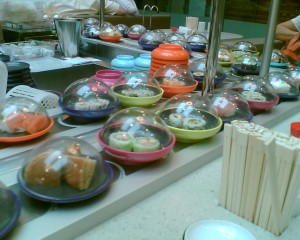 Normally the dishes are different colours, each having different prices, but turns out we were there on bargain Monday so all the dishes were a mere £2.50 – and it was a selection of hot and cold sushi dishes rather than the whole menu. Being a bit of a magpie with food I was in my element.
"Ooh, let's have this one… and this one… ooh, and that one." That was pretty much how the evening went (accompanied by a bottle of sauvignon blanc). We began with a dish of edamame beans – I always find it immensely satisfying to suck out the fresh green beans from their deliciously salty shell – and then grabbed a passing rice dish which I can only describe as a salmon-paella, bursting with flavour and very moreish.
We were also big fans of the raw beef strips – like carpaccio – they were drizzled in a tangy dressing with some pickle garnish – so good we had to have two and, after all, the rest of the week they're one of the more expensive dishes.
My friend grabbed some smoked salmon slices that tasted so fresh they almost melted in your mouth and a delicious salad/vegetable dish that we also went back for seconds with.
However, the real star of the show was the Hairy Prawns. Wow. The Hairy Prawns were something else; giant, meaty prawns wrapped in wispy strips of light tempura batter and deep fried, accompanied by a wasabi mayonnaise. Incredibly juicy and so big that it would have been a challenge to eat in fewer than three bites. Yes, we went in for seconds – it would have been rude not to.
After slowly grazing through the savoury dishes we started to take note of the sweet options that were passing in front of us. Suddenly Easter felt like a really long time away as we reached for some little pancake custard sandwiches that came with a little pot of raspberry coulis. They went down a treat – we might have had seconds. We also tried some more unusual multi-coloured "rice cake balls" with a sweet prune filling that didn't really taste of much at all.
While we rubbed our bellies, the waitress counted the number of empty plates that were stacked up in front of us to work out the bill. There were 12. But the plates are very small after all, and we did have some raw fish on one, which is virtually fat free… I concluded our healthy eating night had been a roaring success. Yo! Sushi is now also on my list of places that offer a good dinner-time gorge.