I have to admit some art galleries intimidate me. When people talk about the likes of the Tate Modern and the Louvre in excited tones, I nod in agreement. I do not tell them that the first thing I look for is the board that tells you which floor the cafe is on. And I definitely do not tell them that I have been to the cafe of any good art gallery about 10 times more than I have visited the exhibitions. Until now.
An all-time favourite cafe of mine is that of the Tate Modern's, which can be found on the sixth floor of the former Bankside Power Station; boasting stunning views across London with a wonderful selection of food and fine wines. And I can't tell you how delighted I was when I realised that you could walk all over the roof of the Museum of Modern and Contemporary Art in Nice. Just thinking about endless floors of art makes me crave a pastry of some kind and a frothy coffee.
So whenever I tell people I have visited the Nottingham Contemporary, the chances are I didn't explore its three impressive galleries of regularly-changing modern art. No, no, I probably went straight down to its wonderful cafe on the basement floor. And when my two friends Nicki and Nick came up from from London recently, that's exactly what we did.
The Contemporary is a wonderful airy space that opens out onto a lovely, large terrace area for alfresco snacking. Its exposed concrete walls are decorated with quirky, arty features and its high ceiling exacerbates the size of the room.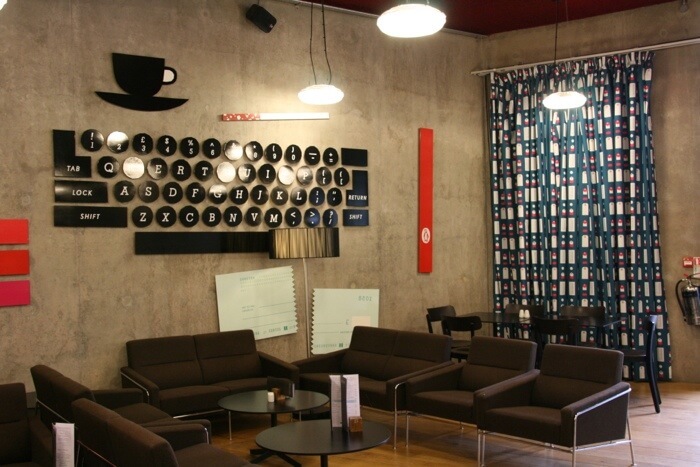 See, you can get your art fix without even leaving the cafe!
Perfect for a light lunch, the cafe has a 'buffet table' of salads, pasta and noodle dishes, and freshly baked tarts. You buy a small or large plate, for about £6 and £8 respectively, and you can fill it as high as you want. Almost like a really posh Pizza Hut salad bar.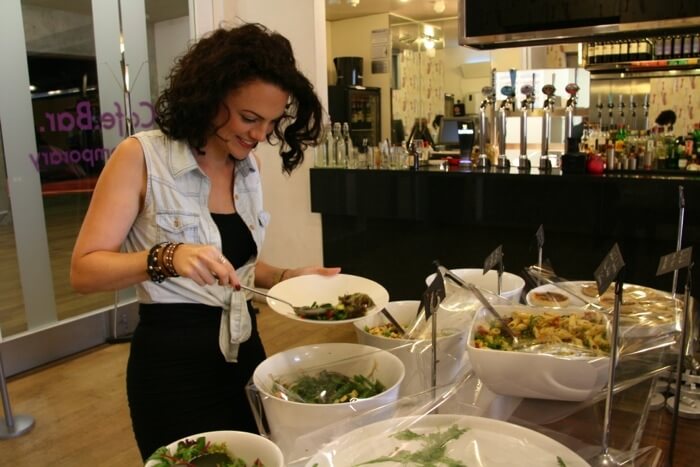 Our salad plate did not disappoint. We tucked in to a delicious spicy brown rice and pea salad, which was reassuringly al dente. Packed with kidney beans and chick peas, it had fresh herbs shredded through it with crunchy vegetables mixed in. We also enjoyed a kale and green vegetable salad, a wholesome dish that would have made Popeye proud. Meanwhile the sweetness of the honey roasted butternut squash was the perfect antidote to the crab and sweetcorn tart, which had a wonderfully strong fish flavour. I hate a bland tart.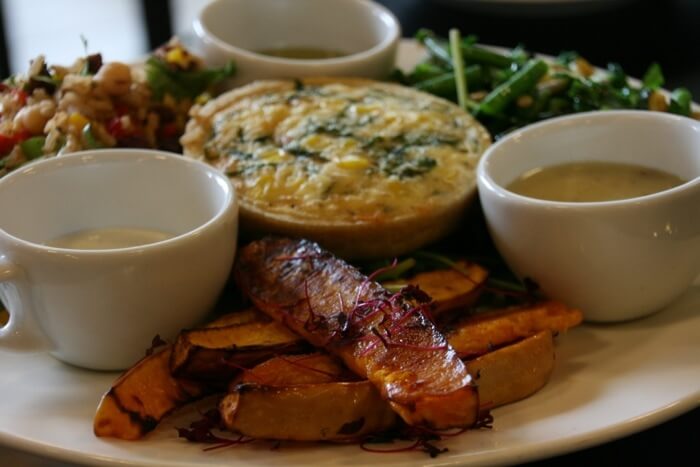 The menu also has a good mix of sandwiches (of the chunky ciabetta and doorstep style) as well as a mix of grilled meats (I intend to go back for the lamb kebab) and burgers, if you fancy something a bit heavier. We opted to also share a spicy bean burger and chunky chips, which was mouth wateringly good. The crispy coating of the burger held the spicy, mushy bean mix together perfectly and the chips were served piping hot.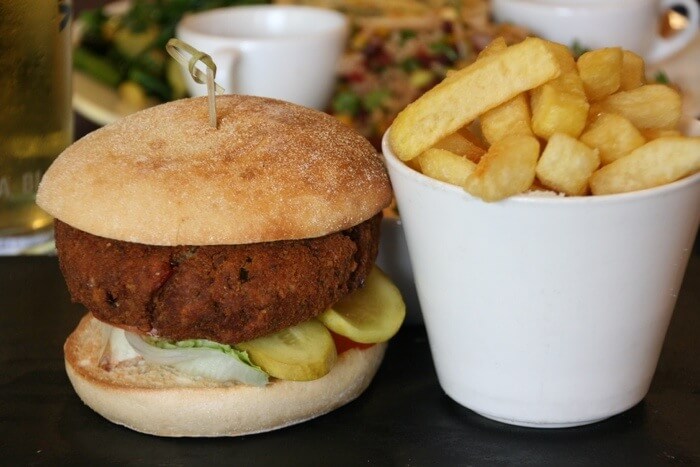 Just to round things off, we opted for a slice of the coffee and walnut cake and a rhubarb and ginger cheesecake slice. Both disappeared from the plates quickly. Here's a little pic of the coffee cake, which was wonderfully moist, before it was devoured. I didn't even get a chance to photograph the cheesecake…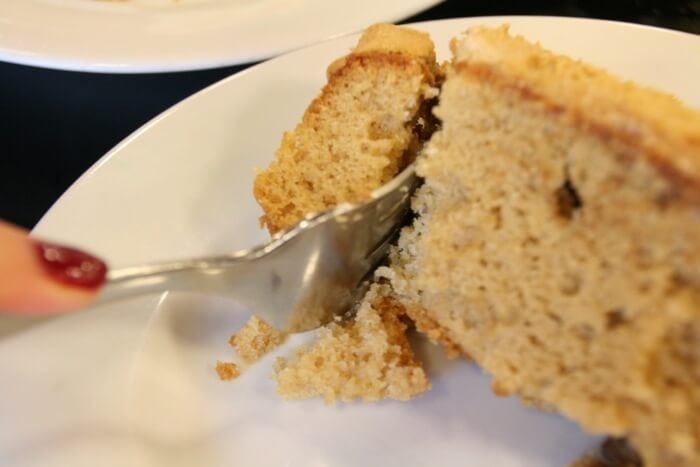 The exhibitions at the Contemporary change every few months. The salad bar, I am told, changes every month. And while the roasted butternut squash may not have the same mystery as the Mona Lisa, nor the coffee cake have the longevity of Van Gogh's Sunflowers, these muffins my friends, are my Water Lilies.