There's a new word that's entered restaurant vocab of late. It has just quietly slipped in, unannounced, and often comes up during those precious moments when you're scanning the menu, desperately trying to absorb what's on offer, keen to make sure you make the right decision. Fomo.
Fomo, my friends, means the Fear Of Missing Out and it's a growing condition. It tends to strike when two people are torn between the same dishes. When one makes a decision, the other turns to her decisively (and a little bit bitterly) and says: 'Well I shall have to have the same otherwise I'll be riddled with fomo.' Ok she might not say riddled, but you get the idea.
To be fair, it has a point. There is nothing worse than spending an entire dinner staring at someone else's food, wishing it was yours.
But this is why I am such a fan of tapas. Specifically, tapas at Iberico in Nottingham.
Tucked away under Nottingham's busy pavements in the caves of the Lace Market, this is the perfect place to while away an evening ordering two, three, four even five small dishes. And obviously the Spanish designed tapas so that you also get to share all the dishes ordered by your dinner companion too. It's perfect for a fomo-free night of nibbling.
It's white, low-arched ceilings create a warmth that feels almost unimaginable when pacing the pavements above on a cold winter's day, and the cosiness is further intensified by the restaurant's soft lighting and the Arabic mosaic tiles that adorn the bar.
But it is the quality of the food that makes this place stand out from the crowd. You will find all the tapas regulars on the menu like patatas bravas, chorizo and totrilla but you will also find an endless list of ever-changing imaginative dishes like its infamous black cod in spicy miso, the scallops with smoke cured pork belly and cauliflower foam or beef skewers with truffle sauce. To put it bluntly, Iberico makes La Tasca taste like fast food. So it is no surprise to learn that it has just picked up a pretty impressive food gong – the Michelen Bib Gourmand, which is an accolade given to "good value" restaurants by the most respected food guide in the world.
Dishes are priced at anything from about £4 to £8, which I agree is good value for the quality here – but as my belly is so often dwarfed by my big, greedy eyes, it is easy to walk away with a bill larger than one would reasonably expect for two people. However, on my most recent trip I sampled the early-bird menu which took this problem right out of my hands.
For just £13.95 you can have two tapas dishes and two chunky slices of their delicious Catalan bread (imagine crusty door-step toast made from the softest bread, smothered in a herby, garlic tomato paste). It works. Plus dessert is also included.
The early-bird menu also scores points because it doesn't just leave you with the cheap dishes to choose from. We ordered the pan fried squid with chorizo jam, jamon croquetta, the sausage and bean cassoulet with confit of duck and the wild mushroom, kale and chilli empanadilla. It was hard to pass on the delicious sounding roasted cauliflower in curry mayonnaise with almonds and rice and the grilled hake with piquillo pepper, green olive and lemon salsa – but that is just testament to the great selection on the bargain menu.
The wine menu is equally impressive and we ordered a beautiful bottle of Montepulciano that arrived at the perfect temperature, despite the almost icy weather outside.
And after about 15 minutes or so our food began to arrive. Iberico serves the dishes as soon as they're ready so be prepared to finish one dish before the last has arrived, but it does mean you can enjoy each dish while its hot and fresh from the pan.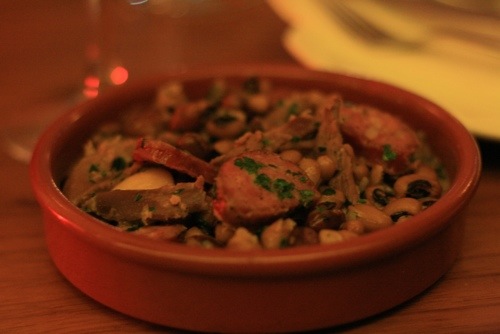 The cassoulet was the perfect winter warmer. The duck confit gave a delicious rich flavour, while the chunky pieces of chorizo and stewed beans contributed to its rustic and robust texture. And the squid was just as impressive. It's reassuring to be offered squid without its usual coat of batter, instead the delicate flavours of the al dente pan-fried squid were accentuated simply by salt and pepper – and a sweet, sticky chilli jam on the side.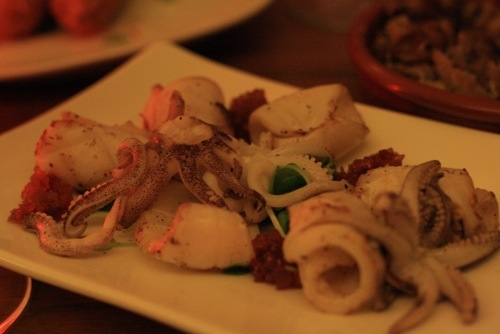 The mushroom patties (aka empanadilla) were fab. These delightful little parcels of crumbly puff pastry were stuffed with finely chopped marinated wild mushrooms and the kale, which it was served with, had a nutty sweet flavour. I was a little bit in love.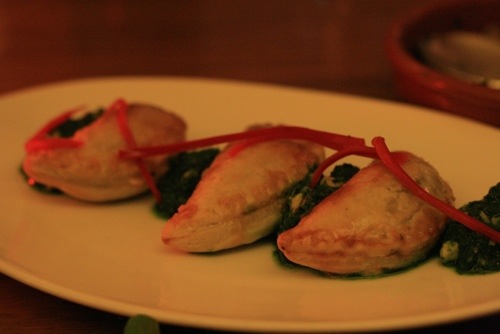 And the jamon croquetta fingers were equally delightful. Their crispy bread-crumbed shells broke away to reveal a creamy, cheesy béchamel dotted with ham. I remember loving Findus crispy pancakes as a kid but returning to them years later and realising, with horror, that they were awful. However, I must confess that these croquettes are, to my matured taste buds, what Findus was to my five year-old self; a guilty, creamy pleasure.
And then it was time for dessert. Just look at this…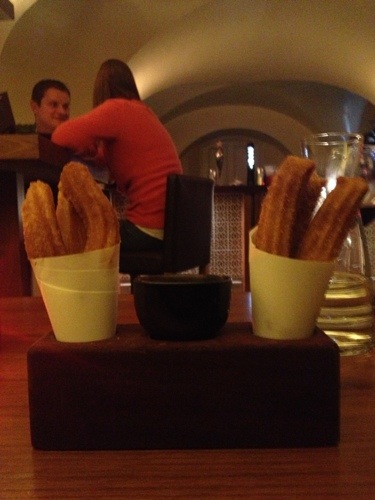 Like a castle with turrets of Spanish doughnut; the churros was something special. The fried dough-pastry fingers were perfectly crispy on the outside, sprinkled in cinnamon sugar, but beautifully melt-in-the-mouth soft on the inside. And the hot chocolate dip (yes it comes with hot chocolate dip) was wonderfully rich, thick and creamy. I was in heaven.
So there you have it, the essential guide to dealing with fomo; you can order, taste and fall in love with everything on your table… without any fear in the world.
DISCLAIMER: If you're eating from Iberico's standard menu you will be spoilt with a huge selection of tasty tapas. The cheese board is to die for and the black cod is amazing. In fact, unless you are dining with a small group of people, and can order at least 12 dishes, you may still suffer from fomo. Sorry about that.
Food Facts
The express early evening menu is available from 5.30pm to 6.45pm Monday to Friday, and we had to vacate our table by 8.30pm for the evening diners. It costs £13.95 for two tapas dishes, the Catalan bread and dessert (the churros and hot chocolate incurred an extra £2 supplement).
You can also get the same deal at lunch time during the week for £11.95.
Iberico World Tapas lives at the Shire Hall, High Pavement in the Lace Market and you can call them on 0115 9410410.