Having lived in Nottingham for the best part of 10 years now I tend to get quite excited when something new opens that is a little bit different. I did it about Coco Tang (shotlived), Tilt cocktail bar (go!) and Spanky Van Dykes (thoroughly recommend). However, I think I might have just made the most exciting discovery yet. And its name is BrewDog.
A couple of people had mentioned it to me and there were excited whispers running around the office this week: "New bar's opened. Makes its own beer", that sort of thing. And so yesterday, on a cheeky afternoon off, Matty and I went and checked it out.
I found it on my favourite Nottingham street (Broad Street) in the old Shaw's building, which is a pretty cool building in itself. The interior has a funky minimalist feeling with exposed brick walls, wooden floors and traditional 1930s style filament light bulbs, hanging naked from the ceiling.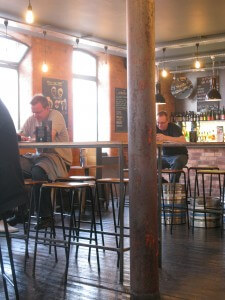 Enough about the decor. We made our way to the bar to be greeted with a very impressive selection of beer. Rows of uniquely labelled bottles lined the fridges while a big chalk board on the wall above listed the ales on tap. My eyes flicked around like a magpie that had accidentally flown into a jewellery shop.
I have to confess I don't know a great deal about "proper beer" – despite the fact that my work once sent me on a beer tasting course in a desperate bid to culture my lager-loving ways. Determined to keep a lid on my Stella and Sauvignon Blanc habit, I just meekly said: "Do you have anything golden?" Well that brought the bar man to life. His eyes lit up and he said: "Everything we have tastes golden" and I knew then, me and the BrewDog, we were going to work.
He went on to explain that all the beers are very "hoppy" with more hops than your average beer to bring out the different flavours. A consequence of this is that some of the beers are very strong – ranging from about 5% right up to the Anarchist Alchemist which is a whopping 15%. Our Aussie bar man explained the beers were brewed for flavour – not for the strength, and that was just a mere consequence of the process. Skeptical, that anything that strong could really taste of anything but Special Brew, he proceeded to give us a sample. And wow, it was wonderful. Resembling something more like a liqueur than a beer, it was sweet and bursting in flavours, and left my chest with that warm glow not dissimilar to the brandy-effect. Nevertheless it was only 4pm on a Friday so after sampling a few of their best sellers, I opted for the 5am Saint (5% ABV) while Matty went for the Punk IPA. Mine was a delicious rum coloured number – and please excuse the lack of appropriate beer tasting prose here – but it almost tasted fizzy, it was the perfect temperature (colder than normal ales) and had a bit of a sweet aftertaste to it. Yum. Matty's was more of a pale ale, which was slightly drier.
We took our drinks over to a little booth and started planning what we were going to have next. It's the kind of place that makes you want to sample everything on offer. Perhaps due to the strength of the beers, they were served in schooners (an Aussie sized beer which is about 2/3 of the size of a pint) and later, when I ordered the New Zealand Hardcore (9.2% ABV) it was served in a half. But the drinks are so rich and flavoursome that actually you don't drink them half as fast as you would a lager or a pale ale, so the size is perfect. Personally, I love a good schooner – often think a pint can feel too big, going a bit flat at the end if you don't drink fast enough, while a half is little more than a thimble. Yes the Schooner is the Goldilocks of beer glasses for me.
BrewDog also offers food matching advice for all of its beers and sells a selection of small bites. Feeling peckish we ordered a small cheese and meat board (£5) and were not disappointed. A far cry from the regular board of cheddar, stilton and brie often served at fridge temperature, this board was a little bit special. Yes there was a soft French cheese, which may have been brie, but it was so beautifully mature and so "ready" that it was oozing a little bit. It was joined by two other deliciously mature cheeses that shamefully neither of us could recognise but were wonderfully nutty in flavour.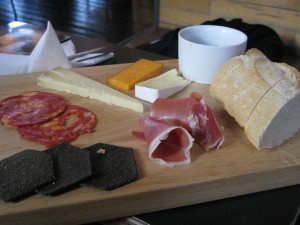 So there you have it. A winning combination. Oh and girls, if you're single, it seems to have a rather large male clientele – that weren't all bad looking either. Right, I'm off for a beer.