I've delayed writing this post for some weeks… in the hope that things would improve.
As previously mentioned on here, I have been known to travel places purely based on their cuisine – namely India and Thailand – which saw me leave south east asia a stone heavier after three months of scoffing my way across the region.
But there is no chance of that happening here. Well actually that's a lie, I'm approaching 30, there's every chance I will put on a stone – but I just won't have had quite as much fun doing it this time round.
The truth of the matter is Central Asian food just isn't that great. It's full of dead-animal-flavoured-meat and huge chunks of fat that appear in all manner of substances. And it pains me to write this because I wanted to love the food here – I wanted this trip to be another worldwide eating odyssey.
Take this short story, for example:
We were staying at a beautiful family homestay in the Nurata mountains, Uzbekistan. The place was a delight, we spent our mornings ambling across the surrounding mountains and our afternoons drinking tea on a tepchan sitting over a gurgling stream and playing with the lambs that roamed the gardens.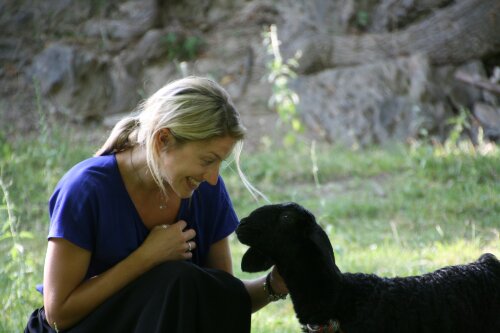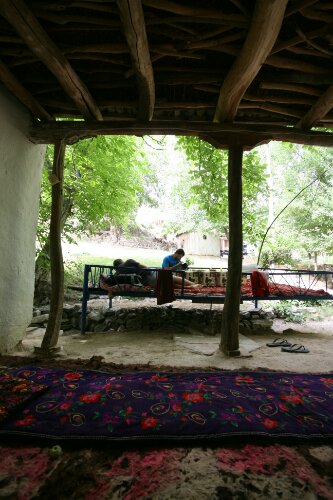 And then suddenly one evening, as the sun was sinking in the sky, we heard the desperate, dying bleats of a sheep, quickly followed by one of the girls carrying its head by its ears down to the stream where we were sitting, leaving a trail of blood and guts as she walked. She meticulously pulled all the brains out, washing them thoroughly in the running water before returning to the house with the sheep's skull tucked under her left arm, and carrying the brains in a bowl.
That night much ceremony was made over dinner. Following the usual meat broth of potatoes, carrots and mutton, we were told to wait for a 'special' dish that was still being prepared. There was a wedding at the house the next day and this dish seemed to create quite a buzz among the family, as if it marked the beginning of celebrations.
About two hours later, after we were quite full and almost ready for bed ourselves, it finally made its appearance. A huge plate of what looked like spaghetti bolognaise was placed in front of us, and while trying to erase the sound of the sheep's dying bleat from my ears and quickly checking the lamb I'd been playing with was still alive, I politely tucked in.
It tasted of dead animals. The strong stench of cooked flesh reached my nostrils before the fork got anywhere near my mouth. I stopped breathing through my nose and bravely gulped it down. Grainy pieces of unidentifiable meat ground in my teeth before I had the sense to swallow without chewing. I tried to eat some of the wet, limp pasta instead but that too had absorbed the taste of death, like a Chameleon that had spent too long in a graveyard.
The Mongoose took one for the team and ate more than the rest of us could bring ourselves to look at. For this dish, beshbarmak, is a real honour and it would have been a disgrace to leave it untouched. It took us all a few days to eat meat without recounting the horrors of that night.
This is, of course, an extreme. Not every dish has been quite so bad. Some have even been good.
So, in case you are planning a trip to this neck of the woods and are wondering what is in store for you, or are just curious and want to feel smug about your dinner of bangers and mash tonight, here is my comprehensive guide to Central Asian food and drink:
Kebabs
The staple food here is kebab. And I have to say that most kebabs have been very, very good. Matty has even compared them to that of Victoria Kebabs on Mansfield Road, Nottingham, where he would end most nights back home in a sweaty-meat-infused state with chilli sauce dribbling down his chin. High praise indeed.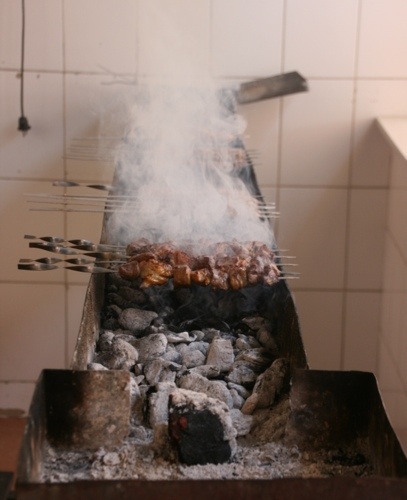 First up are the shashlyk kebabs – minced meat moulded on sticks almost like skinny hamburgers. They are peppered with onions and spices, often juicy, rich in flavour and – in my opinion – the safest bet when it comes to kebabs.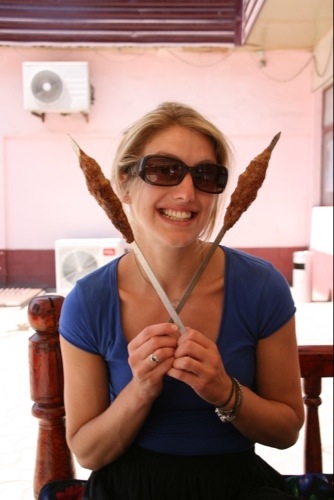 I think having my hair tucked into my sunglasses really offsets the meat in this snap.
And then there are the shisha kebabs – chargrilled chunks of succulent meat, served hot off the barbecue (word of warning – these often come layered with chunks of fat between the pieces of meat.)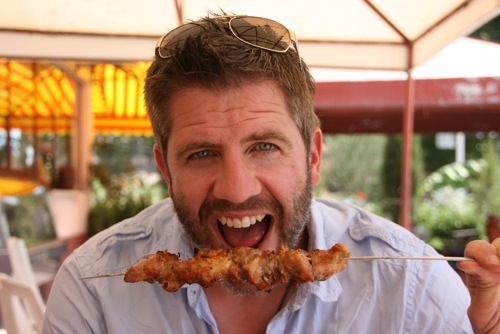 (And in other news Matty has a beard!)
And finally there are the donar kebabs (shudder). But actually even these filthy-abnormal looking lumps of meat, that turn vertically before hot grills, are good here. I know, I never thought I'd say it.
So in short, if you like kebabs, this is the region for you. The kebabs here are great and cheap, you can easily 'dine out' on kebabs, salad and bread for about £1.50.
Samsa
Big in Turkmenistan, these pastry parcels of minced meat and fried onions are surprisingly tasty. Almost like a superior Cornish Pasty, the pastry is thin and crispy and the filling is rich in flavour. Wash down four or five of these with a couple of bottles of the local brew and dinner's sorted.
Mantu
Like giant pasta parcels of minced meat and onions, these vary from the very, very bad to the very, very good. In Georgia they go by the name of Khinkali – the dumpling is light, oozing with rich juices and good meat. In Turkmenistan we found the dumplings were thick and rubbery and the meat was littered with small pieces of bone and fat. It's a gamble… And one I can't always be bothered to take.
Plov
The national dish of Uzbekistan is a tasty, if not heart-stopping, combination of deep fried rice and meat that on reflection, could easily be responsible for putting on an extra stone on this trip. It varies from region to region, but tends to include rice, carrots and either lamb or beef.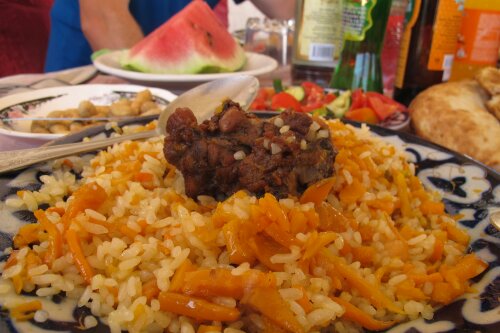 When we saw it being made, the meat and carrots were deep fried in a huge vat of oil. The rice was boiled separately before being added to the meat pan to soak up the oil. The dish will leave the plate ringed in a rich, orange oil and is not for the calorie counter, but it is bloody good and surprisingly moreish.
Dolma
This dish of minced meat stuffed in peppers is a firm favourite for me. Often piled into skinny green peppers, the meat is similar to that found in the Samsa but it's nice to have a vegetable accompaniment for a change.
Fruits and Salads
If you are a vegetarian – be warned, meat comes with everything. Lumps of beef have been found swimming in my mushroom soup and even my puréed lentil soup, nothing is safe.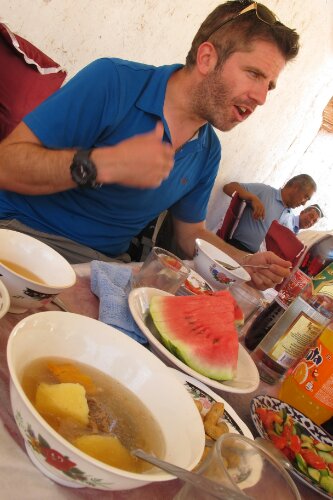 Most soups look like this.
On the other hand Central Asia is blessed with an abundance of fresh fruits and vegetables so if you're happy to head to the bazaar and put together your own lunch or dinner, you'll be spoilt for choice. The tomatoes are giant and juicy, the cucumbers fresh and crunchy and the melons are so good it would be wrong to not get a daily fix. The apricots and plums are often so succulent you feel like you need to eat them over a sink or a bowl.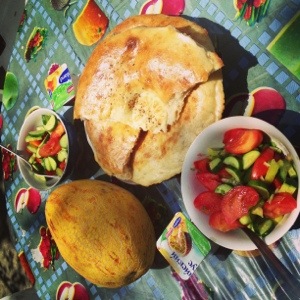 Breakfast… Tajik bazaar style.
Salads of tomatoes and cucumbers often accompany many of the dishes I've mentioned here – oh, and most things are also scattered with a generous sprinkling of dill, for better or worse.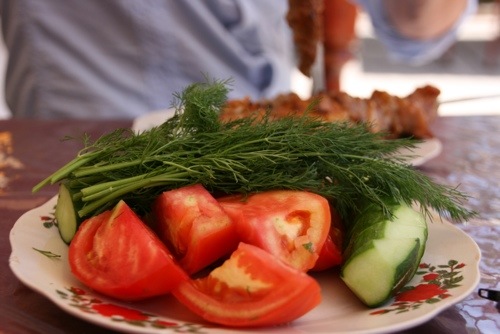 Snacks
Street side snacks of deep fried meat or potato pies, or even just deep fried bread are readily available but often disappointing, lacking in much flavour other than that of the old oil they have been cooked in.
Alternatively you can pick yourself up some 'dried yoghurt balls', which taste like an unsuccessful experiment of leaving a pint of milk out over the summer months. For a more vivid, and horrifying, description of this delicacy please see Matty's blog post here.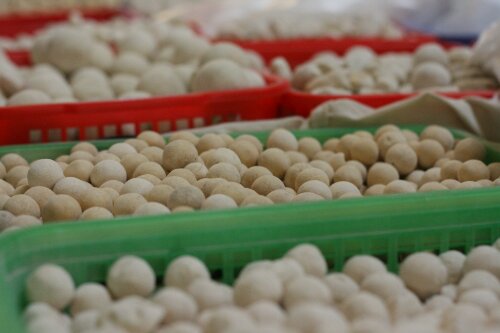 Expect lots of individually wrapped sweets to be served with tea at all times. Disturbingly, some say 'Shrimp' on them but fret not, they are not remotely fishy tasting.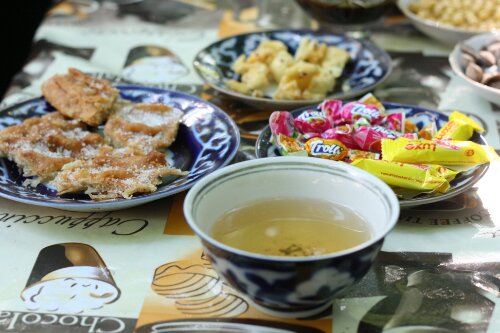 However, the snack to satisfy all of the greatest snacking desires, will surely be that of the fresh bread and biscuits that are readily available across the region. Both justified previous entries in their own right, so click on the links for more details.
Drink in Central Asia
Whether you're after a can of Coke, a bottle of beer, or a slug of vodka you will never have far to look. If it's a Diet Coke or water that you fancy, you may have to search a little harder.
Entire fridges of Coca Cola, Fanta and Sprite are testament to the wide, gold-toothed grins of Central Asia, while apparently anything with the word 'diet' in its title seems to be unmarketable here. I am trying to come to terms with my Diet Coke addiction as I type.
As for alcohol in Central Asia, it is surprisingly plentiful. Despite the large Muslim population, vodka is drunk like water and beer consumed with a robust, healthy attitude. Wine on the other hand should be avoided. After a determined effort to get to know Uzbek wine, I can only urge you to stay away.
The beer is often weak (between 3% – 4%) but after much experimentation, this Uzbek bottle gets the prize for the Best Beer in Central Asia. A picture that the Mongoose has carried around on his phone for the last three weeks, flashing it to every waiter that passes our table.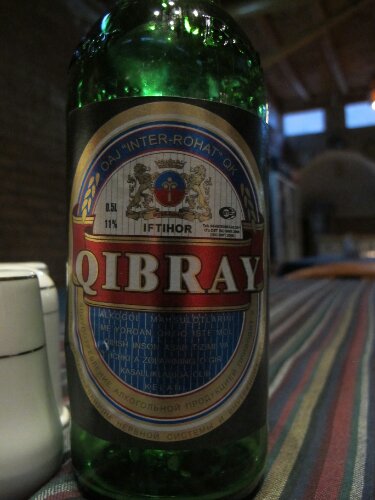 I feel the need to add a slight disclaimer, in that this has been written after spending about six weeks in Azerbaijan, Turkmenistan, Uzbekistan and Tajikistan. I still have Kyrgzstan and Kazakhstan to see – and much more of Tajikistan yet. So perhaps I will discover a culinary delight that will leave my mouth watering and enthusing simultaneously. And trust me, you will be the first to know about it if so.
But in the meantime, I would like to conclude that Central Asian food, while not all bad, is definitely not worth putting on a stone for.