'Don't go there,' almost every traveller warned us, in dark and fearful tones.
'It's a concrete jungle… Blackpool for Australians… the Magaluf of the Southern Hemisphere.'
The list went on.
We didn't intend to visit Kuta, in fact we had positively decided not to. But things change.
Namely Matty ('young, hip and urban Matty') said he wanted to check it out… 'Have one night on the town', he said. So we agreed to stay for two days only, taking a day trip to the nearby Seminyak and Denpaser on the second day. And I'm glad we did it. Kind of.
Famous for its fabulous, wide 12km stretch of beach, Kuta is riddled with touts and hawkers. You cannot close your eyes for a minute without feeling someone tugging on your shoulder crying 'massage, massage', as everything from carved bow and arrows to pirate DVDs are thrust into your face.
The only way you can escape the madness is to get into the sea… There you are safe from it all. And I think this is why so many people surf. That and the amazing breaks. (Have I got the lingo right? I'm working on this).
So partly out of desperation to escape the touts and partly because well… when in Rome and all that, we threw ourselves into the sea for a surfing lesson. Not before a bit of haggling mind you.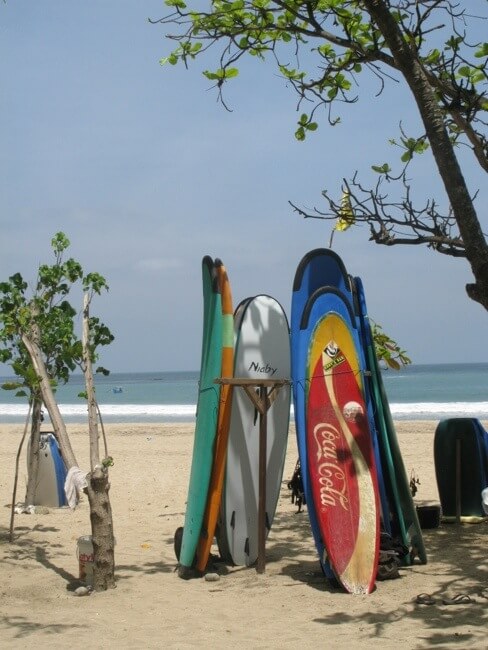 The beaches are lined with hunky Indonesian surfer bods who sit around small stands of surf boards that are propped up in the sand. These guys are pretty entrepreneurial, you have to give them that, not only do they rent surf boards, give surfing lessons and sell drinks in little cool boxes but come sunset they line their little plastic chairs up to face the sinking sun and serve ice chilled Bintang. Perfect.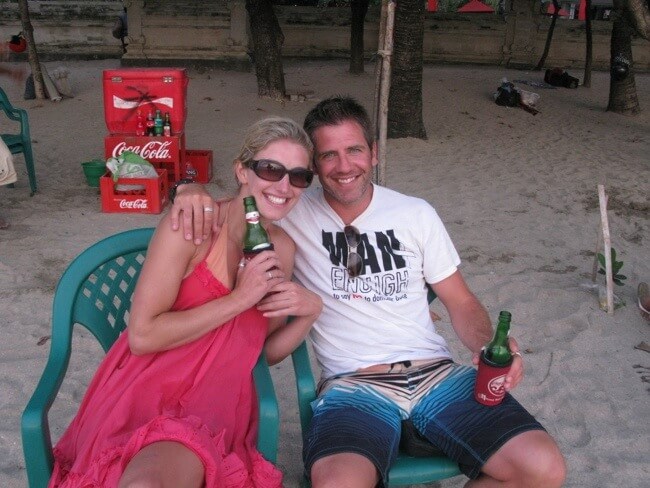 We played the regular 'good cop, bad cop' routine for haggling down the surfing lesson. This is a technique my lovely friend Carly and I perfected on our 'gap year' and basically involves one person doing totally unreasonable haggling while the other person looks on at said tradesman with sympathetic eyes and nods as if to say I-know-she's-a-nightmare-but-I'm-a-good-person-and-we-all-know-you're-asking-for-too-much.
Needless to say when Matty and I play the game I am the bad cop and he is not just the good cop but a bloody angel of a cop. He even says 'I know she's a nightmare' to the said tradesmen. I've tried telling him that he's meant to say it with his eyes but I don't think he gets it. Anyhow, it worked and we were soon armed with surf boards and surfers ready to teach us the way of the waves.
I'd like to say I charged into the water with the surf board tucked under my arm Baywatch style, but I didn't. I entered the water looking more like a criminal whose ankle tag had accidentally become attached to someone else's surf board and I hadn't realised. So Ketut (my surf instructor) strolled into the water holding the surf board and I ran behind him trying desperately not to trip over the cord that ran between the board and my ankle.
Many people choose to go to surf school in Kuta where, for a lot more cash, you spend the best part of a day learning to surf. Lessons often start in a swimming pool before you're taken to the beach. And while, I cannot vouch for this method, I really recommend just having a go with the guys on the beach.
They were fantastic and gave us a 10 minute explanation on the sand (which saw us lying on the surf boards like beached whales) before we entered the ocean. It was a little tricky, I won't lie.
Ketut held my board in the right direction and let go just as the right wave came my way, so really he did most of the work, the wave did the rest of the work. All I had to do was get up. But first few times I didn't even try.
'Why are you not trying?' Asked Ketut, clearly confused by my apparent determination to just ride out the waves on my belly.
'I wasn't psychologically ready,' I tried to explain. This is a phrase I over-use, as my good friend Nicki knows only too well after she accompanied for my first ever skiing trip. I said it a lot… Perched at the top of a terrifying green run, just as we were about to get on a ski lift, the time she tricked me into snow ploughing down a red run. I spent most of our trip crying 'I'm not psychologically ready'.
So anyway after belly boarding about three waves I attempted to stand. It's a strange old concept… My hands gripped the sides of the board, I pushed the top half of body up, right foot forward, left foot forward and voila… I was up! So it didn't happen immediately, but it did happen, quite a few times.
And I liked it. It was cool. I was just standing on a board riding the waves… It was totally rad man. And then as I got closer to the shore I could see the water was running out and I wasn't quite sure what to do, so I just sort of threw myself off – but I meant to you see.
And that was definitely the best bit about Kuta. The rest of it is everything we had been warned of. The streets are traffic-choked, heaving with tourists, rammed with touts and tack and, sadly starved of the beautiful culture we had grown accustomed to in Bali.
Come evening the main strip, Jalan Legian, turns into something else entirely… It's like an ugly cross between Ko San Road in Bangkok and London's Picadilly Circus, minus the lady boys. It is a intoxicating mix of neon lights, loud music and snail-crawling traffic. But yes, we did have a good night out.
We felt compelled to see Kuta, and that we did. But you don't need more than a day and one night. So if you're going to go then go now, quickly, before they put the touts on surf boards. It is, surely, only a matter of time.
Travel Tips
Don't pay more than 100,000 Rupiahs (£6) per hour for surfing on the beach with the locals. Someone tried to charge us 300,000 each but with one instructor. Instead we got an instructor each for 100,000 in the end. Play the cop game! The surf in Kuta, we've been told, is ideal for beginners and while we had nothing to compare to it was certainly manageable. If I can stand up anyone can!
The food in Kuta was terrible – full of crap restaurants catering to western tastes badly. We did not have one good meal. Do your research and maybe you'll have more luck than us!
We stayed at Fat Yogi Cottages in Poppies Gang I and it was absolutely wonderful. It's very central, you're right in the heart of Kuta but bizarrely, it was lovely and quiet. Rooms start at about 200,000 Rupiahs, we upgraded and spent 340,000 for a room that was really worth the extra pennies… Large walk-in shower with hot water, big spacious room and very clean.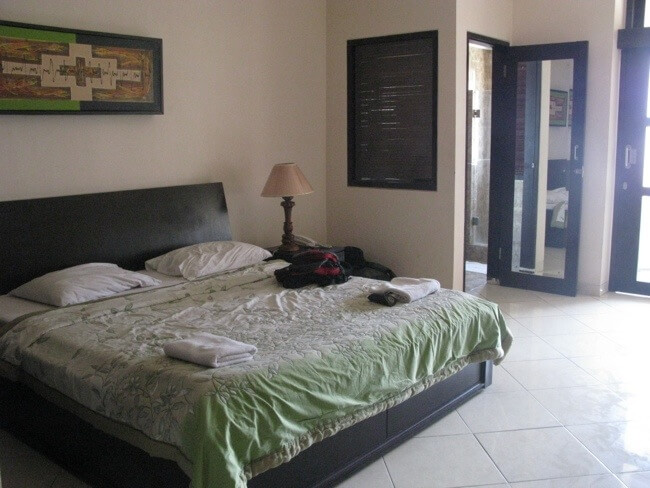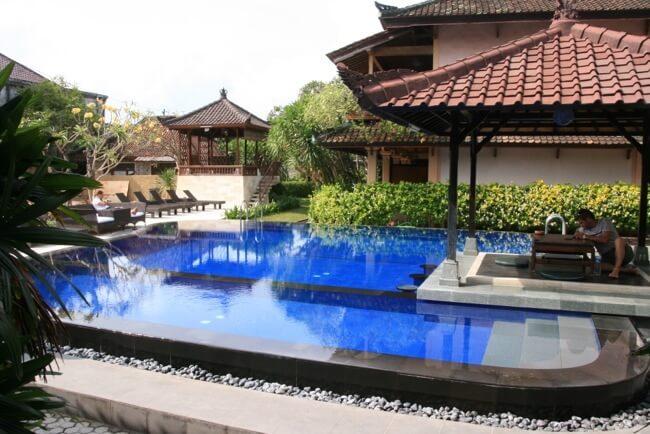 The pool was lovely, there's Matty on the right-hand side ordering our breakfast.