I had been warned about bribery and corruption before coming to Central Asia. Travellers along the Silk Road regaled horror stories of being pulled over by police and being forced to pay $100 before they could get away.
But I just never thought I was the sort of person to be dragged into that sort of business. Until I saw my prize, that was, glimmering and shining before my eyes, and I suddenly knew I would go to any lengths to get it.
You see, in true Hansel and Gretel style, I've sort of always left a trail behind me… of snotty tissues. They just seem to fall from my pockets, run out of my hands, jump from my lap. It's not really my fault – just a combination of hayfever/allergies and some runaway tissues.
But The Mongoose and Matty took a dislike to my ingenious methods to ensure we never got lost.
"We're in a bloody train carriage, we're not going to get lost," they would scream, pointing at my lovely white, soft, scrunched paper that was lying on one of their beds.
Eventually I gave in.
"Fine," I said. "I'll stop leaving snotty tissues around if you pay me."
They looked up in surprise. They hadn't expected that.
"Pay you?" Said The Mongoose with one eyebrow raised.
"Errrm yes," I confirmed. "I will also accept a champagne dinner."
They quietly nodded to each other.
"Fine, if you don't drop a single tissue for two months we'll treat you to a champagne dinner," said Matty.
We shook hands. The deal was done. The bribery had been committed. When in Rome and all that… Actually, to be honest, I'm not entirely sure who was being bribed and who was the briber but either way I had a prize to claim.
I upped my game a few weeks later and demanded small fortnightly prizes for my efforts. This largely came in the form of chocolate, which was most satisfactory (I can heartily recommend Alpine Gold if you find yourself engulfed in some kind of chocolate bribery on this side of the world.)
And so as the days turned into weeks, and the weeks into months I became scrupulous about tissues. I even binned other people's tissues in case they were accused of being mine. I was the mad woman walking down the street in Samarkand picking up dirty tissues from the floor.
But the more Central Asian food we ate the more determined I became to succeed – to get my posh meal out and pretend for one night only that I was not really a dirty backpacker. I could almost taste the Champagne.
As the night drew closer Matty and the Mongoose starting researching the best kebab holes in Bishkek, Kyrgzstan, claiming they had secretly found six tissues over the months so I would be taken to the sixth best kebab joint in town.
"They're joking, they're joking," I told myself. But I became less and less sure each passing day.
Until finally the night arrived. I got all "dressed up" (aka wearing a boob tube with my everyday travelling skirt and battered Havianas), and was pleased to find the boys both wearing shirts they would not want to get kebab juice down. It boded well.
And so it was that we strutted out of the guesthouse (after queuing to use the loo) with the air of three people who were about to embark on an odyssey of good food.
The boys were still making mutterings about shashlyk kebabs as we made our first stop for the evening: Coffee Shop in Bishkek. And while there was coffee on the menu, the name is somewhat misleading. The place resembled more of a swanky bar with spirit-laden shelves on the back wall, shiny glass-topped tables and swallow-me-now leather booths to slide into.
And, to my amazement, there was GIN on the menu. Coffee shops around the globe – please take note, gin should always be an option alongside your Cappuccinos and Lattes. Hell, if you can have whiskey in your coffee you should definitely be allowed a gin chaser. Or two.
It had been almost three months since my last gin. That's like 90-something gin free days. Not a sip. Not an iota. Not even as much as a sniff of a gin soaked slice of lemon.
"Gin?! Gin?!" I cried, stabbing the menu with my forefinger.
"They have Beefeater gin. For less than £1. And it's a double measure." The words just sort of flew out of me while the waiter looked on in amusement. Matty raised his eyebrows to the waiter and whirled his finger around his temple (doing his new favourite 'she's crazy' imitation that unfortunately appears to cross all language barriers.)
The Gin arrived. It was served in tumblers, with a pot of ice and a bottle of tonic on the side so we could make the perfect mix (about 50:50).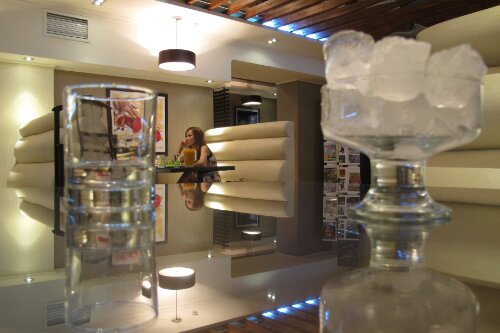 As I held the ice cold glass to my nose and allowed the herby scent of the spirit to fill my airways I announced that kebab would be fine for dinner, I needed no further reward.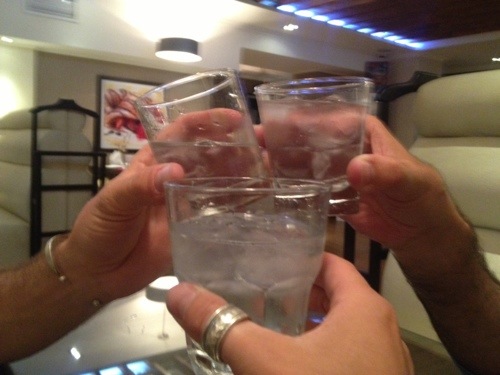 But a couple of gins later I found myself (somewhat reluctantly) being dragged off for dinner. We wandered down Chuy (the main street of Bishkek) and came to a stop outside an Italian restaurant called Cyclone with posh looking beige canopies hanging down over the alfresco seating area.
"Oooh, is this us?" I asked, taking in the polished wooden tables, leather-bound menus and heavy linen napkins. For a moment I felt like I was back home, reviewing a restaurant that I wouldn't otherwise be able to afford for my local paper.
We were shown to our seats and while I perused the extensive menu of pizza, pasta and meat dishes, a glass of sparkling wine was poured to my right.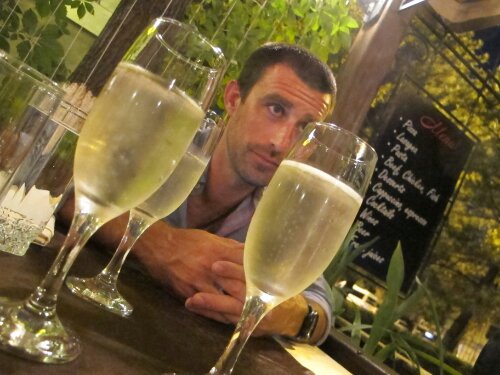 The boys glasses were filled too and as the three of us raised our bubbling flutes to the warm evening sky we toasted the demise of snotty tissues.
The menu was excellent with great variety and in the end we agreed to share a bruschetta and carpaccio to start, followed by Penne alla Matriciana for The Mongoose and I, while Matty chose the spinach and chicken fettuccine.
Just when I thought it couldn't get much better, a bottle of Chianti was ordered. I hasten to add we have not had decent European wine since leaving Paris on day one of the trip.
The food shortly followed and our Western-Food-Deprived stomachs almost doubled over in pleasure at the sight of the starters alone.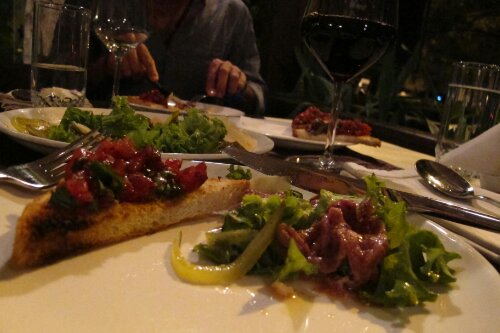 (Bit of both on my plate).
Served on crusty triangles of toasted bread, the bruschetta's tangy, peppery tomato topping caused my tongue to quiver in delight. That happens to everybody else too, right?!
Meanwhile, the Carpaccio was dressed in a lime infused, slightly sweet dressing on a bed of crunchy lettuce and topped with huge swathes of mature Parmesan shavings. The raw meat absorbed the flavours around it, and almost melted in the mouth on the first bite. I might have spooned up the juices left on the plate once the meat had disappeared. Terrible behaviour.
The mains did not let the side down. I normally steer clear of creamy dishes in Italian restaurants but Matty's chicken and spinach dish proved me wrong. Rich and peppered with garlic, the sauce was thick and flavoursome – almost as if it had been minced with mushrooms before being tossed together with the fettuccine.
The Mongoose and I were just as pleased with our own penne pasta, which was peppered with good quality thick bacon slices (no fat), chunks of onion and a healthy smattering of Parmesan. The thick, rich tomato sauce clung to the al dente pasta rather than drenching it. Naturally we had asked for extra chilli and the chef had generously obliged, leaving us with chilli-induced running noses.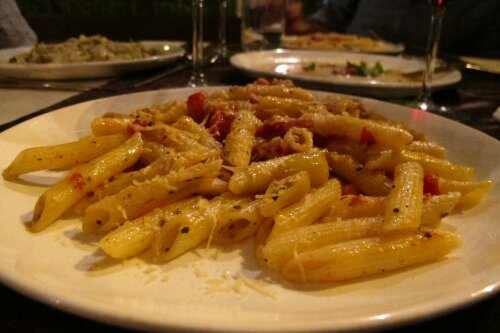 As I blew my nose heavily, I gave a satisfied sigh to my empty plate before screwing up my tissue and absentmindedly placing it on the table.
The boys looked down at it, frowning.
"I'll stop if you buy me a helicopter ride over the Grand Canyon," I offered.
Watch this space folks. Ahem.