A group of kids are running and skidding down an alley way, kicking a football high into the air. The ball flies over the wall and they briefly shout in protest before one of them runs round to try and find it.
An ordinary situation – I could be anywhere in the world, I think. But these aren't ordinary teenage kids. Instead of sporting the latest Nikes and skinny jeans, these boys are wearing red wine coloured robes and their hair has been shaved. They are monks in training, or monklets as I like to call them.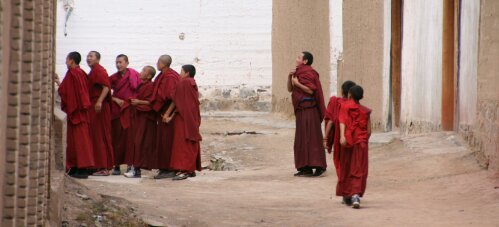 Welcome to Xiahe, a Tibetan town in China, that doesn't really feel like China at all.
It was a tricky journey here, I won't lie. A sleeper train from Dunhuang and two buses later we arrived, bleary eyed, hungry and a little confused. A monk passed me on his mobile phone, another was clutching his shopping while laughing with his friend and a third just silently chanting to himself as he walked through the busy high street of Xiahe (pronounced sheeya-huh in case you were curious).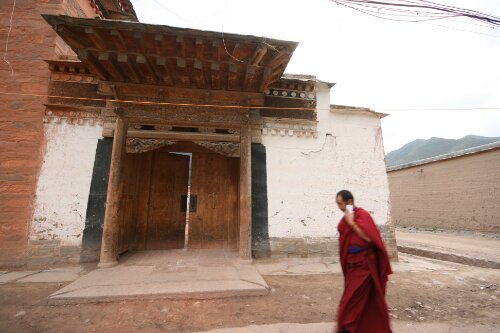 Why aren't they living in caves or fasting in the monastery, I can't help but wonder, as I wander the streets. Clearly I am out of date with monks. The irony that I share their name is not lost on me. But if anywhere is going to bring you up to speed with the life of the Tibetan monk it's Xiahe, which has been completely built around the Labrang Monastery.
Sitting proudly at the end of the town's busy, colourful, horn-honking high street, you will find everything from woollen shawls and prayer beads to cans of Coca Cola as you make your way to the monks' extensive complex. Oh and the town has a resident goat.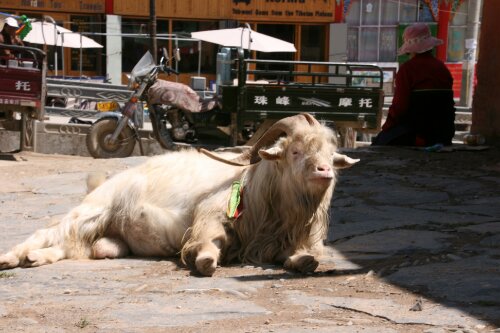 But once you enter the narrow streets and winding paths that snake around the monastery's buildings, a new sense of quiet emerges and you find yourself almost tip-toeing past the muttering monks.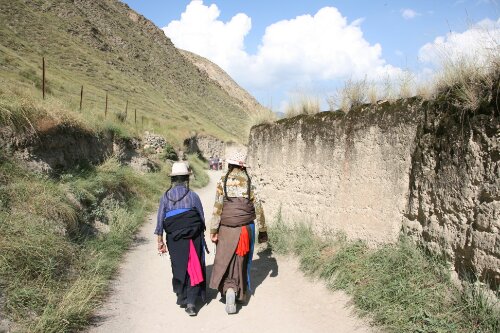 A 3km horse-shoe shaped path takes you around the key buildings. Lined almost entirely with brightly painted prayer barrels, it has become a significant pilgrimage path, as monks, nuns and locals walk the circuit, spinning the barrels as they pass, chanting, praying and genuinely lost in thought.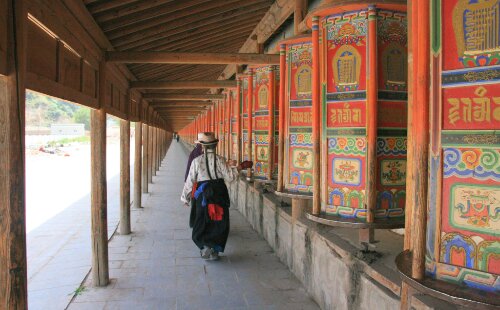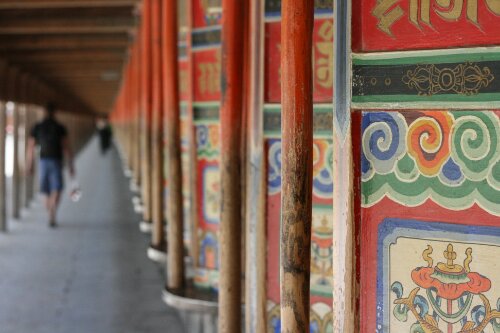 "Oops, sorry," I bumble apologetically as I accidentally elbow a praying monk who is mid-barrel spinning. But the monk barely notices, he is about six barrels down by the time I finish my sentence.
Labrang Monastery is a hypnotic place. The devotion of those around you is infectious and it isn't long before I am completely under the spell. The temples are decked out in a dizzy array of colours – what look like multi-coloured silk ties (the garish kind your teachers might have sported on non-uniform days) hang from the pillars while huge, gleaming gold Buddha statues drape sheets of golden yellow silk down to smaller gold Buddhas at either side. Brightly coloured Buddhist tales are depicted on the temple walls and white space is scarce.
Sadly no pictures are allowed inside but here's a taste of the colourful exterior…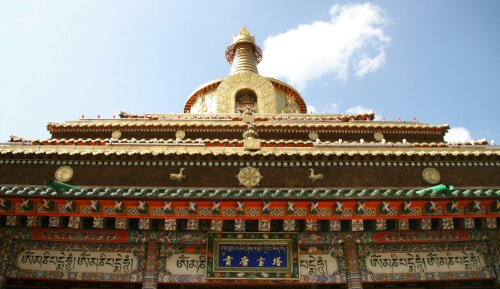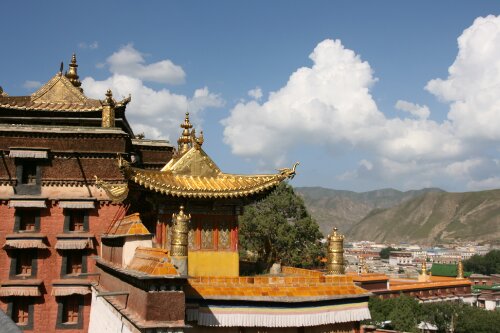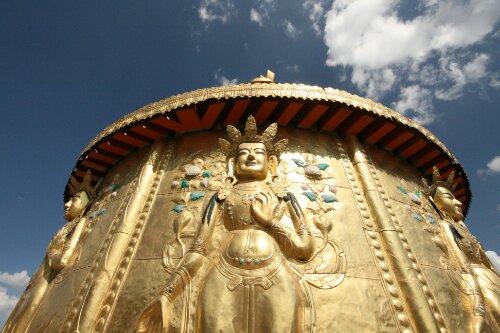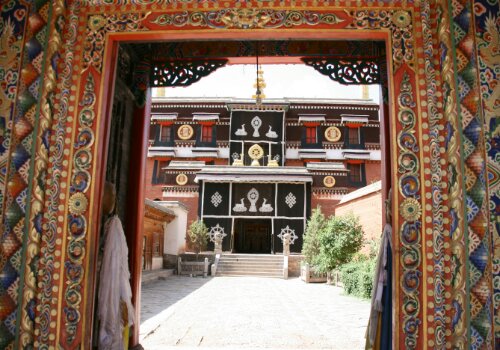 The incense fills your nostrils, as does – more bizarrely – the huge candles that appear to be made out of yaks butter that nevertheless, give the temples a wonderful flickering, soft light.
And then there are the monks. Often found sitting against a wall in the temples, chanting, singing and praying or banging huge drums and golden cymbals, they are, without a doubt, the star attraction of the monastery.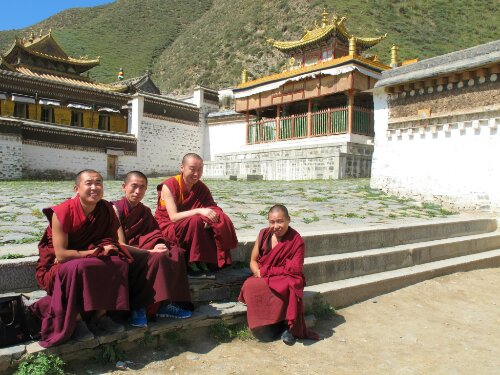 Their chanting turns into laughter as I walk past them and I self-consciously glance round to a line of big, grinning faces. I grin back. I don't understand them but I instantly warm to them.
And so as when the monklets' football rolls towards Matty's feet it feels like the most natural thing in the world for him to kick it back their way. They grin and shout their thanks before carrying on their game. It could be anywhere in the world I think, but I've never been anywhere quite like it.