Almost a month into our big journey across central asia, I have learnt three things about travelling with boys:
1) Boys like climbing things.
2) Boys like shooting things.
3) Boys are not as good as girls at asking for things.
In sum, this means I have asked more favours from strangers, and climbed more walls, steps and mountains in the last three weeks than I did in the one year I travelled with my dear friend Carly after university.* I'm not sure how the shooting thing comes into it yet, I'll keep you posted on that one.
Crumbling city walls, that I would have once regarded as no more than a 'lovely backdrop' for a picture, have become giant playgrounds for climbing and walking, while steep, ghastly looking stairs that would normally pass me by have become one of the first things I notice when visiting beautiful old ruins. For those that remember my previous scaredy cat confessions of, well, most things, including stairs, I hope you are impressed.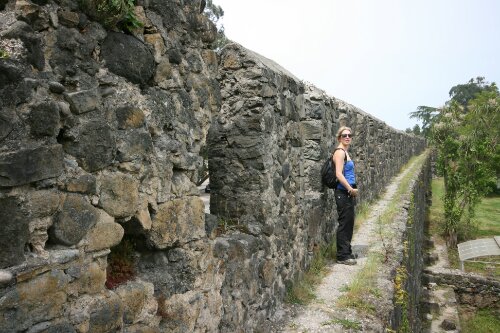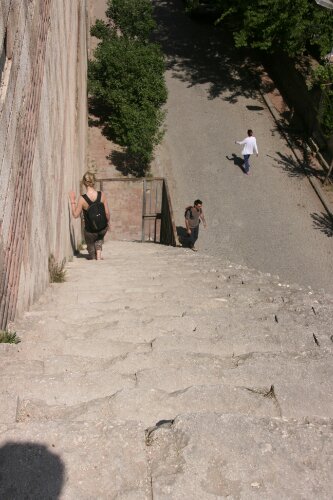 And this was precisely how I found myself climbing up to the Gergeti Glacier, in Kazbegi, Georgia.
A beautiful, mountainous region of Georgia, we had always intended to do some long walks in Kazbegi, including a climb to a 14th century church, perched above the town on an isolated crag at 2, 200 metres above sea level.
However, it did not take the boys long to realise that this was really just the first stop on a much more arduous ('but rewarding', they promised) climb to a glacier at 3, 000 metres above sea level. I enthusiastically (but slightly anxiously) agreed, and we pledged if one of us felt unable to continue we would all return back to the village together.
And so we set off. The Three 'Must-have-a-beers' (as christened by my dad when he said our farewells to us at St Pancras) and Dog. We accidentally picked up Dog, a big giant beast of a dog, in the village when buying bread for the trek. We clambered through some forest land, with Dog faithfully trotting by our side, and paused at an information board about local fauna and wildlife.
There it was in black and white, among a long list of indingeous creatures… the Brown Bear.
'Bears?!' I shrieked, loud enough for even Dog to cast a cagey look to his right, into the woodland. I had been worrying a bit about the altitude, about whether Dog would suddenly turn on us to get our bread half way up a mountain, and even twisting an ankle or two. But bears?
So the remainder of the trek up to the Tsminda Sameba Church was largely spent coming up with a bear plan. We decided the boys would throw rocks at the beast, while I would throw the bread in the hope that Dog would fight him for it… or I would play dead and let the boys deal with it all. Travelling with boys has its uses after all, I concluded.
But such fears were soon forgotten as we made our approach to the stunning church, sitting amid low-lying clouds, because Dog started terrorising the cows. There are cows everywhere in Georgia and as a huge bovine fan, I am in my element on a daily basis. They are not even skanky cows like in India. The Georgian cows are beautiful beasts with deep, rich coloured coats and happy faces. But Dog started chasing a couple of the idly grazing cows beside the church, causing them to charge in fear at startled tourists, who tried to run out of their way. So we pretended not to know Dog and focused on the beauty of the church instead.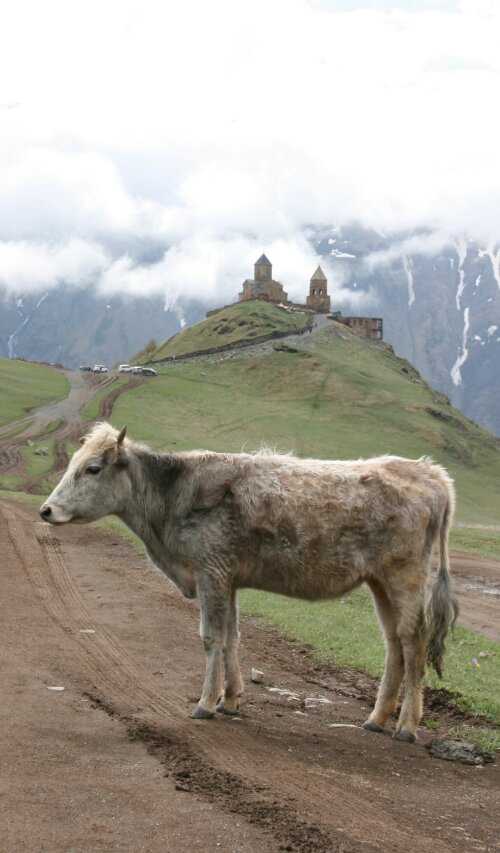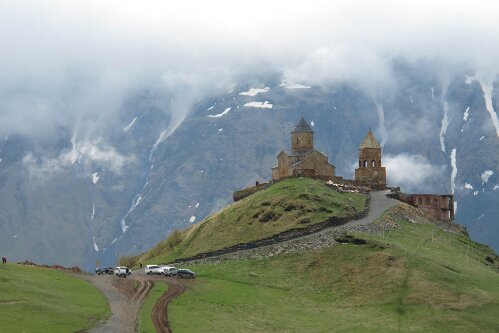 From the church we began the ascent to the glacier, minus Dog. Although by this point we had picked up New Dog, a smaller little creature that treated cows with more respect.
We started the long and cumbersome climb up hills scattered in wild flowers, over mountain ridges and more hills… and hills, and hills. As the altitude increased we found just a few energetic steps could leave us out of breath, causing us to pause… and reach for the chocolate.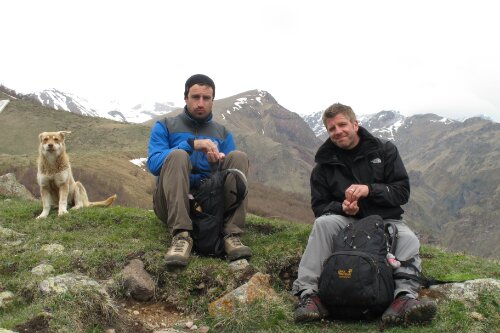 Even New Dog (who got crazier the higher he climbed) got tired and stopped for a snooze.
But as soon as I got my breath back and looked around me, I felt overwhelmed by the views around us. The church soon went from being a tiny speck below us to disappearing completely, and was replaced by towering mountains and deep cut valleys that suddenly emerged over the ridges as we climbed higher.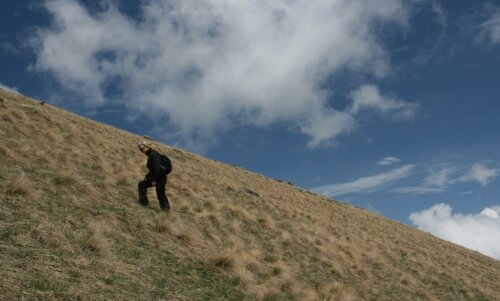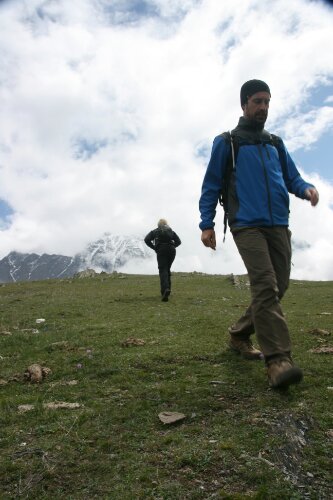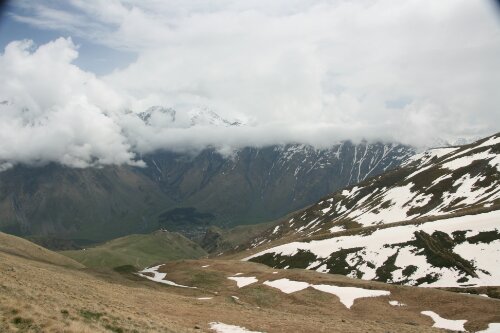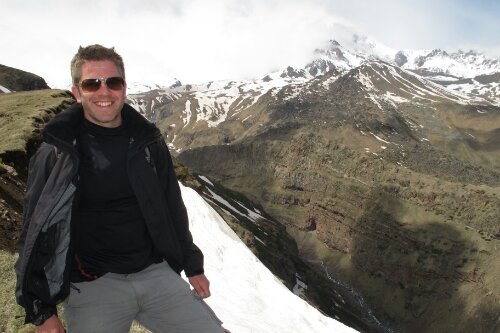 As we approached our final destination, we discovered we were unable to reach the glacier due to wet, melting snow which came up to our waists. Instead we sat looking out to Mount Kazbek and the glacier and ripped open our bread, cheese and chocolate for a picnic that might just win the best location award yet.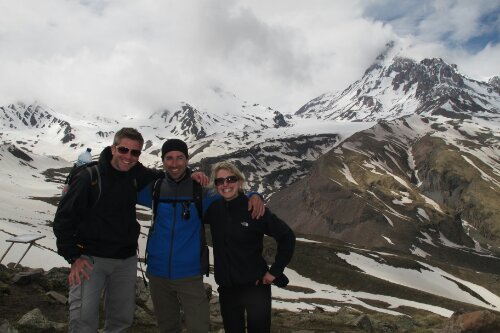 And as we silently chomped away, at a spot that I would never dreamed of perservering to find, I concluded that travelling with boys – well these boys at least – is not so bad after all.
*This might be a slight exaggeration. Carly and I after all tackled many things including the great muddy hills of Laos's jungles in nothing more than a pair of flip flops, which no other boys were daft enough dared to do.
Travel Tips
It is easy to travel to Kazbegi from Tbilisi – regualr marshrutkys (mini buses) run, taking about three hours and costing 10 lari (£4). You can also get taxis, costing about 90 lari – although we got a cab for the same price as the marshrutky as it needed to return to Tbilisi anyway, so worth asking around.
The journey is worth the visit in itself. Known as the Georgian Military Highway, it's incredibly scenic if not a little terrifying as you take corners on the mountain edge – seeing an overturned lorry on one stretch was a tad unnerving – but the drive really is beautiul.
Where to stay in Kazbegi?
We stayed at a guesthouse called Nunu's where she lovingly cooked for us every evening after we came down from the mountains. The beds were a little hard and there was no heating but we couldnt ask for better hospitality – plus the showers were hot! She's very central – you can email her at gvanci9191@gmail.com or call +995558358535.