There aren't many places in the world where you walk into an off-license to buy wine and walk out with a belly full of moonshine. But that's Georgia for you.
We learnt of the country's booze loving ways before we even set foot on Georgian soil. A lovely French jewellery artist, who we met in Turkey, gave us ample warning. Cooing about monasteries and the rolling countryside, she raved about Georgia – but in a more cautious tone, added: "They are big drinkers, they often put pressure on you to drink when you don't want to."
Matty's eyes lit up. The Mongoose rubbed his hands in anticipation, and I was delighted to learn that the Georgians are also big wine makers. On a trip where I thought we may have said goodbye to decent vino after leaving Paris, I was keen to sample as many large glasses of rich, red stuff as possible before begrudgingly moving onto the gurn-inducing vodka that no doubt awaits us in the 'stans.
So it was perhaps fitting that the first thing purchased after crossing the border from Turkey by foot, was a bottle of wine. We had to break into a 100 Lari note to get a few pennies for the marshrutka into Batumi and this seemed like the most appropriate way to do it: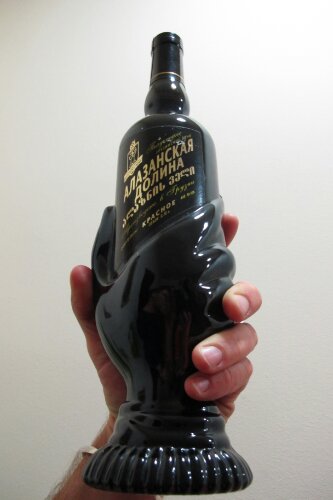 But, I won't lie, it did not taste half as good as it looks. In fact, it tasted little better than an elaborately bottled glass of Ribena. Sweet and sickly, I couldn't help but wonder if someone had picked it up in the fruit juice section before swapping it for a bottle of the stronger stuff in the wine aisle, leaving it for a hapless tourist to pick up minutes later.
The Mongoose made dark mutterings about finding the wine maker and dragging him out of bed in the middle of the night, to ensure others never again experience what we went through. And Matty wrote a rather twisted blog about its sinister ways.
Georgian wine, it transpires, is often sweet. Or dry. And a bit like girl with the curl, when it's sweet, it's very, very sweet and when it's dry, it's very, very dry.
It marked the beginning of what was to become a long journey to find the perfect Georgian wine. Our vino odyssey took us into supermarkets where we were watched like hawks as we cluelessly stared at bottles of funny-lettered wine, into basement bars where it was served out of large plastic bottles resembling sunflower oil, and into cosy little restaurants where the unidentifiable juices flowed from battered terracotta jugs.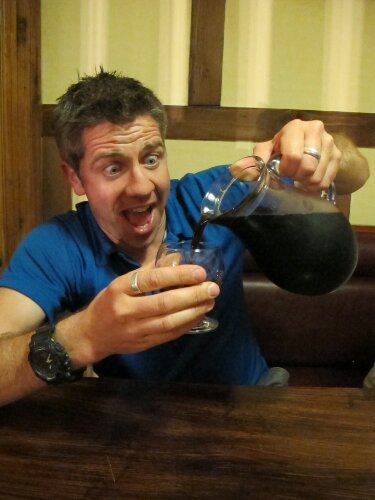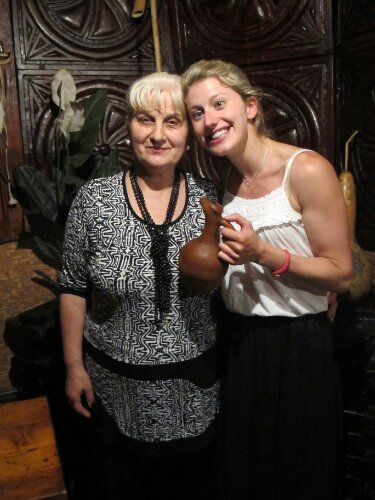 But somehow, somewhere along the way, we concluded that we quite liked Saperavi. This robust, red grape has bags of potential and was by far, the tastiest red wine we sampled in Georgia.
Produced by dozens of wine makers all over the country (but mainly in the Kakheti region), it was occasionally a tad too dry, tasting as if it had been stripped of all flavour, and other times still a little too sweet, but by and large we found it was, in the words of Goldilocks, just right.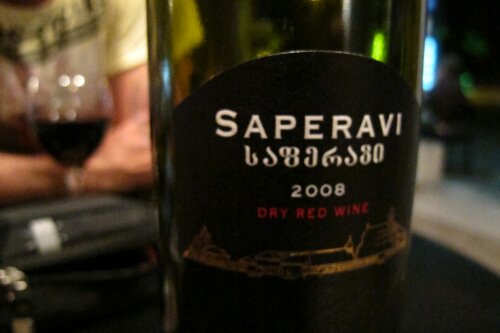 Many Saperavis remind me of the Merlot grape, a ruby red with subtle fruit flavours but plenty of tannin. And I guess like any grape, you get the good, the bad and the downright ugly depending on how much cash you're willing to flash. As wine-loving budget-backpackers we found one of the best buys was the Marani brand of Saparevi, which ranged in price from 9 Lari (£4.50) to 14 Lari (£6.50) depending on the retailer.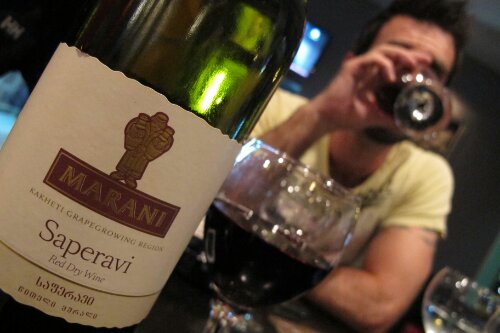 But it is the purchasing of the wine that really makes Georgia stand out from its continental cousins. A far cry from the safe, reliable Thresher wine stores that once stood proud on every British high street (before the recession even managed to have a stab at wine), the Georgian off-licenses are as much as a place to drink as they are to purchase drink.
The centrepiece of every store is a table laden with half-empty bottles of wine and often a couple of skimpily clad ladies offering tasters to the boys. As we walked into our 'local' for 48 hours in Tbilisi, the Mongoose gave the man behind the counter a familiar smile and sauntered over to the tasting table.
"We're back again," said the Mongoose. "Last night's recommendation went down a treat."
The man looked at him blankly.
"You know," the Mongoose continued, "I was in last night, you gave me some cha cha."
Still no recognition came from the man, who was by now pouring us small glasses from a red-labelled bottle of Saparevi to try.
Eventually, he looked up and said: "I'm sorry, last night I was very drunk, I remember nothing."
We nodded understandingly, glancing over to the two round-bellied men currently propping up the counter, which on reflection was more like a bar, drinking cha-cha with the other shop assistant.
So it was in that fashion that we sampled a few more Saperavi's, before moving over to the bar to 'taste' no less than three varieties of cha-cha, a homemade fermented grape number which comes in a varieties of potencies. Most of which are potent.
And with a belly full of moonshine we eventually walked out with what we declared to be the finest bottle of Superavi yet.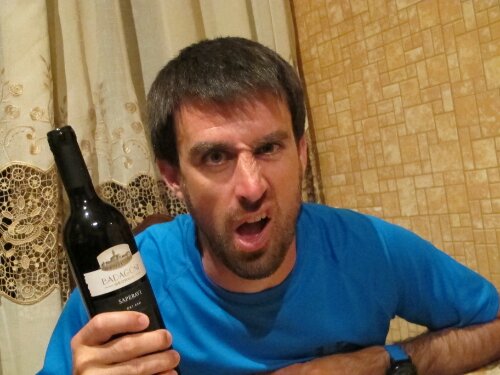 But if truth be told, by that point we probably had just as much of a clue as we'd had the day before when we accidentally ordered non-alcoholic beers and got half way through them before realising. Or just as much as the tramp who gladly took them off us, swigging the booze-free beer from the bottle as she swayed down the street. But that's Georgia for you.