Every epic journey should begin by wishing on a shooting star.
Just as we were about to climb Bali's highest mountain last year, our guide took us to a clearing besides a temple and as we gazed up into the glittery sky, we watched a star dart into the distance and silently made a wish. There were many points on that climb when I counted my lucky stars.
And as we now begin our journey across the silk road from Turkey to China, it would seem that I have been again blessed with such fortune. Only this star fell from the sky about 5,000 years ago… and landed in Argentina. And instead of being just a flash before my eyes, this shooting star, or at least a tiny piece of it, is coming on the journey with us… around my neck.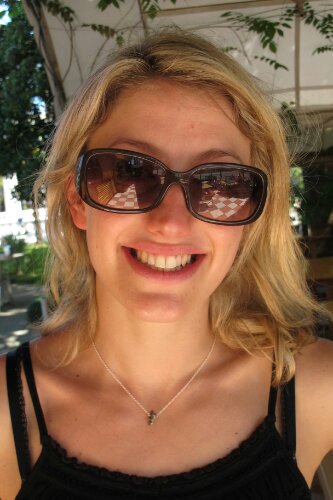 I'm not normally one to spend time and money in jewellery shops when travelling, but there was something about Shooting Star in Cappadocia, Turkey that caught my eye. That, and the fact that for my birthday last year Matty promised to buy me a piece of jewellery on our trip.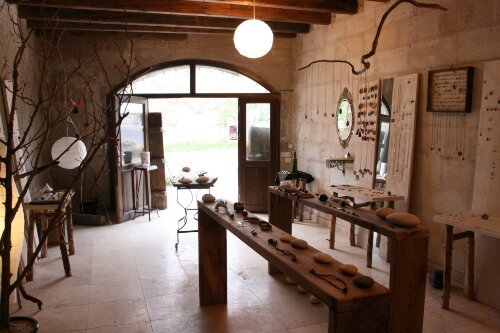 Inevitably, I was like a magpie… there was a lot of 'ooohing' and 'aaahhing' going on. The beautifully presented shop, with exposed walls and rustic handmade wooden benches, was full of unique and original pieces of jewellery, using gorgeous stones from around the world.
Every piece was different yet it was all so reasonably priced. And as I wandered around with more than a handful of necklaces and rings that I was seriously considering blowing a month's budget on, I couldnt help but wonder why everyone doesn't make jewellery like this – she makes it look so simple.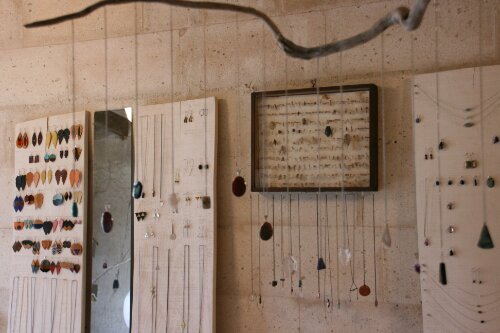 She being Leonie Zikos, a Parisian fine arts graduate, who spends 10 months a year living in the fairytale land of Cappadocia, Turkey selling her beautiful wares.
It was at the point when I was clutching about five different necklaces and pointing at more in two different directions, that Leonie asked us if we'd seen her shooting star collection. By this point I was in a gem stone trance and just started at her slightly bewildered.
She led us across the shop, past some more fabulous designs…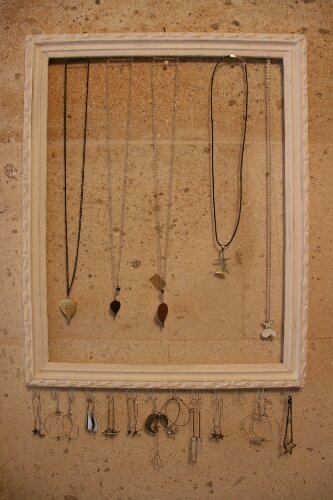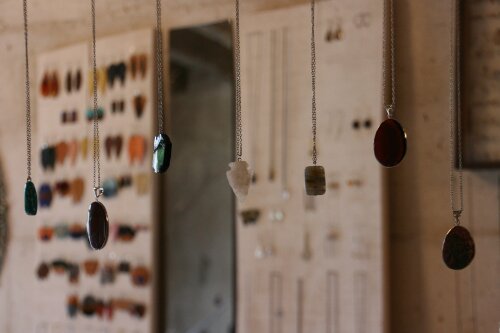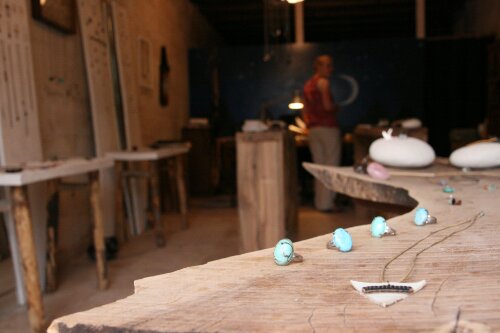 And then we reached The Meteorite Collection. It turns out that Leonie works with star hunters that travel the world looking for meteorites. They head to known landing spots and look for the chunks that may have been missed when they first hit the earth – sometimes hundreds of years ago. While the larger pieces are sent to museums, Leonie will buy some of the smaller pieces and turn them into jewellery.
Leonie knows exactly where each meteorite was found and spends hours drilling holes through the dense metal to turn them into beautiful pieces of jewellery. Each comes with its own little certificate, membership number and details about when and who discovered it.
As I gazed at the the collection from space I reached out for a necklace that boasted a small, pointy piece of meteorite and the decision was instantly made. As Matty fastened the chosen 'star' around my neck, I closed my eyes and made a wish. Here's to hoping it comes true…
Travel tips
Leonie runs Shooting Star Jewellrey in Goreme, which can be easily found if walking towards the Open Air Museum, from the Otogar. Her address is listed as: gafferli mahallesi müze caddesi No : 48 , 50180 Göreme.
You can like her Facebook page here. She also takes mail orders so you won't miss out if you can't make it to Cappadocia.
PS The meteorite on ny necklace fell in the Gran Chaco Gualamba region of Argentina. It is thought to have fallen 4, 000 to 5, 000 years ago and was first discovered in 1576. It is known as the Campo del Cielo meteorite, which means Field of the Sky.