"Excuse me would you like some ice cream," I hear over the sounds of crashing waves, interrupting daydreams of taking a bath in melted chocolate. I absentmindedly lift my hand to wave him off before suddenly remembering where I am.
For I am not on the local beach in Hoi An, Central Vietnam where women stroll the shores selling their wares, I am on a private beach at a luxury resort. There are no hawkers here.
Like that moment in a film when the dreamy music screeches to a dramatic hault, I open my eyes to find a smiling man offering me a little pot of creamy goodness.
"Cookies and cream," he said with a twinkle in his eye. I thumped Kate (my old Uni buddy, new colleague and current travel partner) awake.
"Free cookies and cream ice cream," I hissed. Two seconds later she was upright, spoon in mouth as the man made his way to the next lucky couple further down the beach.
"Bloody fabulous, I could get used to this," I managed between mouthfuls of the deliciously cool cream as it melted in my mouth.
Welcome to Fusion Maia, Da Nang. And it's not just the ice cream that's free… So are the spa treatments. Yes, you heard me correctly – I am staying at an all inclusive spa resort.
I have learnt three things about myself as a direct result of this indulgence:
1) I have ticklish calves. I mean seriously, it is acceptable for feet to be ticklish but legs – really?! It felt nothing short of inappropriate to giggle my way through the leg part of my all-over body massage.
2) Even more horrifying – apparently I have a ticklish forehead. There I am surrounded by incredible smells enjoying a luxurious facial and the poor man goes to touch my forehead and the giggling starts up again.
3) My feet aren't ticklish – I was so pleased about this that I did not just have one foot massage but two, as if to prove just how hardy my stumps are. Yes, they did very well. I was proud of them.
But Fusion Maia is so much more than just having your body parts tickled (all day every day), as wonderful as that is.
As we walked down the long driveway covered in greenery and bamboo shrubbery, we instantly felt a little bit calmer. As we stepped inside the airy reception area, we instantly felt welcomed (by a very charming man who we kind of wanted to invite for dinner), and as we entered our private pool villa, we instantly knew we never wanted to leave.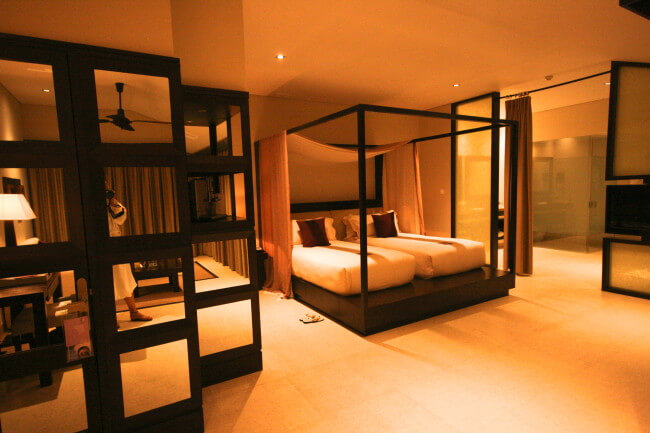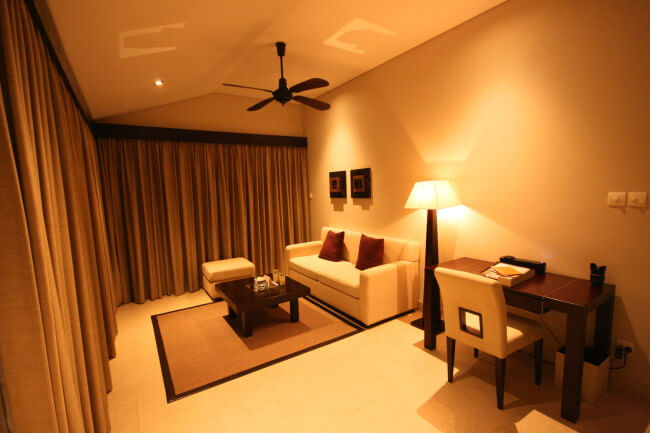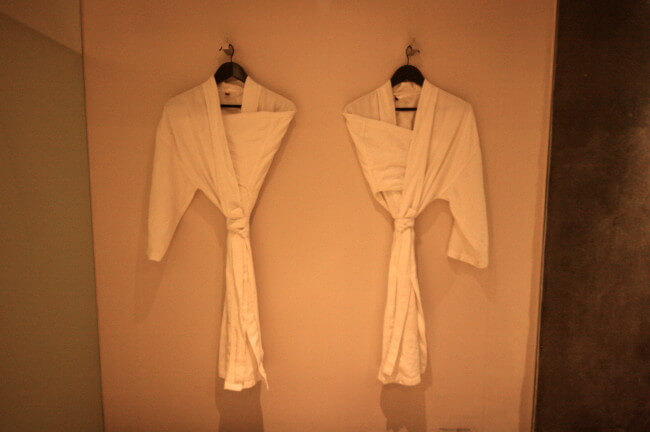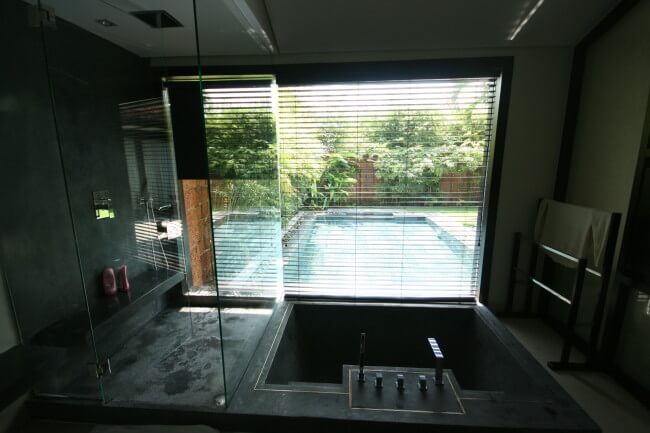 Every villa here has a private pool, perfect for late night plunges after a gin or three.
Meanwhile the main pool offers the stunning backdrop of Da Nang beach.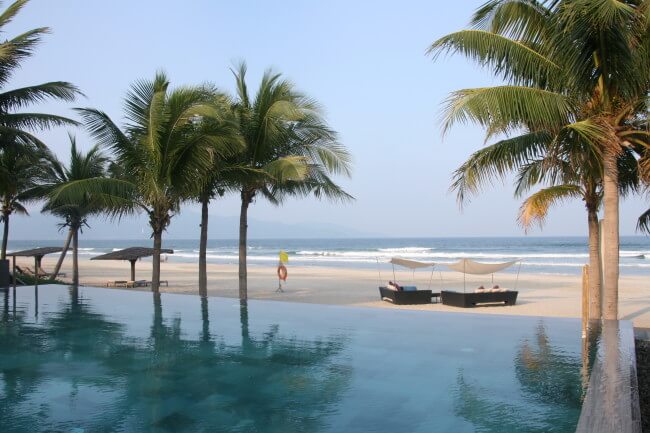 And it was all rather wonderful. Kate and I were still working (which means running around inspecting other handsome hotels) but somehow coming back to all of this made it feel a little less like work and well, a little more like paradise.
But then we had breakfast and suddenly I was not just in Paradise. I was floating in the clouds on a golden, pastry encrusted throne wearing a crown of tropical fruit. It was magical.
The gorgeous lantern-adorned dining room was transformed with a huge buffet area in centre stage where chefs performed their magic on eggs and waffles and what-not, and where guests shuffled around in trance-like food comas.
I walked over slowly, thinking carefully about what I might want to eat. But then as I made my approach my mind started blurring – I saw chocolate croissants on top of yoghurts, sitting in roasted ham boats floating in rivers of cucumber juice. Yes cucumber juice. My mind, my mouth, my eyes didn't know what to do. My hands started reaching out for things, trying to grab at pretty little pieces of food. I realised I had been holding my breath and I felt a little light headed.
There was only one thing to do. I forced myself to step away, breath deeply and sternly reminded myself I had a full hour for breakfast. There was no rush. I could have 10 courses if I wanted.
And so I did. I started with a fruit jelly. The tiny triangle of jelly (a perfect mouthful) broke away to reveal little chunks of fresh fruit that oozed in their juices. It sort of exploded in your mouth like one of those Fruit Burst sweets, albeit a posh one.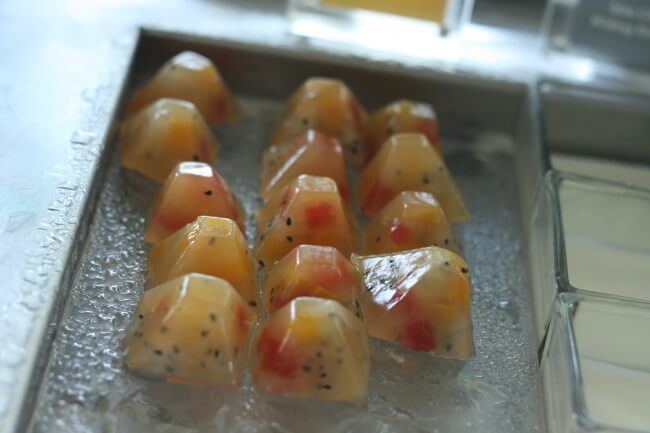 Then came the sweet, stewed muesli and passionfruit compote-topped yoghurt that tasted every bit as good as it looked. And dim sum. And passion fruit, which I will have you know made a surprisingly good combination.

And then came the eggs benedict, a proud display of perfectly runny eggs on a thick chunk of smoked ham, alongside Kate's spinach soufflé with salmon.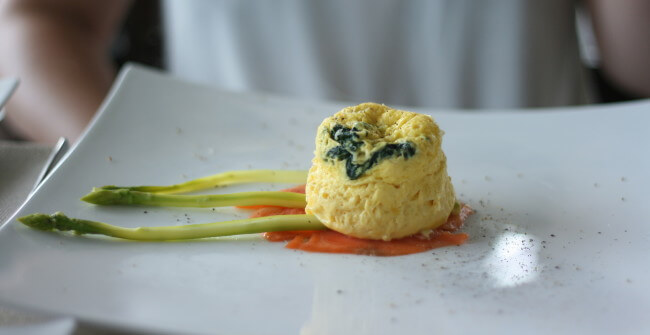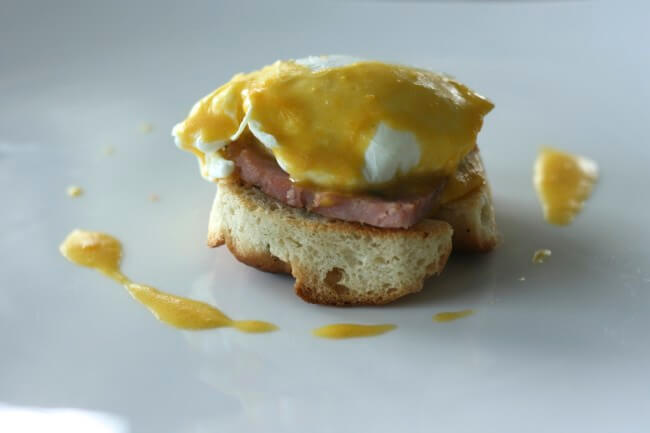 We were only about 40 minutes in at this point. Despite the breakfast buffet only having 20 minutes of life left in it, the long tables were still full to the brim of fresh fruit, jugs of smoothies, mini glass jars of homemade baked beans and the smoothest, creamiest peanut butter I've ever sampled.
Try as we might, and try we did, the tables just never emptied. It was like the scene from the Lost Boys' imaginary feast in Peter Pan. But amazingly, the tables stayed immaculate. After accidentally sloshing juice all over the juice bar, I returned 20 seconds later to find the stainless steel surface sparkling and shimmering once more.
All too soon it was time for the last round of the great feast. It was a tough choice to call.
With a whole section of homemade cakes and pastries and an already bulging belly I opted for a deliciously moist chocolate croissant and a macchiato to wash it down with.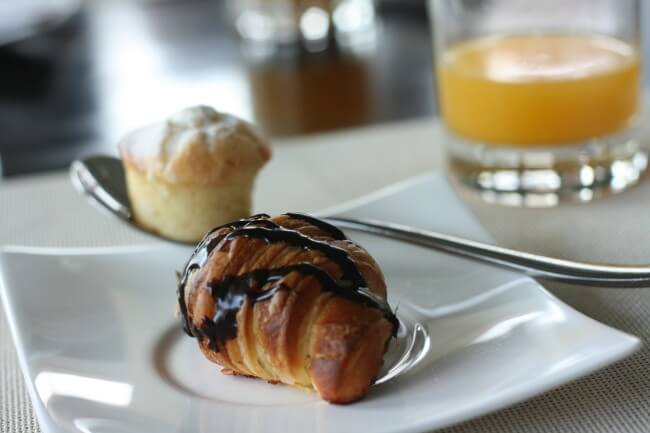 But if you're mentally racking up all the calories in my 'best hotel breakfast ever' (yes Fusion Maia wins the title), fret not. Because I was booked into the 'super slimmer' hip and stomach massage to 'tone up' before lunch. See, there's really nothing they haven't thought of. Apart from chocolate baths that is – I'm still on the look for one of those.
Travel Tips
Fusion Maia is on the beach in Da Nang and is just 30 minutes away from the centre of Hoi An (the resort runs shuttle buses to and from town throughout the day).
The resort has one, two and three bed villas, which radiate a chic minimalist, calming ambience. All villas have pools and prices start from about $390 per night in the off-season. To enquire about booking a trip to Fusion Maia or tailor-made holidays contact me at Fleewinter.
Disclaimer: I visited this resort as part of my research as a travel consultant. My views remain my own – and this blog remains my personal account of my travels – but every now and then I will tell you about some of my the very special places that I visit as part of my work.