When I was a child my holidays were rather different to how I travel today. Back then I didn't have to share my shower with baby frogs, nor did I think that efficiently killing a cockroach would be something I would look for in a man – but I did have to share a caravan with my snoring dad.
No, growing up I did not visit far flung places – instead we spent most summers at holiday camps on the south coast of England where we would enter dancing and fancy dress competitions in the club room in the evenings and spend entire days at indoor swimming pools. It was brilliant. And the highlight of every night came in the form of a pack of bacon-flavoured Frazzles and a glass bottle of Orangina. Or, if we won the dancing competition, two packs of Frazzles.
As I got older and ventured further afield the highlight of my holidays soon became a 50p bottle of local beer and bowl of curry at a bustling night market in a tropical climate.
But then I found myself on a luxury private island. And everything changed.
Accompanied by my dear pal Tanya, we boarded a speed boat for Song Saa island off the south coast of Cambodia.
This was, I must add, all in the name of 'work'. In my role as a travel consultant for a London-based company I am currently touring Cambodia and Vietnam in search of the best places to visit before launching holidays here. And so it was, for that morning's commute, we boarded a speed boat and enjoyed a complimentary diet coke.
The island came into view. Dense tropical jungle, pure white sands and water so clear that even snorkels are redundant. We gasped a little bit and refrained from doing our We-Have-24-Hours-On-A-Private-Tropical-Island-Dance that would, it transpired, come out later.
Instead we took a tour around the island with Ruth, the resident manager, gushing how surely she had the most amazing job in the world.
We popped into the bar and restaurant that sit on stilts over the water, checked out the isolated and serene beach areas, passed the water sports centre and took a brief look at the gym with floor to ceiling windows boasting magnificent views of the ocean.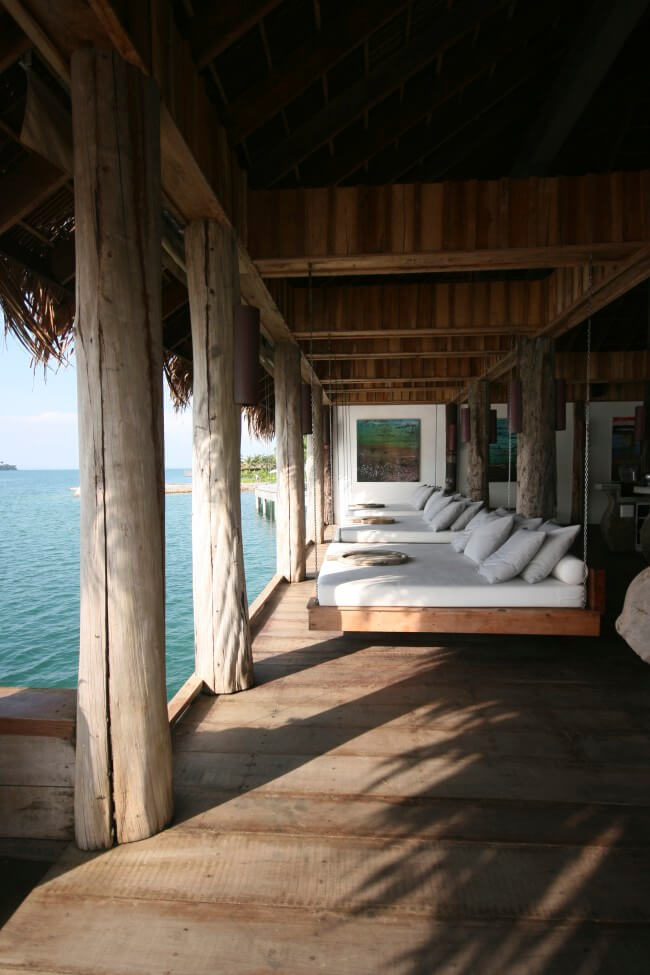 But then we reached our home for the night and suddenly I realised how people could visit this stunning island and barely leave their villa.
Tucked into the jungle foliage of the island but looking over the Gulf of Thailand we stepped into our villa to be greeted with a living room of giant proportions, decked out in beautiful woods, that felt like an extension of the island's natural beauty.
The huge driftwood flower box that stretched the length of the living room was full of tropical plants, the colourful mismatched tin lampshade was made from old oil tanks at sea and a collection of canvas photo-prints of seaweed and driftwood in water (taken by the owner himself) were hypnotic. Every little detail was beautiful.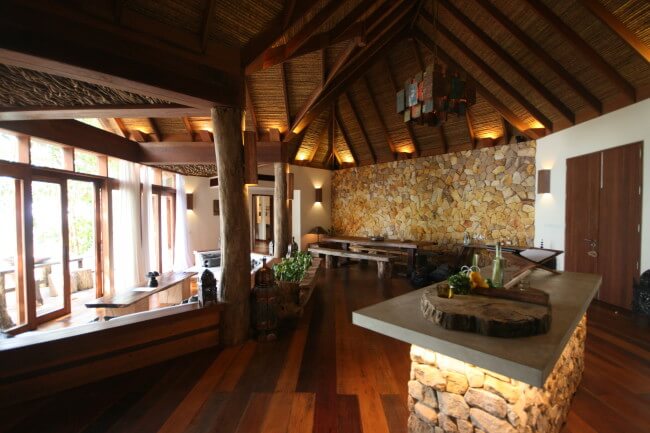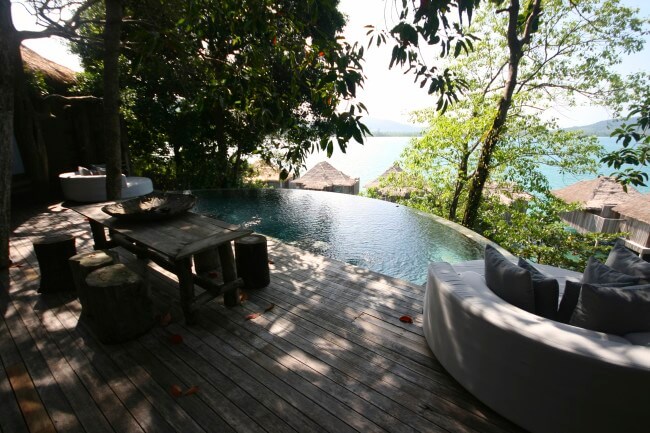 But as I stared through the huge French doors that led out onto our private swimming pool and terrace area, the wall at the back of the living room was being pushed away to reveal a big shiny kitchen area. There was magic everywhere.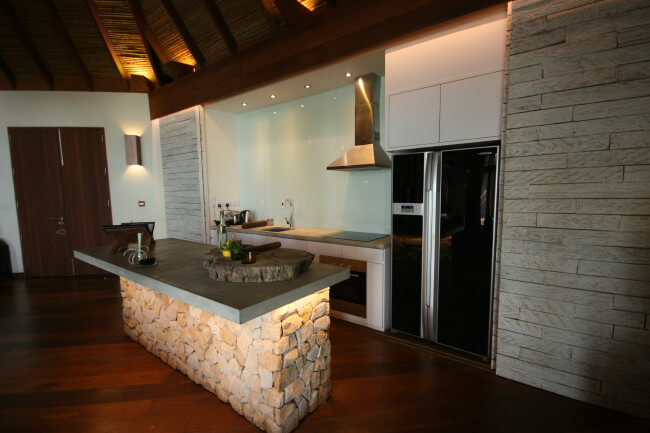 On the side in our kitchen lay all the ingredients (and hand-written instructions) to help us make the perfect island mojitos (lemongrass infused vodka replaces rum here).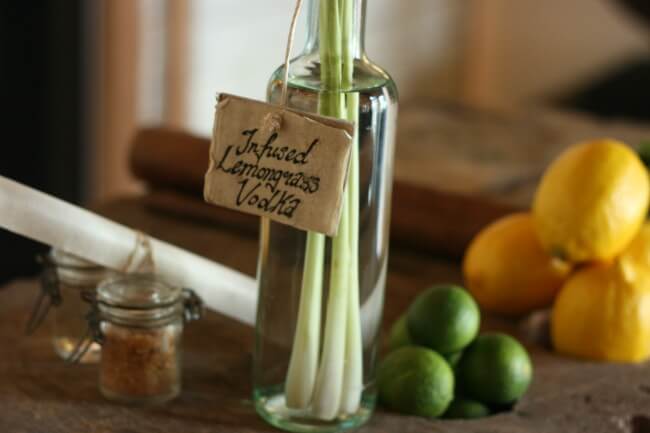 And on the other side sat glass bottles of gin, vodka, whiskey and wine. Meanwhile the 'mini bar', a full length fridge and freezer was full to the brim of soft drinks, white wine and sparkling wine. There was nothing mini about it.
Muttering incomprehensible words about mojitos, gin and lemongrass, we walked into our separate bedrooms. (I think this was Tanya's personal highlight after spending the last couple of weeks fabricating stories of me being a bad-duvet-snatching-bed-partner).
In perfect symmetry, our over-sized bedrooms both led off from the lounge on separate sides. Cue more gasps.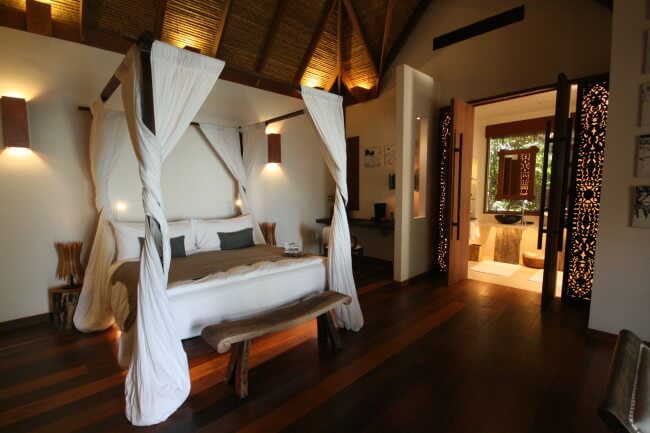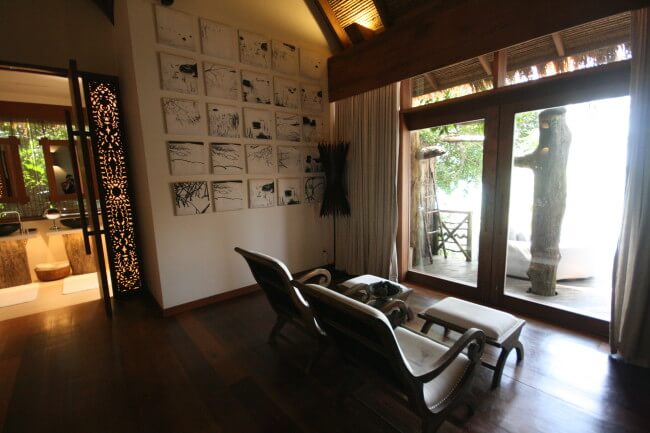 Get this: Underneath my huge four-poster double bed, draped with what I'm going to tell you was probably silk (why not?), I found fairy lights. They were not visible at all unless you got on your back and crawled under the bed, which is what all VIP guests do on a private island I am reliably informed, but once under there you could see fairy lights. The result for the rest of the guests that don't crawl under their beds? A gorgeous soft glow emanating from the ground below the bed.
I immediately wanted to drink mojitos under my bed.
Huge floor-to-ceiling old wooden doors led onto our bathrooms, which were perhaps my most favourite rooms in our new island mansion. One entire half of the bathroom was just glass looking out to the jungle and ocean beyond – with a huge sunken bath and three showers (one outside) to indulge in. Three showers each.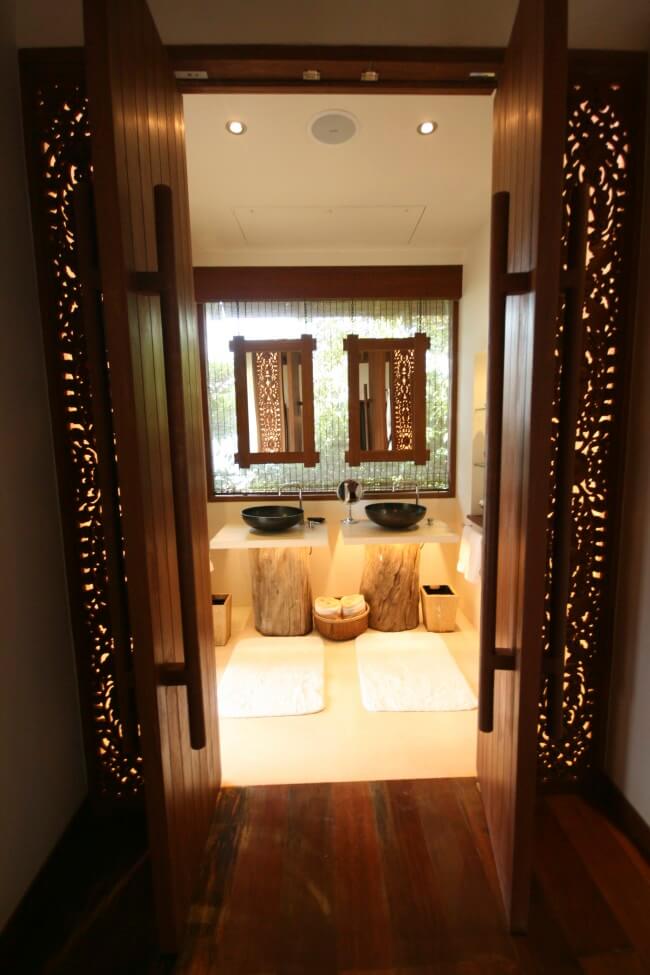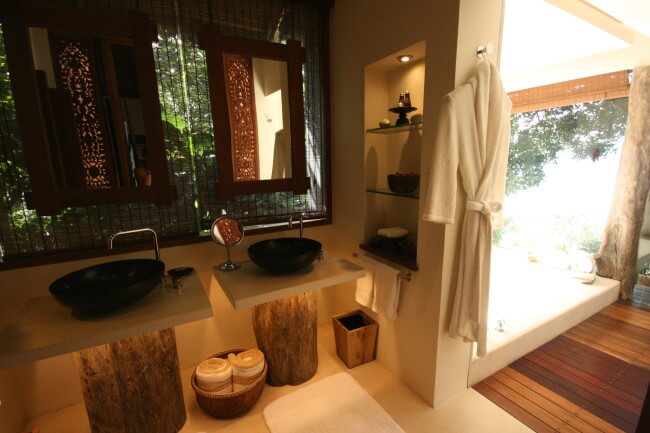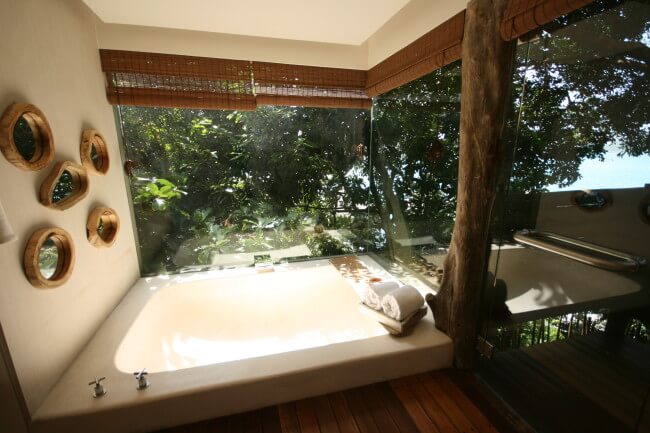 That means we had six showers between us and two huge bath tubs. I quickly worked out that we would need to be showering and bathing every few hours to use them all. And what a waste to not use them all.
My brain went: "Shower. Mojito. Bath. Pool. Mojito. Sit under bed. Shower. Mojito."
Back in the kitchen, a beautiful leather bound menu sat on the work surface and my mouth started watering within seconds of flicking through it.
"Oh God, when am I going to have time to eat?," I groaned to myself. My plan would need a re-think.
As if reading my thoughts, Ruth (with the amazing job) confirmed that all food and drinks, except the wines and spirits on their reserve list, were included.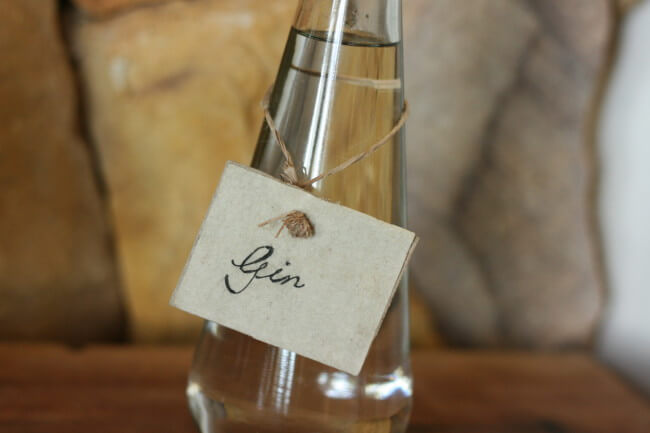 My eyes flicked to the gin, the lemongrass-infused vodka, the sparkling wine, the menu, the private pool, the bed… And I felt my anxiety levels raise. There was so much to do. So we did the only thing that made sense. And ran into our pool (with glasses of wine.)
But Song Saa is not all about indulgence, it also does some fab work on Koh Rong, its neighbouring island where it works with some of the communities there. This corner of the world has huge issues with litter and the Song Saa Foundation have done incredible work in educating people about how to dispose of rubbish and keep their beautiful island clean. They support the local school there and even have a little nursery where people can get chilli plants and other start-up plants and flowers for their garden.
We spent a couple of fascinating hours over there before racing back over to Song Saa for some sundowners. Sparkling mojitos offset the sinking Asian sun perfectly as we chatted away to Ruth in over-sized bean bags on the edge of the ocean.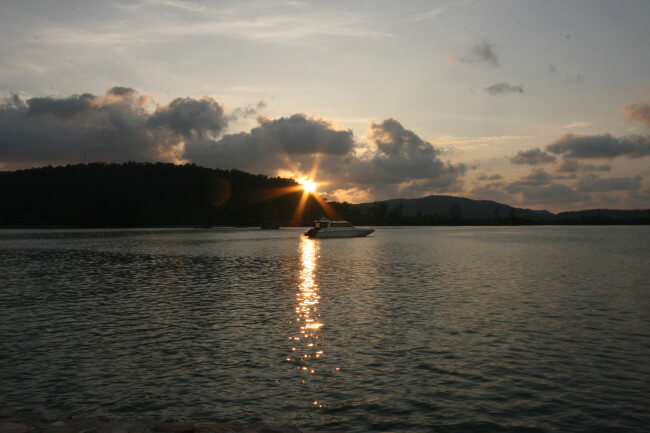 Dinner, breakfast and lunch were so good that they are each worthy of their own blog posts. Although if I did that I don't think I'd have any friends left – so for now I'll just say the red snapper was one of the juiciest I've ever sampled.
That night Tanya and I hosted a party in the villa. With different sound systems in each room, Tanya opted for 1970s rock and I went for a more eclectic electric vibe. We danced between the rooms, danced in our plunge pool and then danced in one of our huge oversized baths, which we decided could comfortably fit four people in.
We danced like we were children again. We danced like no one was watching. No one was. There were no Frazzles or Orangina in sight – but the sparkling wine and turn-down treat of cookies did just fine. It was magical.
Travel Tips
Song Saa is about a half an hour speedboat from Sihanoukville on the south coast of Cambodia.
To enquire about booking a trip to Song Saa or about tailor-made holidays in Cambodia contact me at Fleewinter.
Disclaimer: I visited this resort as part of my research as a travel consultant. My views remain my own – and this blog remains my personal account of my travels – but every now and then I will tell you about some of my the very special places that I visit as part of my work.