There comes a time in every man's life when he must be showered with rose petals. For Matty, it was not when he was crammed into a shared taxi in Uzbekistan, nor when traversing across the great deserts of Central Asia. No, no; his time arrived when we boarded our luxury cruise along Halong Bay in northeast Vietnam.
Being Vietnam's premier tourist attraction, I'm sure many of you will have heard of Halong Bay, or perhaps even visited yourself. For those that haven't – imagine a huge bay, stretching as far as the eye can see, pierced with incredible rocky islets covered in lush green shrubbery that jut out of the clear, calm waters. I don't think there is anywhere else like it in the world.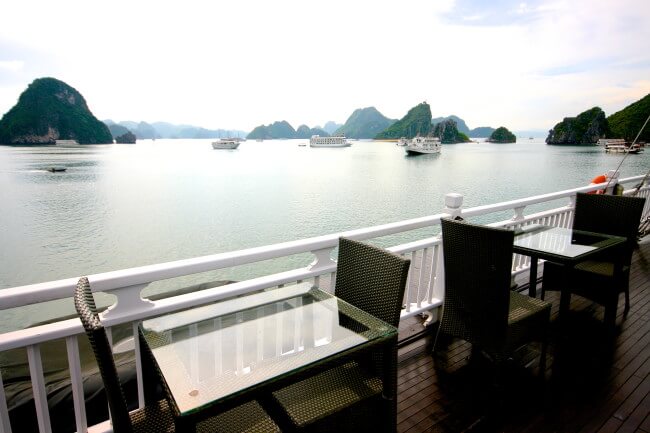 Despite the throngs of tourists that visit, it has maintained something of a 'forgotten land' feeling and once let loose to explore for yourself on a kayak you can't help but indulge in leisurely Christopher-Columbus-inspired-daydreams.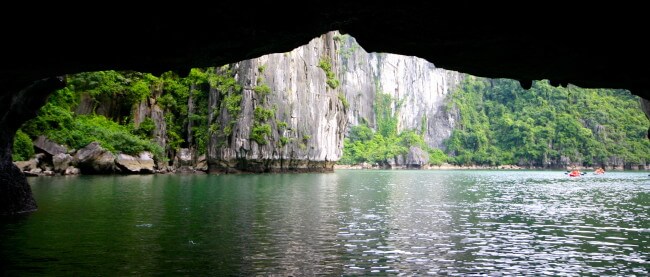 I first visited Halong Bay seven years ago with my dear friend Carly (aka Waddles for reasons best not divulged here). We were backpacking and boarded a humble little boat for an awe-inspiring couple of days. I can't remember much about the vessel but I knew I'd never forget the beauty of the bay – specifically kayaking to a desolate beach where Carly encountered a rather painful experience with a jellyfish that left 20 backpackers debating who should urinate on her leg. There were no rose petals.
But this time it was different. This time I was returning to review different boats to decide which ones to offer for the tailor-made holidays I will soon be creating in this corner of the world.
And that was exactly why we were walking onto a boat called Paradise Peak and why we were being showered with rose petals. Stepping onto the red-carpeted gangway, the petals were scattered from a balcony above us as we were handed our tropical welcome drinks.
Grinning a bit too widely as my name was called, I was introduced to my 'personal butler' who showed us to our cabin and, as it transpired, would be waiting on us for the next 22 hours. She was lovely and took my enthusiastic grinning in her stride.
'Cabin' really does not really do it any justice. A more appropriate word might be apartment. Or home.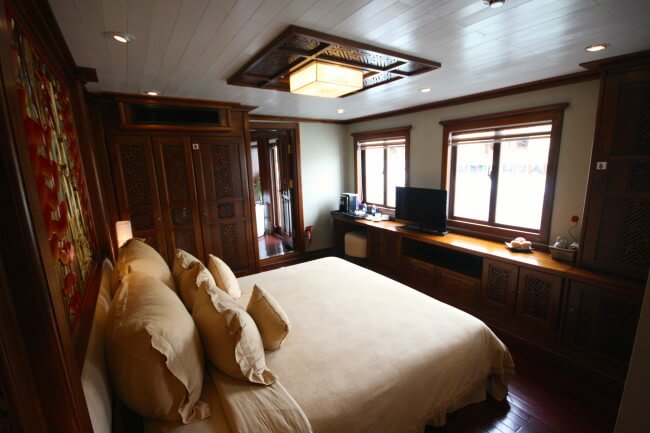 We were staying in a superior suite cabin (there are only suites on this boat I hasten to add, daaaahling), and ours consisted of a large bedroom of dark teak wood and the comfiest bed of our trip to date (complete with goose down pillows and duvet), a small dining area that opened out to a private balcony with sun loungers, and finally, a bathroom that felt just as big again. Equipped with a huge rain shower and a large bath tub it was easy to forget you were still on a boat – until you looked out of the floor-to-ceiling windows and saw the dramatic landscape of Halong Bay slowly pass you by.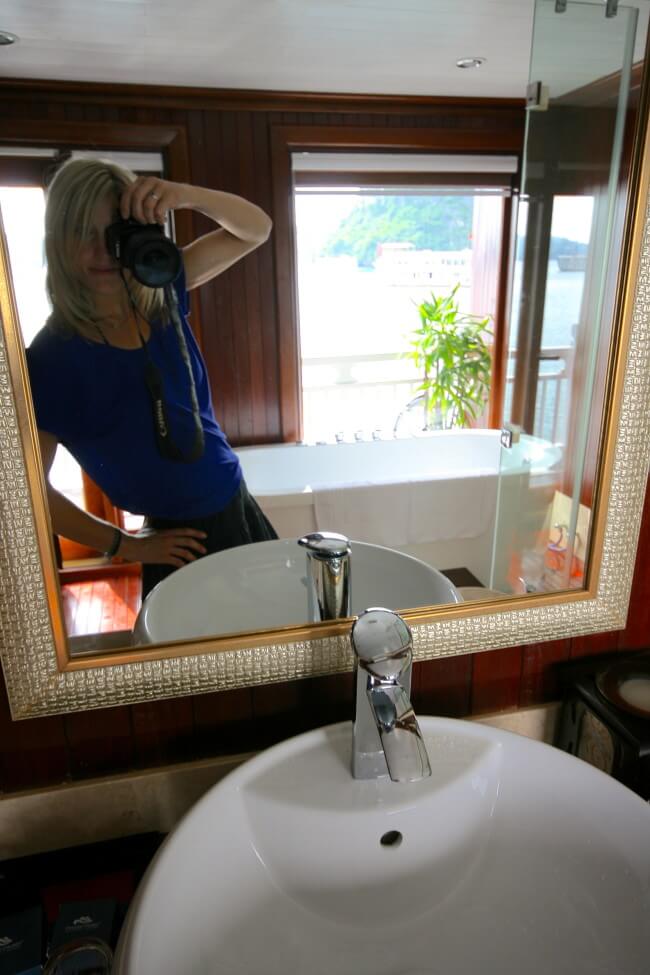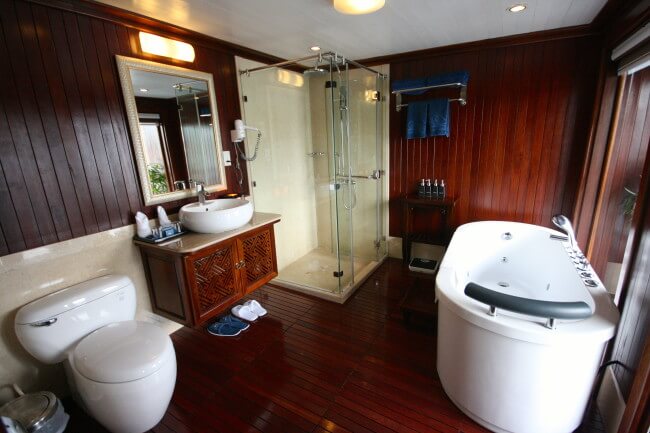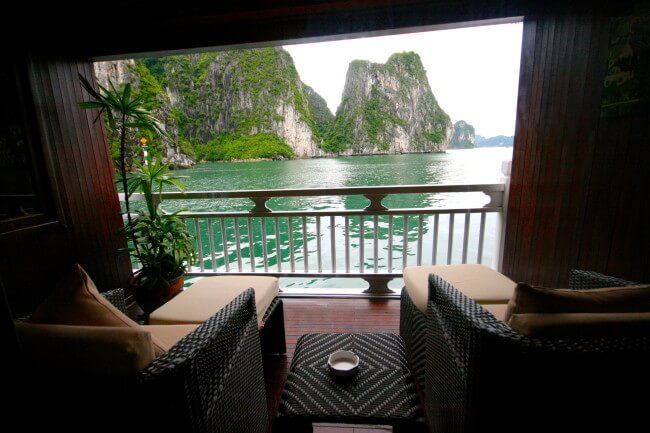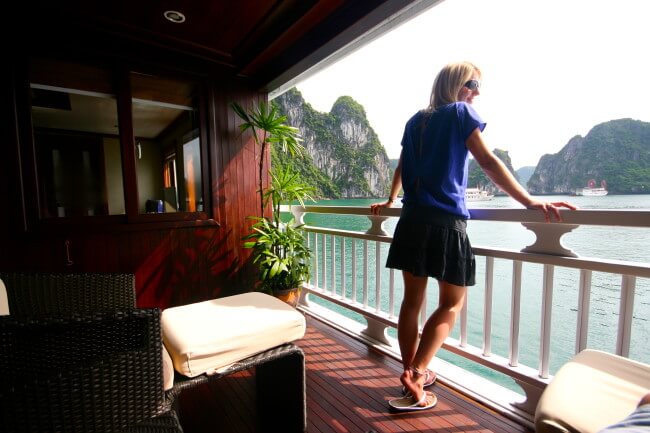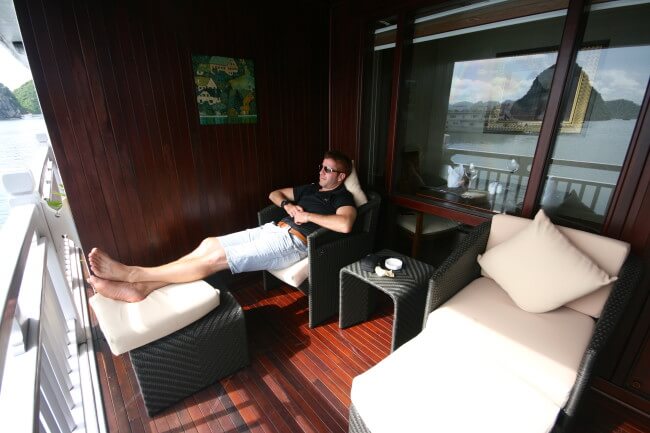 But it wasn't just our extremely luxurious cabin on the boat that turned this short trip at sea into the journey of the lifetime. Nor was it the exquisite lunch I was served an hour later, featuring the biggest and juiciest oysters of my young (ahem) life to date. Although I must add that I will struggle again to enjoy oysters without the delicious 'Vietnamese salt' dish that came with them.
No, it was not any of that, as incredibly special as they all were. It was the staff and attention to detail that made it stand out – something no picture could capture.
As our seafood platter was placed down we were immediately offered help with our crab from our smiling waitress who instantly relieved my fears of causing a scene with the huge crab laid in front of me. A few minutes later, it was back on our table, beautifully prepared and ready to eat.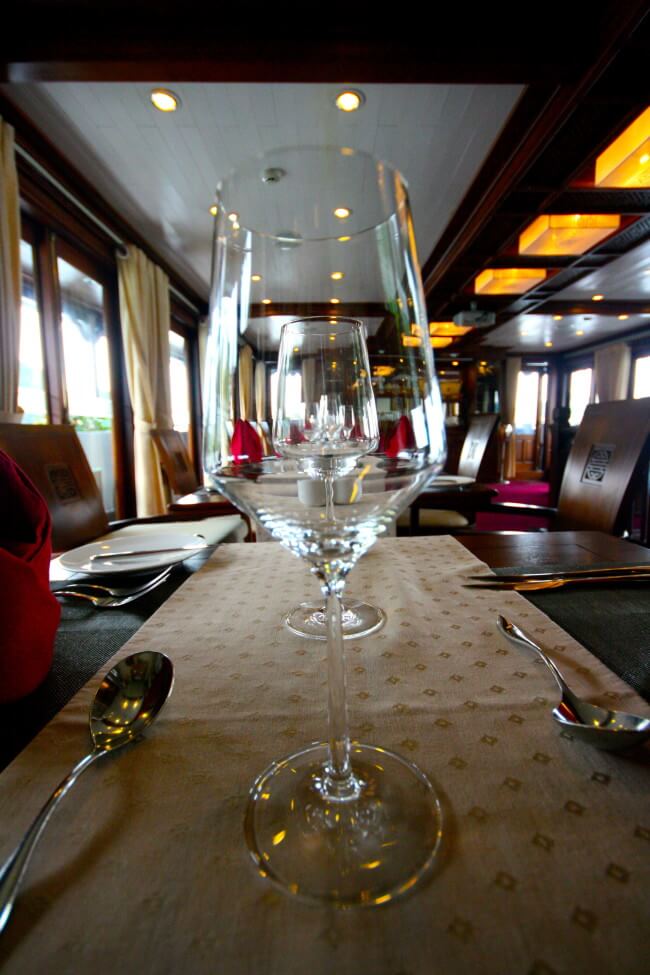 And then there was the beautifully prepared breakfast that was brought to the comforts of our cabin the next morning after an early kayak around the towering mountains of the bay.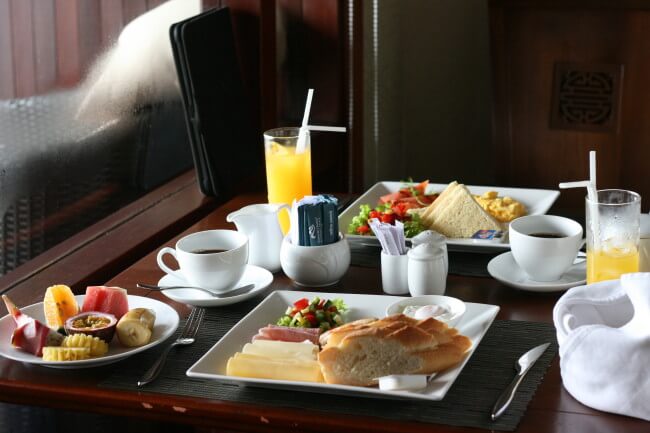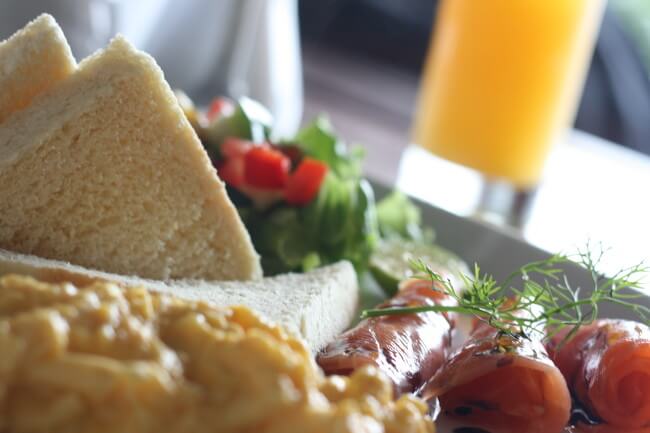 The rose petals, somebody spraying our feet with water and handing us a cool, wet flannel and a glass of iced tea as we returned to the boat after every excursion, the fact the staff knew our names, the rain macs they carried on our excursions in case of a down pour. All of those little touches turned it from a beautiful floating hotel into something very special, incredibly personal and made me feel like the luckiest girl in the world.
But if there's one thing even more beautiful than all of that, it's Halong Bay itself. And swimming in the water and watching the rain drops bounce off the surface and fall down again.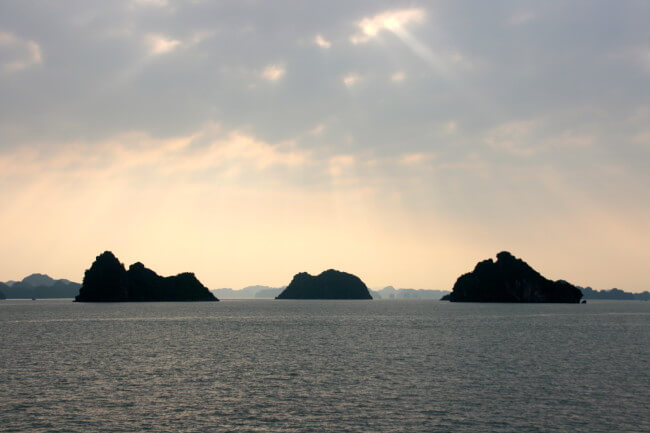 But it's pretty cool to know you can go and step into your huge rain shower afterwards and tuck into a five-course asian fusion dinner. Yes, that is very cool indeed.
Travel Tips
Paradise Peak offers one and two night cruises along Halong Bay. We took the one night cruise and the itinerary included an option to see into a cave or float into a lagoon on the first day as well as 30 minutes kayaking – and a chance to try your hand at squid fishing after dinner. The next morning we were offered tai chi on the sun deck before breakfast, followed by a trip to an Oyster Farm and another 30 minutes of kayaking or swimming.
If you are interested in organising a trip through Vietnam or Cambodia, with a stay on Paradise Peak included, feel free to contact me at Fleewinter, a UK-based independent tailor made holiday company – www.fleewinter.com
Disclaimer: As a travel consultant, I receive special rates for going on trips like this. My views remain my own – and this blog remains my personal account of my travels – but every now and then I will tell you about some of my the very special places that I visit as part of my work.