I think I may have already told you how much I adore train stations. There is so much to love; the air of expectancy, the pitter patter of well-heeled boots rushing across platforms and the beauty of the large antique clocks that take centre place – never falling to remind us that we must move on, that time will not wait, the train will depart and the show must go on. Hugs, kisses, perverts and thieves. So much history, so many moments.
Take Liverpool Street Station in London, which has been around for more than 130 years; where162 people were killed by a single bomb in World War I, and where hundreds of children left with just a name tag and a suitcase in World War II. Imagine the stories it has seen since then – did it raise its bricked eyebrows at the acid-addled passengers of the 1960s? Sigh in despair at the generations of homelessness? Admire different tactics of pickpockets and wonder why now everybody walks with their eyes glued to a small screen in their hands? Yes, if walls could talk, train stations would be among the most interesting invites at the party.
And it is for all these reasons that I find it especially disappointing that most of the world's major train stations are surrounded by nothing but sleazy bars, dire cafes and shoddy hotels. Leave Nottingham Station and you'll follow a neglected road of greasy spoon cafes to an almost derelict shopping centre. Leave London Kings' Cross and find yourself in a seedy 24-hour off license (or is that just me?) and exit Gare du Nord in Paris to find a plethora of over-priced brasseries. It's so tragic.
And so, somewhat unintentionally, I have made it my mission to find great places near train stations. It is amazing how useful they can be. I think I pretty much wrote my university dissertation at Big Chill House near Kings Cross after weekends with friends in London.
My latest project has been Gare du Nord in Paris. Having frequented the station six times already this year, I am ashamed to say I have visited the McDonald's (read free wee and wi-fi) over the road almost as much.
And so it was, with a heavy booze-laden suitcase in one hand and a flimsy umbrella hoisted into the air with the other, we hurried into the rainy, puddled streets of Paris to find somewhere 'cool' to kill a few hours. As my hair began to expand in the moist air and my suitcase turned a darker shade of soggy grey, I found my mind wandering to the dry plastic benches of McDonald's and questioning whether we had been in a little rash in our scathing rejection of the place, which does after all sell macaroons.
"Let's have a look in there," said Matty. I lifted my gaze from the wet, shiny pavement and pulled my umbrella back just enough to catch a glimpse of him pointing towards what looked like an indoor market over the road. And somehow instead of yelling: "Last time I checked indoor markets did not have cafes, wi-fi and toilets", I just nodded, glad to get out of the rain for the moment.
And so we shuffled over the road, into the dry, sheltered space and were immediately greeted by an impressive cheese counter. I felt instantly soothed. It never fails to amaze me how even the most fancy-pants impressive cheese delis in England just pale in comparison to the simple market cheese stalls of France. The shapes, the sizes, the smells. I could sense the cheese oozing from within their pretty little circular wooden boxes, while the dry cured meats dangled from the ceiling in an alluringly tantalising manner. We gushed and 'ooh la la''d' over the huge slabs of cheese in bad French and splashed out on a few slices that were embarrassingly small for the amount we paid. C'est la vie.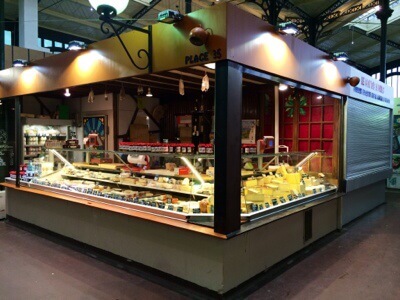 But that was just the beginning. As we made our way across the market space, we passed more fromageries, an array of fresh fruit and veg and bakeries – and to my delight I realised the stalls also had tables and chairs besides them as if set up for those who cannot wait to get their feasts home. Then we passed a funky sushi bar, all lit up in blue lights, an African restaurant, even a bar where people were sat drinking pints of beer, and an assortment of bistro-like cafes that in London would be declared 'pop-up restaurants' and full of hipsters. This was, I declared, the best indoor market ever. Don't get me wrong, I adore Borough Market and the food stalls at Camden Market but this felt so much more undiscovered – a sparkling little gem in the ghetto, so to speak.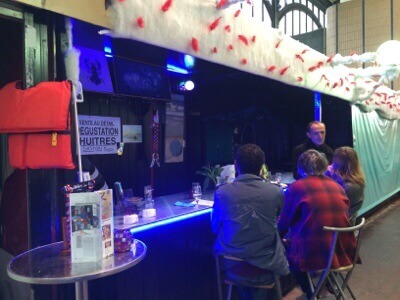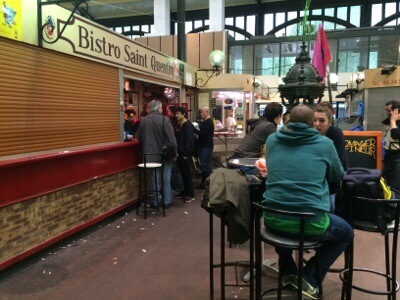 We marvelled some more over the endless options before settling for an Italian 'restaurant' that went by the name of Cafe Toraldo, which boasted a wide section of lasagnes in the counter (even a salmon lasagne dah-ling), as well as fresh ravioli, salads and cheeses. We took a seat on the wooden bench in the attached room next door as a pichet was filled with a rather good red wine for us.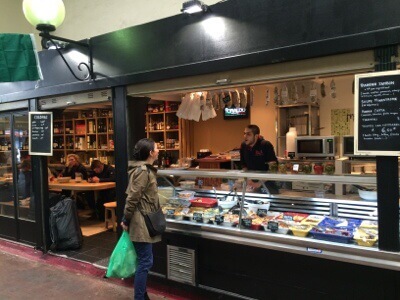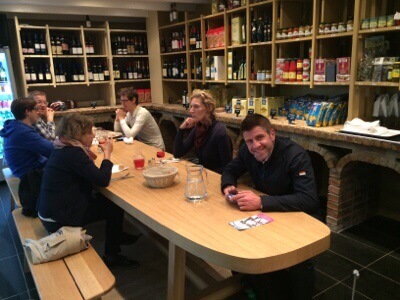 It was the end of a five-day French food binge and so we opted for a light salad of cannellini beans, tuna, roasted vegetables and rocket, tossed together with a tasty olive oil and balsamic glaze. Small crusty artisan bread rolls appeared in a little wicker basket and we tucked in immediately.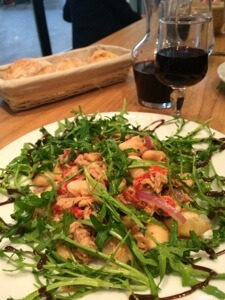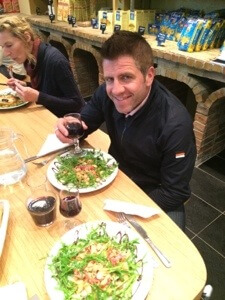 Deliciously fresh and served with a smile, the lunch was one of the tastiest salads I've had in a while. And unlike most of my favourite lunch spots in the city of love, it did not come with a hefty price tag. The salads, bread and pichet of wine set us back only 10 Euros each.
Matty didn't want me to tell you about this. He wanted to keep it all to himself but I believe there is a need for a where's-good-to-eat-drink-and-be-merry-near-train-stations-movement and that is one I am only to happy to front. Bon appetit!
Travel Tips
Marche Saint-Quentin is open from Tuesday to Sunday and seems to be busiest in the mornings and around lunch time. It's located on Boulevard de Magenta near the junction with Rue de Saint-Quentin, just a few minutes walk from Gare du Nord.
Another favourite spot of mine is along the canal of Saint-Martin, which is full of wonderful little cafes and bars. It's a 10 minute walk from Gare du Nord and the perfect option for a sunny day.
If you're looking for a good hotel or apartment to rent in Gare du Nord I really recommend this wonderful place – we stayed here for a few nights earlier in the year and it really is every bit as wonderful as the pictures suggest. After all, what more do you want than a sunny balcony space on the top floor of a beautiful Haussman period building?