When I was growing up I always wished I had a more 'normal' name – like Laura, Sarah or Emma – something that was on the plastic badges at theme park gift shops. All I wanted was a big plastic Minnie Mouse sign that said 'Delia's room' like my best friend Laura had.
I would eagerly rush to the gift shop on school trips, in vain hope that something would have my name on it. As all the other kids queued up, proudly clutching their 'David' warrior badge or something I would buy another pencil with some museum name on it.
I remember one year my mum got a carpenter at a garden centre to solder my name on a piece of wood to stick on my door. He drew a frog next to it. And that was as good as it got.
As I got older it became less of an issue, I enjoyed not having to identify myself with a surname – Delia is almost always enough. And as a journalist it's actually quite nice to have a name that stands out.
But imagine my surprise, when walking down one of the main roads in Almaty, Kazakhstan, to see a coffee shop with my name on it. Coffeedelia. The five year-old who never got her plastic, glittery name badge came flooding back. I almost jumped on the spot while pointing at it excitedly, crying: "That says Delia. It's called Coffeedelia it has my name, it has my name! We must eat here, we must drink here, I need a picture of me with THAT sign," and so on.
Even Matty tweeted about The Big News.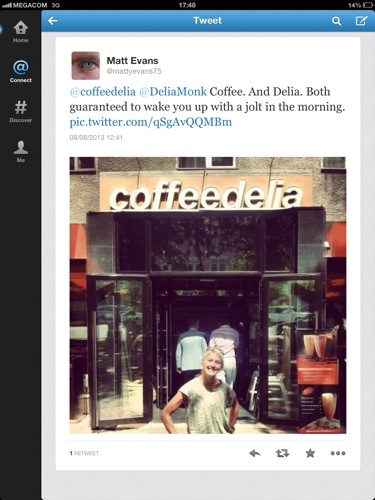 Decked out in fluorescent, vivid lime green and bright orange, Coffeedelia feels like the kind of place that gives you a big, huge dollop of summer with your cappuccino. I was instantly drawn to the minimalist white tables outside and the slightly orange haze to the world that the large canopy provides.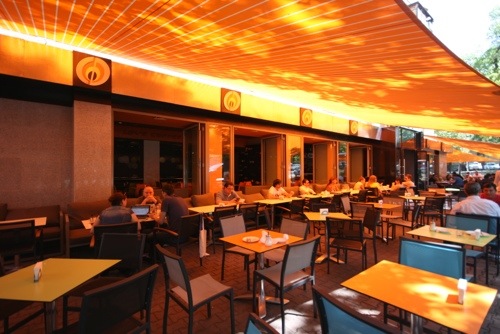 The menu, decked out as a vintage magazine, was huge and it said my name on every page.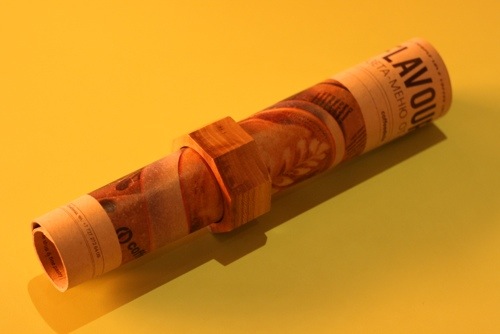 In fact, in addition to its fab name, there are so many things that Coffeedelia gets right it's hard to know where to start. Excuse me while I make a brief list…
1) They serve alcoholic coffees – everything from Irish coffees to orange infused brandy coffees with a cheeky Baileys number in between.
2) Their selection of cold coffees is almost as extensive as their hot coffees and their tea list is simply ginormous.
3) They sell tea with vanilla syrup in it and whipped cream on top. Why not, I hear you cry.
4) They serve thin crust pizzas including one with spinach, mushroom and pesto on it. All coffee shops should sell this.
5) All pizzas are served with a bottle of Tabasco sauce on the side. Nothing short of genius.
6) They have a mouth-watering selection of cakes, eclairs, maceroons and ice creams.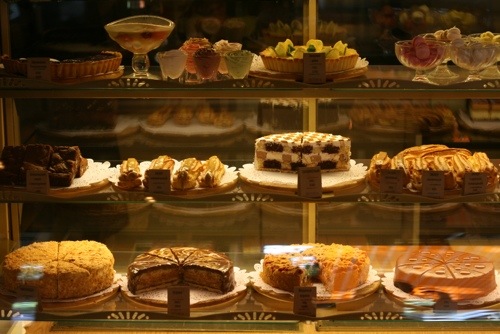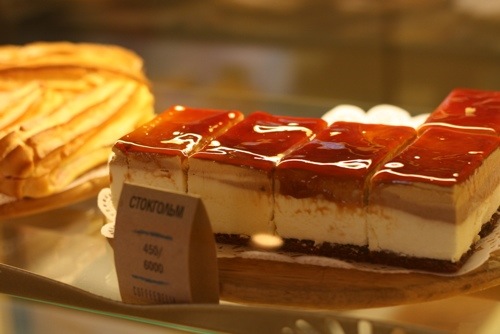 7) Their toilets are beautiful, I hung around in there for a while. This is not weird. I've been travelling Central Asia for three months. I have not seen a nice toilet in three months. Coffeedelia has the best toilet in Central Asia. Fact.
8) It's all so photogenic, so I got to eat, drink and take pictures. All my favourite things. Here's some of my Instagram shots: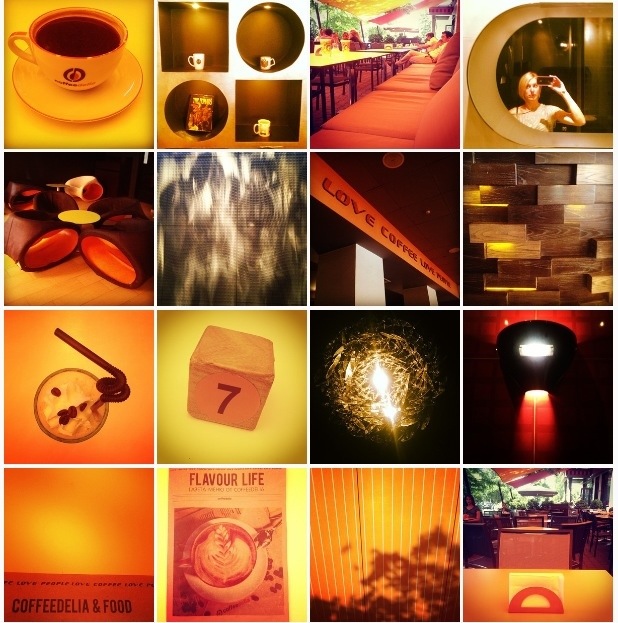 So after leafing through the menu for some time, it was decision time. Being early in the morning (well 10am) I opted for a Cappucino and the scrambled eggs breakfast.
We ventured inside to make our order. It operates an order-at-the-till-but-have-your-food-brought-to-you-by-a-waitress system. With dozens of staff around we ordered quickly and the drinks were so speedy that by the time I'd absorbed the funky interior and taken a few shots, they were already waiting for us.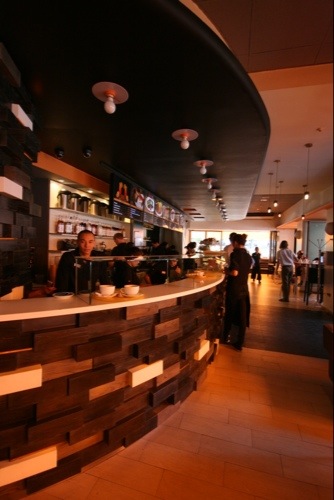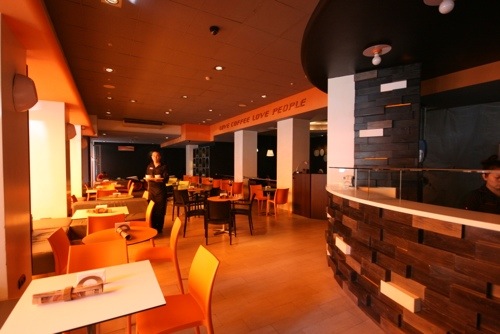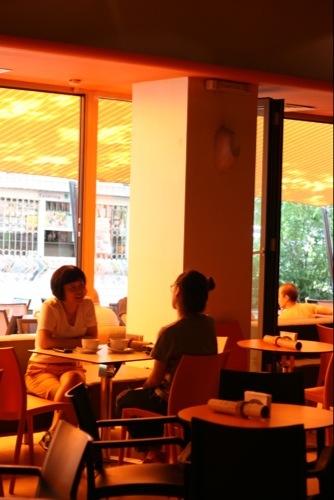 The cappuccinos were spot on. The perfect blend of milk, froth and espresso, the medium sized drink (that felt more like a large) transformed the morning from a sluggish to a spritely one, in one steamyl sip. It was strong but not bitter. Just how The Mongoose likes his men.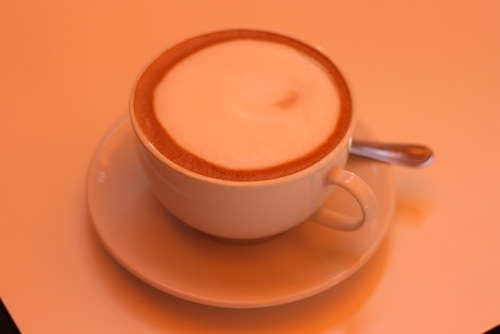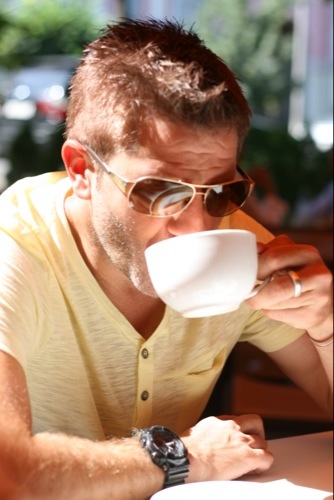 Next up was the breakfast. I was tempted by the porridge with fruits that was only 500 Tenge (about £2) but somewhat craving the comforts of home, I ordered the scrambled eggs as it came with bacon, sausage, toast and fried tomatoes. Yes, I was getting a Central Asian fried breakfast. Matty opted for fried eggs but The Mongoose failed to even get out of bed so he was destined to a breakfast of fried dough on a bus later that morning.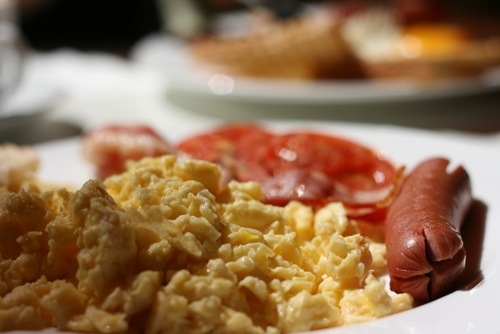 I am sure three or four eggs must have been used in the production of my breakfast. Fluffy and scrambled, the eggs reached far and wide on my plate. With a generous smattering of pepper (from me) they were the perfect accompaniment to the salty, streaky bacon and juicy tomatoes.
The sausage was a frankfurter and while I had obviously been craving a coarse, Lincolnshire number (that just don't exist on this side of the world), it was actually surprisingly good.
In fact the only disappointment was that I didn't have room for dessert – I know, shame on me. But we did return for pizza and iced coffees (a wicked combination) the next day so all was not lost.
As we made our exit from our funky surroundings, to proceed with our self-guided walking tour of Almaty, I paused to thank Andrei, the owner.
"Why did you call it Coffeedelia?" I asked him.
"Because it's like psychedelia," he said glancing around at the deliciously psychedelic exterior.
Of course. Psychedelia. Now that's something I really need to get on a badge.
Fact file
The verdict: Coffeedelia might just be the best coffee shop and cafe in Almaty, Kazakhstan.
The price: Almaty is an expensive city compared to elsewhere in Central Asia – but Coffeedelia is reasonable. We paid the same price for pizza here (160 tenge/£7) as we did at a street stall. Two breakfasts and two cappuccinos costs about 3,500 tenge (£14).
The directions: We caught the number nine electric bus to right outside its door on Kabanbay Batyr (just beyond the junction with Furmanov Street.) Check it out.
PS: Oh, and make sure you order the Dr Fredo Classic iced coffee… Vanilla syrup, cream and crushed ice, it is nothing short of divine.