Walking around the capital of Turkmenistan, I was reminded of those 'If I was president I would…' conversations I had growing up.
"If I was president I would end world hunger… I would make lip balm free for all… Roll out electric cars… Sack David Cameron."
The list goes on. The point of the game is that it doesn't have to be realistic… What would be the fun in that? Who wants to hear "If I was president I would re-examine the country's fiscal policy with the aim of blah, blah, blah."
It is meant to be outlandish, it is meant to be far fetched, it's meant to be different. Sod it, I if I was president I would give citizens free wine and gin on tap.
But never when I was playing such games did I hear anyone say: "If I was president I would create huge, towering gold statues of myself that slowly rotate so that the sun is always on my face. And I would cover the country in even more statues… Of myself. And marble, there will be marble everywhere."
But that is exactly what President Saparmyrat Niyazov of Turkmenistan did. Ruling as 'Turkmenbashi', which means leader of the Turkmen, he embarked on a truly bizarre dictatorship from 1991 to 2006 when he died.
One of his most popular policies was free petrol and gas for all. Gas remains free today, while petrol costs about 12p a litre and residents get 120 litres free a month anyway. Mental.
But it gets more mental. Aside from actually naming a city after himself – yes you can visit Turkmenbashi on the west coast of Turkmenistan today – he also embarked on a white marble building project so big that I felt my sunglasses did almost nothing to shade my eyes from the vast brightness when walking around the capital.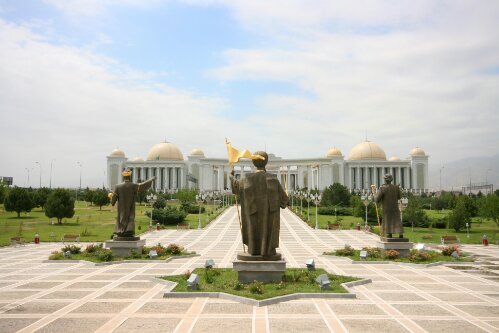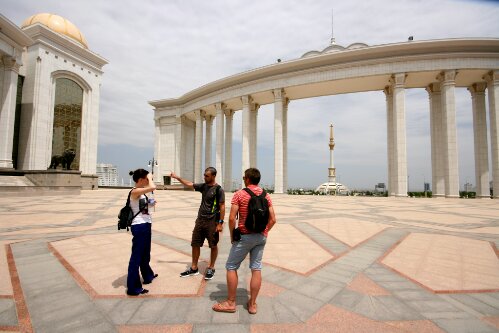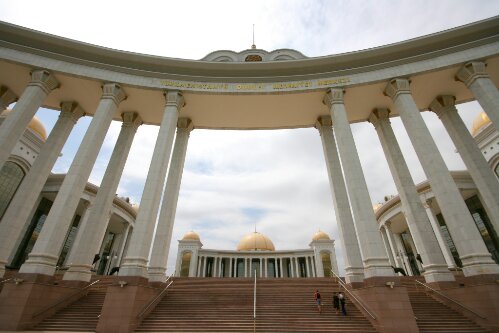 The apartment blocks are white marble, the hotels are white marble, the business centres and shopping centres are white marble and that is before we get onto the university, the palaces and mosques, which quite frankly display enough white marble and gold to blind a man with Primark sunglasses on a summer's day. Because that's another thing – this white marbleness just rises out of the desert as incongruous as a camel in Oxford Street, London. It's all very odd.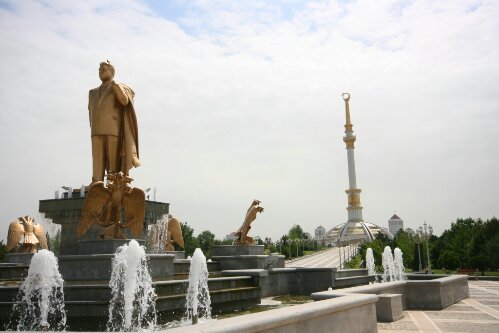 Here's Turkmenbashi himself, just draping a gold jacket over his gold sholder, with his gold hand… infront of a monument that looks a bit like a posh toilet plunger.
Even the subways are prettydamn swanky.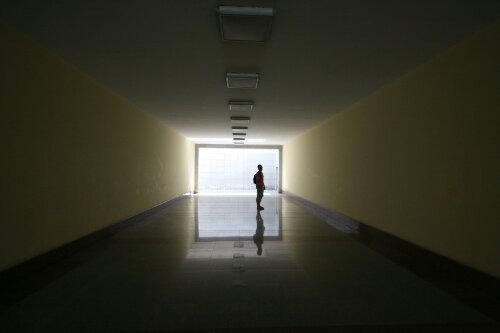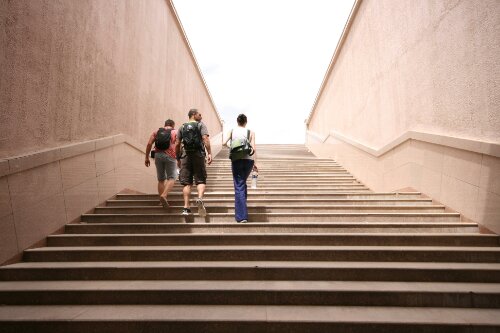 In fact I was reliably informed by a sweet girl at an Ashgabat market that the capital recently made it into the Guinness Book of Records for being the most white marbled city, or something. Well, as I say, every president has his dreams.
Despite the fact that I now see Turkmenbashi adorned in gold robes, sitting on a white marble throne saying: "If I was president I'd create a white marbled city", while his minions politely cough, remind him that he is in fact president and watch him clap his hands in glee and order in bus loads of white marble, I actually felt quite sorry for him. Kind of.
You see in 1948 the entire city of Ashgabat was wiped out in a huge earthquake, killing two thirds of the citizens including Turkmenbashi's two brothers and mother.
You could imagine any nation that had suffered such an enormous loss may want a monument of sorts to commemorate their loved ones, right?
Ladies and gents allow me to present just that.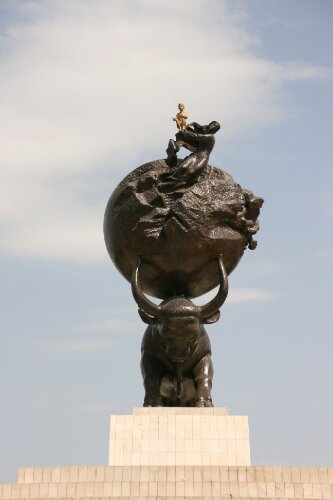 Here we have 'baby Turkmenbashi' being saved from the earthquake when he was eight years old. He is being carried out by a bull, which we were told represents his mother who carried him to safety before dying herself. This sits on top of the Earthquake Museum.
But it gets better. Turkmenbashi wrote a book. Clearly a man with a lot to say and 5 million subjects to read it, he wrote it, got it published in more than 100 languages and then launched it into space. That's right, there is a copy of Ruhnama (which I am told is a collection of his thoughts and philosophies) floating around in space. He also did what any sane author would do and built a huge gold and pink monument of the book in central Ashgabat.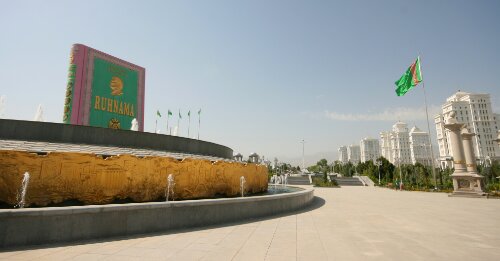 Then there's the giant 'Arch of Neutrality', a huge rocket-like beast with a gold statue of Turkmenbashi holding his arms out to the city, with flame-like gold leafs behind him. It has recently been moved from a prime spot near the presidential palace to an out of town manicured garden spot. Perhaps a sign that it was too much for the Turkmen, or perhaps more probably, the new president, who has taken to putting up pictures of himself around the country, felt there wasn't room for the two of them. 'No statues of the new president, yet,' our guide told us.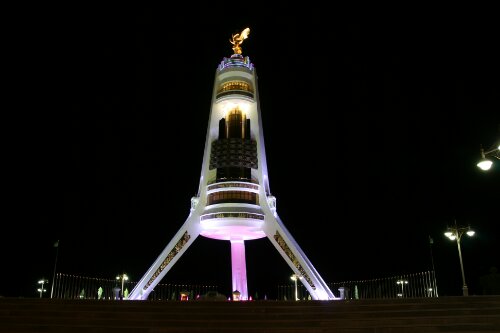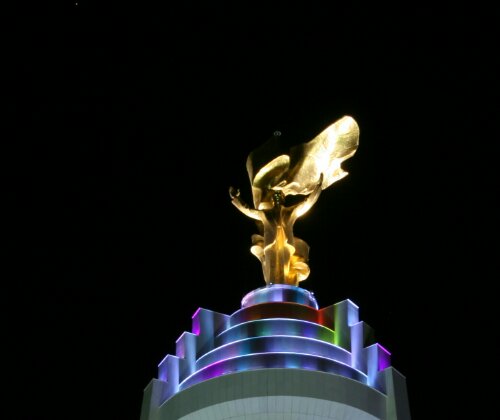 But my favourite obscenity of all has to be the Turkmenbashi Mosque. It has the air of being built for Islam from afar but as you get closer you realise actually it is just another oversized Turkmenbashi monument. And it's quite oversized. In fact, it is the largest mosque in Central Asia and can hold a whopping 10,000 people.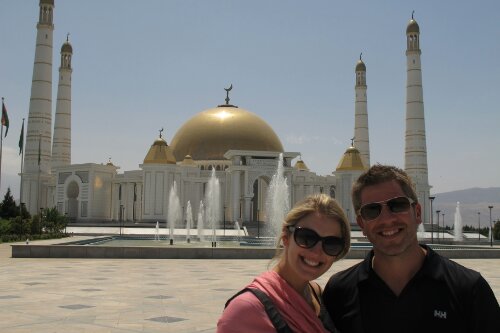 And just incase your thinking I'm perhaps being a little rash and unfair in claiming Turkmenbashi has glorified himself in building a mosque, allow me to read the inscription above the mosque entrance: 'Ruhnama is a holy book; the Quran is Allah's book.' Oh, and it is also in his boyhood home of Gypjak.
Inside (no pics allowed) we were greeted with more than 20 huge marble pillars, a dazzling dome and a carpet of intricate detail that was apparently weaved by more than 100 of the finest carpet makers around. In the distance at the end of the vast circular room, we saw 10 men on their knees facing Mecca.
To the right of the mosque lies the huge white marble mausoleum, guarded by soldiers, where Turkmenbashi now lies with his family. It seems a fitting ending for a man whose biggest dreams and surviving legacy revolves purely around marble and gold.
In the meantime I have a new game to play on the long journeys through the Turkmen desert: 'If I was a megalomaniac I would…'
Travel tips
Ashgabat is not an easy city to get around without a car. The roads are endlessly wide and long, the monuments and attractions are quite spread out across the city – and the bus network is a complete mystery. Unidentifiable bus route maps can be found at the bus stops but we could not make any sense of them.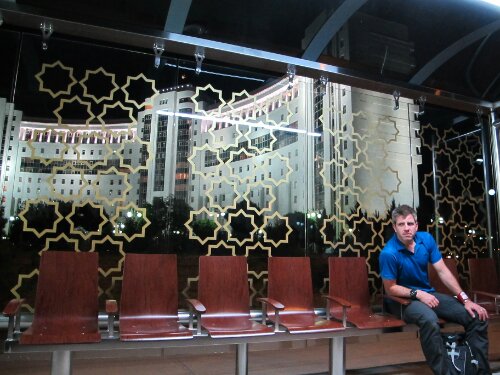 You'll be waiting a while at the bus stops, even if they are the nicest ones of Central Asia.
We found the best way to get around was by hitching lifts from 'unofficial taxis'. Just stick your thumb out on the road and someone looking to make a few bucks will pick you up. General rule of thumb is 2 Turkmen Manats per person for city journeys.