I'm not one of those travel bloggers with a "bucket list" (things to do before you kick the bucket, so to speak) and I have no desire to jump from a plane, swim with sharks or do anything particularly adventurous at all. Don't get me wrong I have a growing list of places I'd love to visit, as well as plenty of dreams and ambitions, but I also much prefer life to be an open book than a list of things to do.
But there was something I wanted to do before turning 30. That's right – this year I turn the dreaded 3-0 and like most landmark birthdays, it inevitably prompts a bit of soul-searching and question-asking to check life is in order and expectations have been met etc.
So after I little self-reflection and concluding that yes, life is pretty much on track and things are going pretty well (perhaps there will be more on this when the landmark is crossed), I realised there was one big gap in my 29 years and 10 months of life.
I have never been to a nudist beach. And I just sort of feel like that is something every 30 year old should have under their belt. Really, who cares how many countries you've visited or how many beers you can drink before your alter ego emerges? The big question is, how did you cope on the nudist beach? Was it liberating? Horrifying? Did you ogle at others or barely (pardon the pun) notice them?
But just five months before my nudist deadline, I began my land-locked adventure through Central Asia and suddenly it looked as if I would reach 30 with so many unanswered questions.
But then came Munich with its Englischer Garten. Just like a nudist beach… but a park, in the city centre. That's right, this huge pretty park in south Germany is just full of naked people lolling around on their lunch breaks or resting between shops.
You know the scene… taking a naked lunch break with the girls over a bratwurst or two (no strap mark worries there), before bumping into your boss who has the same idea. Gulp.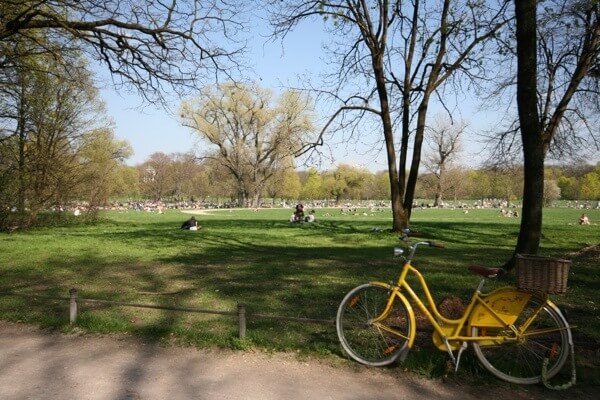 So anyway, there we were at the Englischer Garten at the end of April when it was still quite cold and while I could spy see a few naked people, there were more people dressed in coats and hats than their birthday suits. Plus, we had just finished a city walking tour and I hadn't expected this, I hadn't packed for nudity, I had nothing to sit on you see.
Needless to say the boys would not even entertain the idea and somehow sitting naked, on a patch of cold grass, on my own in the middle of Munich seemed less like a lifetime ambition and more well, just a bit weird.
And so, with our clothes still in place, we walked on to check out the local beer halls instead. I accepted, somewhat reluctantly, that my nudist ambitions would have to remain hemmed in until after my birthday. After all, what opportunities could possibly present themselves in conservative Central Asia?
But then, in the deepest darkest Wakhan Valley of Tajikistan, we visited Bibi Fatima Springs. The natural hot springs attract women from around the country, as legends say the water boosts fertility – but after three days of trekking and staying at home stays with no showers even Matty wasn't put off.
Travelling with a lovely French couple, Blandine and Florian, the boys went to one room, while Blandine and I were shown to another. Clutching our bikinis and towels we walked down a little path to a hut-like building that was attached to the side of the rock face.
Walking into the room, the hot air immediately steamed up my glasses, but I made out a long bench with hooks above it. Ahhhh, the changing room. And then there were some steps down into what looked like another room, where the hot springs must be.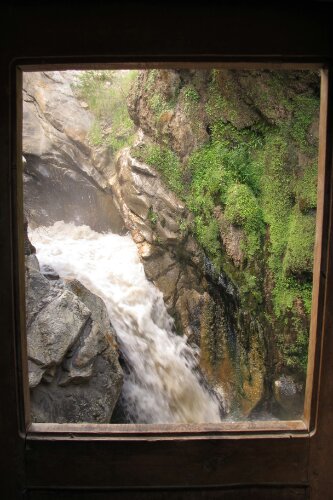 The view from the changing room window.
We quickly changed into our bikinis but as we tried to walk down into the springs, a woman started talking to us, very fast in Tajik, shaking her head furiously and pulling at our bikini strings. We looked confused and she crossed her arms in front of her in a big X-shape, which incidentally is everybody's favourite body gesture here, and we got it… No bikinis allowed.
The French are obviously infinitely cooler about this sort of thing than the prudish Brits and I was keen to not let the side down. So without so much of a "Ooh la la," the bikinis were off and we strolled down to the springs, passing the same woman who nodded and grinned at us enthusiastically, happy to see us in our nude state.
As we walked in to the springs, behind heavy plastic sheeting, I was amazed to see we were now amidst the huge mountains that surround the building and gloriously hot water was pouring down the rock and spraying out, creating natural showers all around us. There were a few other women in there who greeted us with big smiles and encouraged us to sit down.
One of them put the "plug" in and soon the small room around the rocks was filling up like a big bath. More women came in, followed by more women, and just when our bath was full to the brim (with both water and women), more women came in. It was rush hour at the baths.
And so it was with this growing audience, that we were invited to climb into the "fertility cave" inside the rock wall, the very reason that Bibi Fatima Springs earns so many visitors from far and wide. The hole in the rock is about 50cm long and perhaps a little less wide, but it is a good metre or so from the ground.
We watched one woman easily pull herself up to the hole and fall in, agilely folding her body into two. Then it was my turn. Grunting determinedly, I managed to haul myself up legs akimbo, and managed somehow to crawl into the small space, before victoriously jumping out again. And only then, did I remember I was not wearing a bikini.
And now I feel ready to turn 30.
PS Sorry for distinct lack of pictures in this post… Didn't seem right to get the camera out.