If Armenia was your friend she would be the funny, smart and pretty one – but more importantly, she'd be the jammy one. The one who always gets what she wants, despite the odds thrown her way, due to her (unusually charming) combination of brains and balls.
In fact, she'd be the kind of girl that if mugged at at gun point, would not only convince the balaclava-donned thug to put his gun down, but actually to lend her a quid or two for the last bus home. Because that's exactly what she seemed to do to the Soviet Union throughout the 20th century.
Most countries that were absorbed by the swelling USSR in the early 1920s have been left with physical scars that will take decades to fade. Centuries old archaic churches were replaced by functional, concrete tower blocks while grand, old homes of the rich paved way for linear, grey and brown bus stations or post offices.
Inevitably there is plenty of that to be found across Armenia, but its capital Yerevan has emerged grand and glorious, despite almost the entire city being designed and built in the early Soviet years. It is nothing short of a miracle.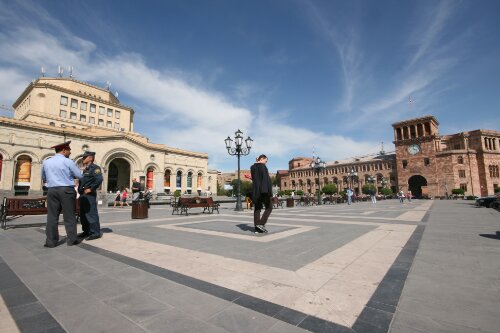 Like the very impressive Republic Square, for example, which comes to life every evening with fountains that dance to everything from Beethoven to Cotton Eye Joe, with the Superman theme tune somewhere in between.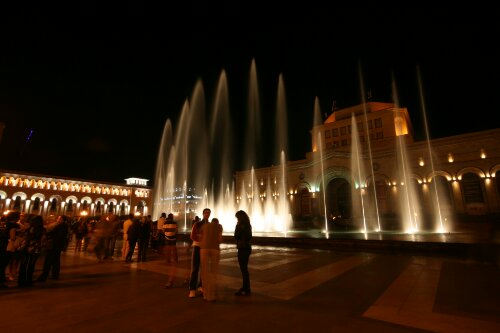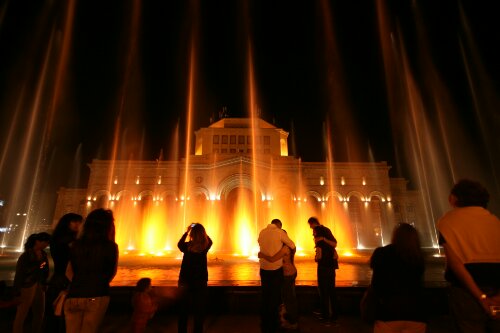 The design of the stately buildings around Republic Square are grand and intricate. They feel like the complete antithesis to Soviet architecture, despite being built in the 1920s. One of the buildings even has the exact same engravings around it as a ruinous 17th century Armenian Church, in a bid to let the legacy to live on.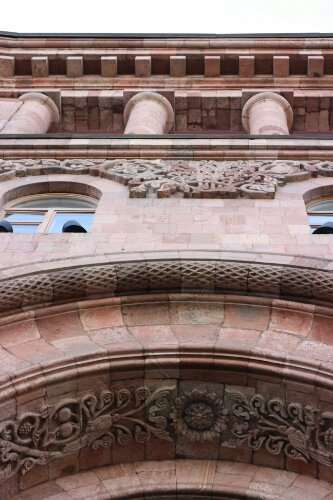 'Errrm, how exactly did you manage to get the Soviets to let you do this… and fund it?' We asked our guide incredulously.
She gave us a knowing smile and instead told us the story of how Yerevan got its underground metro system. She explained the capital had originally been denied a metro because it had less than one million residents and only Soviet cities with more than a million could develop an underground network.
But, she continued, the Armenians, refused to just lie down and take this news, so a cunning plan was hatched. When Soviet premier Leonid Brezhnev visited the city soon after, massive traffic jams were promptly organised on every street he visited. He took the news of Yerevan's terrible traffic congestion back to Russia and voila, by 1981 Yerevan's metro was up and running.
Similar, mischievous tales were regaled to us throughout our time in Armenia. Take the 'Mother Cathedral', the world's first state built church, for example, which was under orders to be knocked down by Iranian Shah Abas in the 17th century.
The Armenians caught wind of this and hastily engraved his head at the top of the cathedral. So, in due course when his troops arrived they found themselves in quite a quandary… How they could demolish the very cathedral that was devoted to their very Shah? The building was saved.
Fast forward some 300 years and Armenia decided it wanted a grand, steep staircase leading up a huge Yerevan hill. So what did she do? She built a monument at the peak, devoted to 50 years of Soviet rule and asked for the cash to build a staircase to lead the people to the monument.
She got denied. She revamped the design, threw in a set of elaborate fountains, each representing a different Soviet republic, with Russia in the middle, and pronto, the staircase (aka The Cascade) was built with Soviet funds.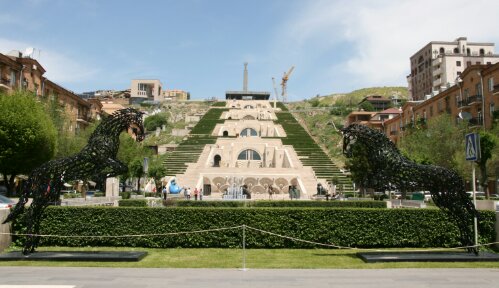 Admittedly it's still not finished today, but that is not the point. And if anyone can get someone to complete the job, it will be Armenia.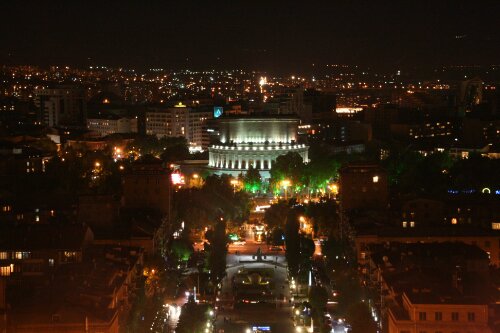 The top of The Cascade is the perfect way to spend an evening in Yerevan, admiring the city skyline (don't forget to take a bottle of Ararat's finest brandy, mind.)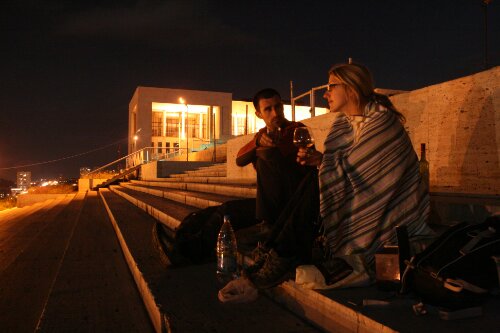 But perhaps most impressive of all, was Armenia's success in building a monument devoted to the 1.5 million Armenians who died in the Turkish genocide of 1915.
It is a tragedy that remains at the very core of Armenian people today. Families were ripped apart as the Young Turk government sent hundreds of thousands of Armenians into barren deserts to starve to death or simply shot them dead in a bid to make the Ottoman Empire, which included the area which was formerly known as West Armenia, more 'Turkish'.
One day, during our time in Yerevan, we visited an Armenian family for lunch. After serving a delicious and generous lunch time feast, the father of the house pulled out an old black and white family photo. There were a few men in military uniforms, a few women (I presumed to be their wives) and about five little children. After we admired it, we were told that all had been killed in the genocide apart from one little boy. The table went silent, it was hard to take in.
But to take you back to the significance of the memorial… during the Soviet times it was frowned upon to commemorate any events that were deemed to be too nationalist. The Armenian Genocide fell firmly into that category, so the nation remembered in silence.
But in 1965, 50 years after the tragic event, Armenia raised her voice. Expats around the globe were commemorating but she had nothing in her homeland. The movement for a memorial began and by 1967 the obelisk was opened.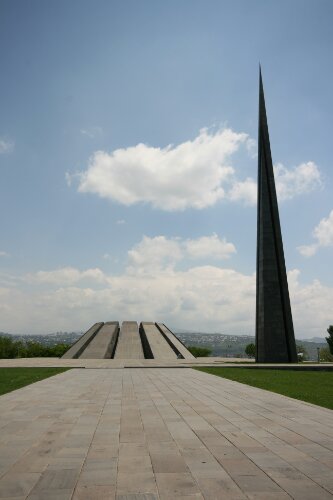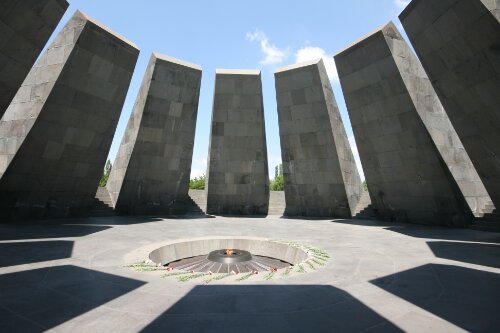 While we were there school children lined up to place a flower beside the eternal flame. Today there is also a very impressive museum about the genocide which is well worth a visit.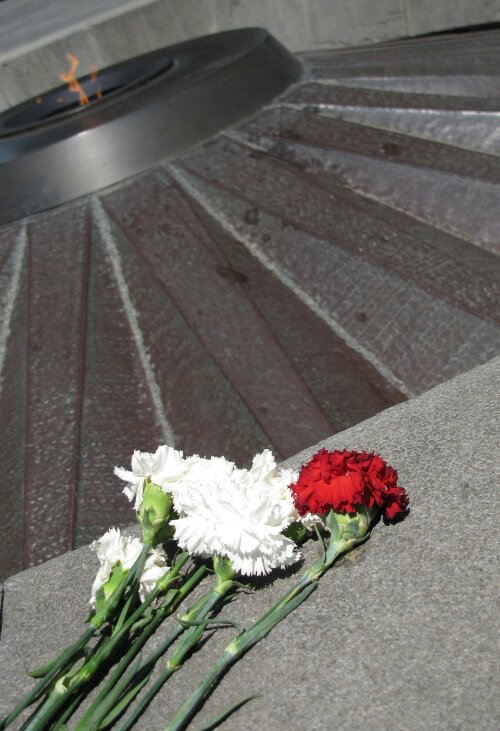 Perhaps some of these facts have been elaborated and embellished to enhance the tourist tale – and I have certainly only heard one side to each story. The Turkish, for example, deny the Armenian genocide ever took place.
I don't profess to be a historian, or even deliver a balanced blog (that's what my years in newspapers were for), but I can tell you that after meeting Armenia and listening to her myself I walked away admiring her passion, her guts and her sheer determination in times of strife. And I like that in a girl.
Travel Tips
We stayed at the Envoy Hostel in Yerevan, a clean and extremely well facilitated hostel, which runs fantastic day trips from the city.
The tours are led by the hostel's manager Arpine Yesayan, who is the primary source for most of the tales above. Her excellent humour, witty jokes and fabulous story telling skills make for extremely memorable tours. They cost €30 (pretty much a day's budget for us), but worth every penny!
She also runs free city walking tours of Yerevan, which are every bit as good as the paid excursions.
Envoy hostel is at 54 Pushkin Poghots and their website is at www.envoyhostel.com