There's a beach on the little island of Nusa Lembongan, just off Bali, called Dream Beach. That is its actual name, it's written on the map and everything. Dream Beach. There's no beating around the bush with a name like that is there?
As we made our way across the island on our rickety scooter, which had me sucking in my stomach to help the bike up some of steep hills, I got very excited about Dream Beach. In my mind I could hear the theme tune for Radio 4's Desert Island Discs and the dulcet tones of Kirsty Young. Whenever I listen to that programme I always imagine being stranded on a beautiful castaway island with white sands, clear water and coconut-heavy palm trees swaying in the background.
So that's my dream beach. And I'd get to take a luxury item, which would be my camera since you're asking. Matty was just focussing on getting us up the hills so I'm not sure he spent much time deliberating over his dream beach.
Nusa Lembongan is a really beautiful island, which ticks along at much slower pace than most parts of Bali. Randomly, it exports seaweed all over the world – they use an agent from it to help thicken ice cream. So even if you've not heard of Nusa Lembongan, you've probably eaten a little bit of it. Large parts of the shore are carved up by picket fences into 'seaweed farms' and you can see, and smell, the stuff drying out all over the island.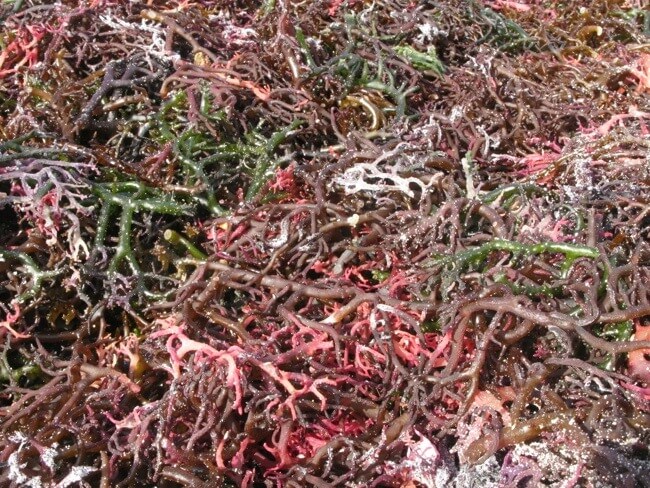 It seems to come in all shades of colours.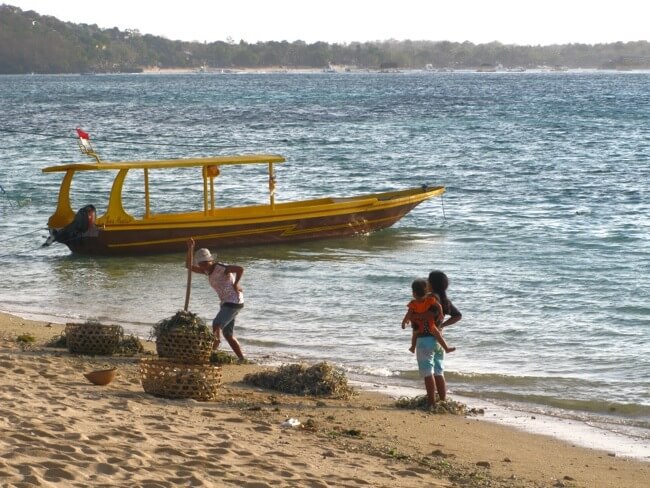 And a huge 85% of the population work in the industry.
But anyhow, I digress. I wanted to tell you about Dream Beach. So, Matty and I were hanging onto this scooter (well actually he was driving it and I was hanging on) and trying to navigate our way there. There are only about three roads on the island so even we couldn't get too lost and eventually we turned off our dusty little path and found ourselves at the top of a cliff looking down onto an idyllic white sandy cove. We had reached Dream Beach.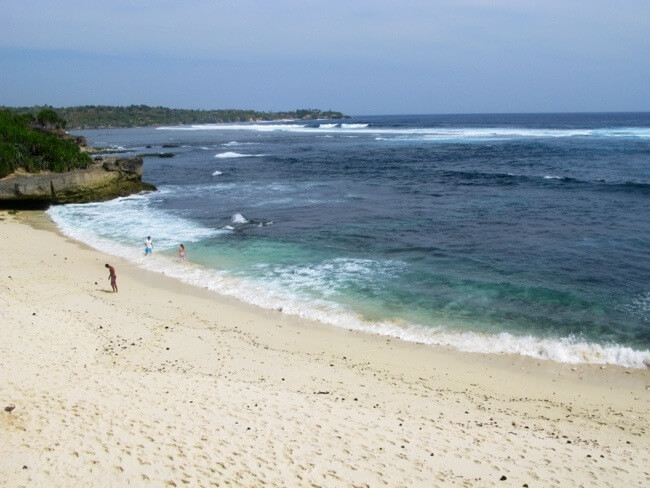 I think it lives up to its name. I lived the dream.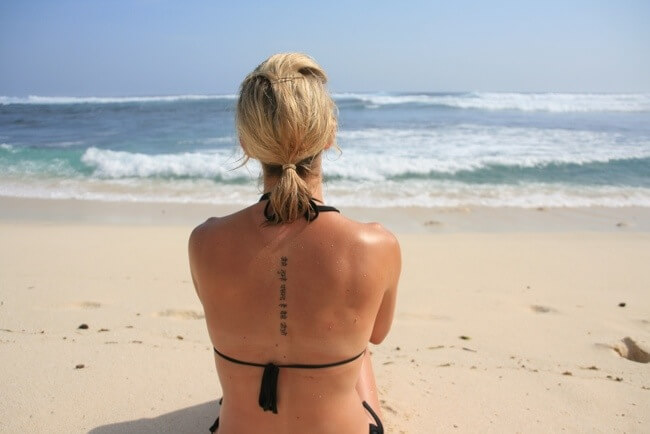 But it gets better. Sitting on the cliff, overlooking this beach of dreams, there is a big infinity swimming pool surrounded by comfy loungers. It belongs to a (posh by our standards) resort but for a mere 50,000 Indonesian Rupiahs (about £3.50) they will let anyone in. Even us.
We were travelling Bali budget style. We had allocated cash for Bintang… Seafood even. But fancy £3.50 sunbeds? It felt totally extravagant. But we did it. And it was marvellous. And as we lay there sunning ourselves and looking down on the stunning beach below, I couldn't help but think how much more enjoyable it was than a return tram ride in Nottingham. And that costs £3.70.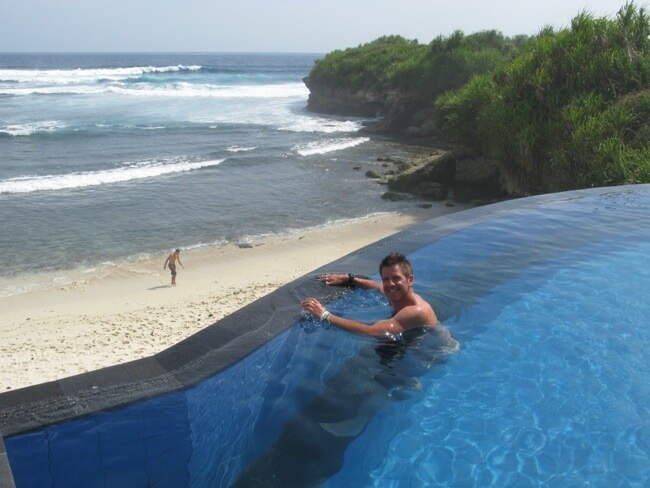 So now I'm torn over my one luxury item… Camera or plush resort with infinity pool?
PS Mushroom Bay, with its slightly less ostentatious name, is also stunning and well worth checking out.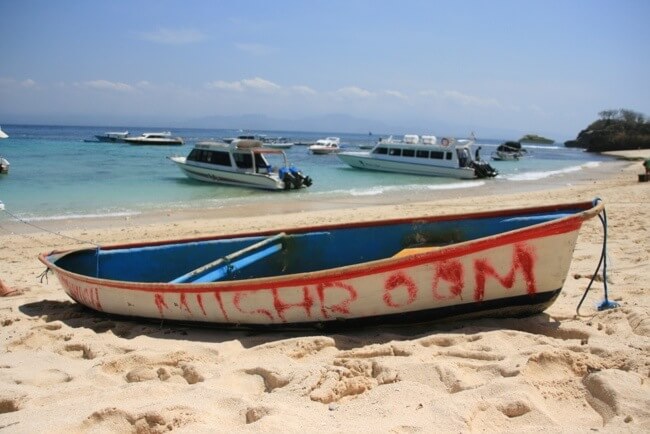 Travel tips
You can stay at Dream Beach Huts for about 600,000 Rupiahs a night. There's also plenty of lovely accommodation around Mushroom Bay. We stayed further along the coast in the Jungutbatu area, where the accommodation is much cheaper and still on the beach.
We stayed at Puri Nusa, paying only 200,000 a night – they had cheaper and more expensive rooms too. The room was fine but its real selling point was its lovely restaurant terrace that overlooks the west coast of the island – the perfect sunset spot.
You can also cross over into the neighbouring tiny island of Nusa Ceningan, which is connected by bridge. People throw themselves off a cliff here into the ocean (for fun we are told, not suicide). We opted for a diet coke instead.