In just a few months time we shall be embarking on a trip that, although may seem a bit 'off the beaten track' today, is actually one of the most ancient and well trodden routes of the world. The Silk Road, or pedantically speaking – The Silk Roads (as there are actually dozens of different routes) – is the journey the silk took overland from China, through the 'stans of Central Asia and into the western world, hundreds of years ago.
People spent their entire lives traversing across barren deserts in the scorching heat, warming up their icy, cold fingers in snowy mountains and stopping off at little caravanserais (aka traveller inns) for a shot of belly-warming vodka, before moving onto the bazaars to shift their goods. Actually I'm not sure the vodka bit is true at all, but there sure seems to be a lot of the hard stuff on the road now, and Matty has his eye firmly on the brandy kiosks of Kyrgyzstan that seem to be almost giving the stuff away at about 20p a shot.
So, in April we are giving up our little house in Nottingham to travel as the silk once did (but in reverse order). And we will be doing it all with our good friend Donagh, also known as the Mongoose (a nickname he has not just earned but OWNED when his wild side emerged on many a drunken night). Allow me to introduce him…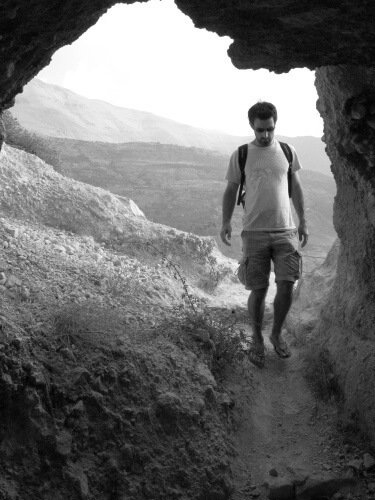 The Mongoose enters a cave in Lebanon… I have some much more entertaining photos of him, but I shall break you in gently.
So, it will be me, Matty and the Mongoose taking on the Silk Road.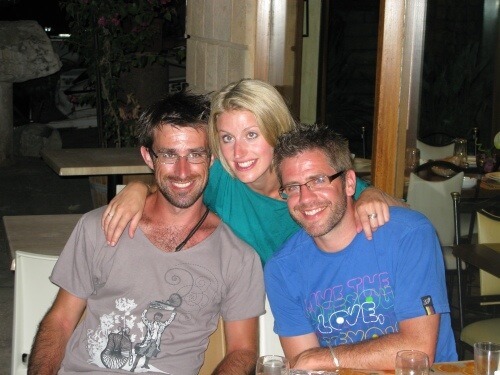 The Route
We shall be travelling from Hyson Green (our much loved inner city streets of Nottingham) to Ho Chi Minh City in Vietnam, where we shall be working for about a year or so, if all goes to plan.
From Hyson Green we shall be taking the tram to Nottingham Station, and the train to London, before embarking on the Eurostar to Paris for a swift lump of cheese and bottle of wine. From there we will take the night train to Munich, before stopping off at Salzburg in Austria, Budapest in Hungary and Bucharest in Romania, on our way to Turkey.
Then it's onto the Silk Road. We wanted to visit Iran, but following the savage burning and prompt closure of the British Embassy there we thought it may be somewhat ill-advised so instead, this will be our Silk Road: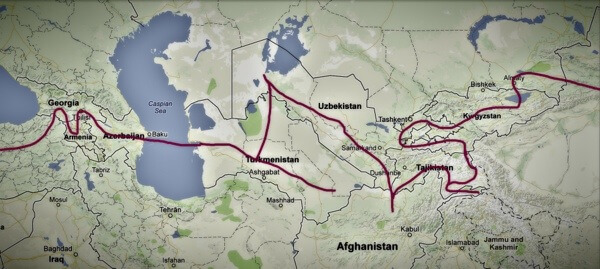 When I tell people I'm travelling the Silk Road, I get a fair few blank faces. And if you'd have asked me a year ago I would have met your gaze with equal blankness. But after a little bit of reading (combined with some artistic licence), this is what I am expecting… and the reasons for visiting each country:
Georgia – For its green valleys, mountain scenery and other such beautiful things.
Armenia – For the Cognac (and a 'riot of flowers' according to the Lonely Planet).
Azerbaijan – To understand what is 'not Asia nor Europe' and cross the mythical-sounding Caspian Sea.
Turkmenistan – For fabulous gold statues, ever-burning gas craters and bugged hotel rooms.
Uzbekistan – For majestic cities, brawling bazaars, ancient desert fortresses and a shrinking sea (fact).
Afghanistan – For the scary armoured vehicle ride to Mazari Sharif (the Mongoose's current place of residence).
Kyrgyzstan – For horse treks, hunting with eagles and crying 'wow' a lot at stunning scenery.
Tajikistan – For the world's most remote mountain-top road trip (the Pamir Highway) and hospitable home stays.
Kazakstan – For the leafy city of Almaty that sounds too much like 'Oh Matty!' to risk missing.
China – For the 'Desert of Death' aka 'The Point of No Return' or the name it goes by on most maps – the Taklamakan Desert. We don't talk about this. And of course Xi'an where the Silk Road ends.
So there we go, that's our journey. The journey taken by hundreds of camels years ago, as they travelled nose to tail, pulling large, heavy caravans through swathes of deep, dry desert sand for miles and miles. Am I scared? No, not at all.* Bring it on.
Follow our journey on this blog. I may do some geeky posts about gear and what to pack before we set off but you can ignore those and join me for the ride from April 22nd if you fancy it.
*I might be a bit scared… Crossing the desert of death in 40+ degrees does sound a little scary, right?