The problem with trekking, you see, is I'm not very good at it. I thoroughly enjoy it (except the scary, sheer, steep parts that always make me feel slightly outraged they didn't come with prior warning) but largely, I throw myself into it enthusiastically.
I think the main, and most logical, problem is that my feet are a bit too small to keep me upright. I hold my size 4 feet largely responsible for the scars on my knees and general skidding of stones that goes on around me as I eye up Mountain goats with envy.
The other problem is that I often struggle to keep up with Matty and the Mongoose. This gets blamed on a whole range of factors – my short legs, their long legs, the altitude, my picture-taking, their long legs and their legs etc.
In fact, in the time it took me to amble around the base of a mountain in Uzbekistan, Mongoose, aka Mountain Boy had run up to the top and down again.
But now I have found a solution that makes trekking a wholly more enjoyable experience… Piling Mountain Boy up with extra luggage. Specifically my luggage.
That's right, if I pile enough kilos of make-up, wash stuff, mirrors, hair straighteners onto his back then he walks at my pace. Genius or what?!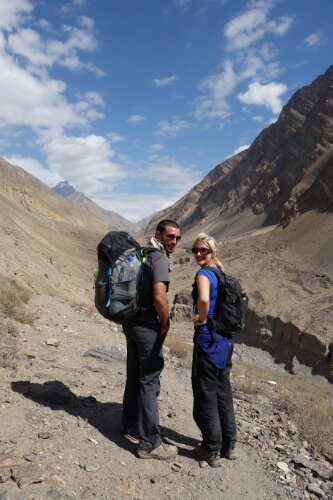 I discovered this on a recent two-day trek in the Pamir mountain range in Tajikistan, which incidentally is stunning. But more on that later.
We set off from Darshai to embark on a 20km hike along a gorge where we planned to stay in a yurt overnight before heading back. Sadly Matty, who had been up all night with a dreaded dose of the Central Asian Gruesome Guts Syndrome (Caggs), was unable to come along and so on this occasion the Three-Must-Have-A-Beers became two, joined by the lovely French couple Florian and Blandine who are travelling the Pamirs with us.
And there was so much to take. Huge sleeping bags (borrowed from the homestay), warm clothes, cool clothes, 6 litres of water, lunch, dinner, breakfast, snacks.
"How are we going to carry all of this?" I cried.
"I'll carry it all in my big rucksack," Mountain Boy offered.
"Oh no, I couldn't let you do that," I protested. "Ok, if you insist."
And that is how the genius solution to all my trekking woes came about.
After 15 minutes of setting off on the trek and climbing a good few metres (having started at an altitude of 2,500 already) Mountain Boy was almost as breathless as me. Brilliant.
Admittedly I still tripped and stumbled across the paths but I haven't figured out a way of shrinking his feet yet so that's jut something I'll have to live with for now.
Led by the lovely Gul Mohammed from our Darshai homestay and his dog Jacques (pronounced with violent kicking k in a Russian accent), we climbed up the side of a gorge and walked across it.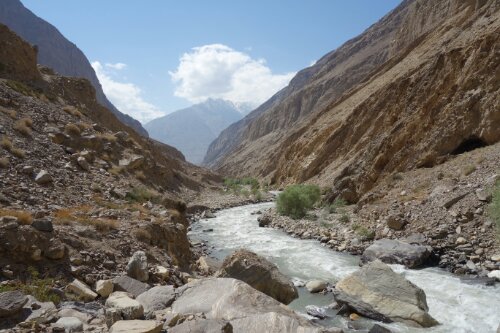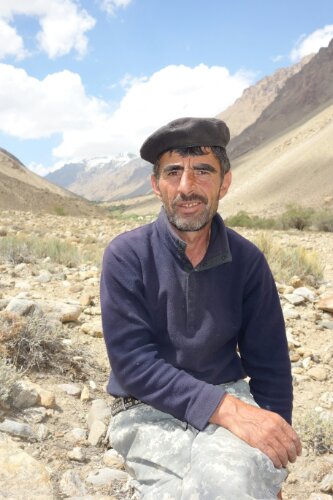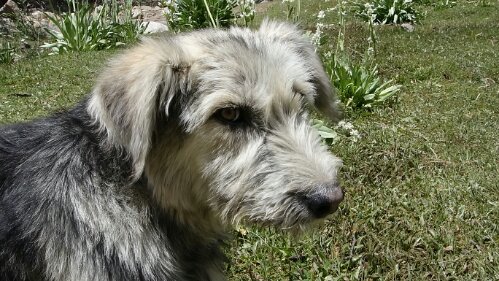 Some bits were very steep and when I tentatively offered to swap bags, Mountain Boy gave me a stern no.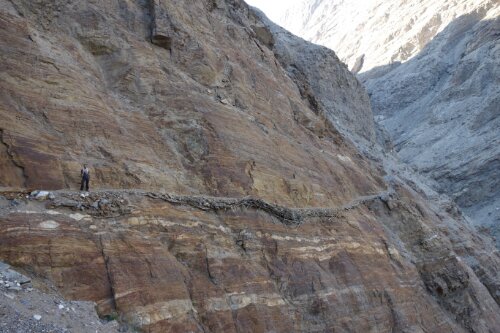 And I've never been so glad to hear that two letter word. I mean look at that drop.
And so we ambled along, gradually climbing up to about 3,500 metres altitude, at this wonderful pace. Chatting, climbing, skidding (well me anyway), and pausing when we got out of breath.
We also kept a keen eye out for Ibexes, huge mpuntain goats with big old beards and horns, but sadly we only came across their body parts, which were cast aside on the ground and hanging off trees.
We crossed bridges made from just stones and branches, precariously balanced over the fierce flowing, icy cold river below.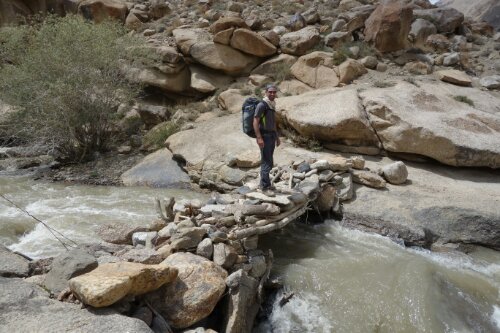 As I kept my eyes on the broken ground in a bid to remain upright, I was distracted by the sparkling stones that looked like quartz and glistening soil. It was as if someone before us had scattered the ground with glitter glue.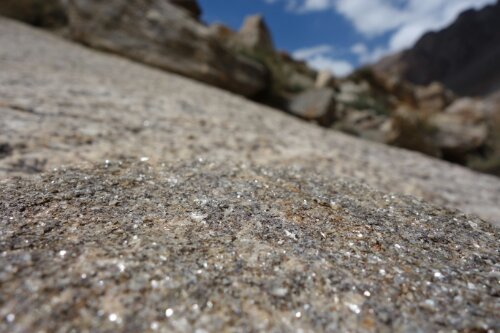 Occasionally Gul would sprint ahead and start a little fire by a stream to boil up a pot of chai – and a smoke on a Cuban cigar that Mountain Boy had donated him.
But, alas, we didn't have cups. He looked gutted, as he choked away on the cigar he insisted on inhaling, and we were mortified that we a) could not translate he should not inhale the smoke and b) had no cups. Soon I was drinking tea out of an old tuna pot.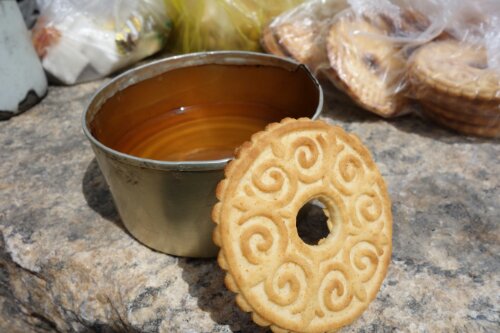 And then, just as our feet began to ache and our bellies turned the rumbking up a notch, we reached our lovely home for the night. Truth be told there was no real dinner to come and the yurt was freezing, but it all looked good nevertheless.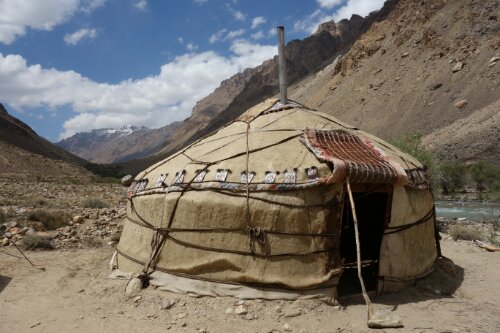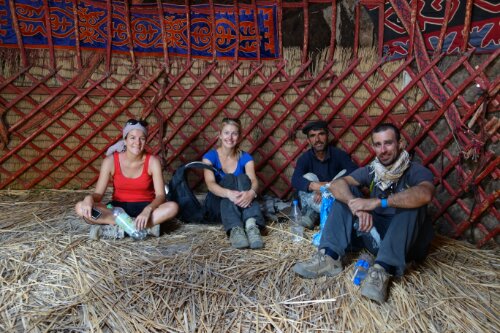 Later that night, to conclude our dinner of bread, biscuits and raisins, I decided to eat half my Snickers bar, saving the rest for that all important energy kick at breakfast.
As I passed the half-eaten bar to Mountain Boy to put in the food bag, I saw a wicked glint pass his eyes and before I could grab it back, the whole thing was in his mouth, which was simultaneously breaking into a smug grin.
"Rucksack tax," he simply said, once the chocolate had cleared his vocal chords.
"What you going to do? Write a blog on it?"
Travel Tips
We have hired a jeep to travel the Wakhan Valley and Pamir Highway of Tajikistan, shared by five people (us three, plus Florian and Blandine.)
We organised the jeep and driver thought the agency PECTA (Pamirs Ecotourism Association Information Centre), based in Khorog. They are just inside the City Park or you can call them on 22469.
They were absolutely wonderful, spoke amazing English and made all sorts of suggestions we would never have thought of including this trek. The Land Cruiser jeep we have hired costs 0.75 cents per km plus $20 per day for the driver.
We are taking the jeep from Khorog to Murgab over seven days, although we also have to pay for his return mileage, which is standard. It will cost us about $23 per day (for seven days) for the driver and jeep.
The Lonely Planet tells you all homestays provide sleeping quilts etc and this has been true except in this yurt! We ended up borrowing massive, bulky, but quite thin sleeping bags from the homestay to take with us, but were freezing all night. Also, there is a little stove in the yurt but no food so you need to bring your own.
What is the weather like in the Pamirs in July?
Lovely! It's about 30 degrees (C) or hotter during the day but does get a bit chilly in the evening so take warm fleeces and jackets etc. At 8am in the morning when we were returning on our trek it was 12 degrees Celsius, but it felt colder than that.
What do I need to pack for the Pamirs?
Take water purification tablets! Shops rarely sell water because locals drink from the springs but there are lots of animals grazing around them so best to be safe! Fortunately Florian and Blandine had plenty of these tablets, which we gratefully borrowed! Also, be sure to pack a torch and buy enough water and snacks to last you however long you plan to be on the road – you can just load the jeep up at the bazaar in Khorog, so it's not really a problem.
If you have a small, warm sleeping bag it's well worth packing but apart from the yurt we have been well provided for in terms of quilts and blankets.